In just one year, Amazon's Alexa has become a desi girl
In India, Amazon's Alexa spends nearly 15 hours a day singing songs on request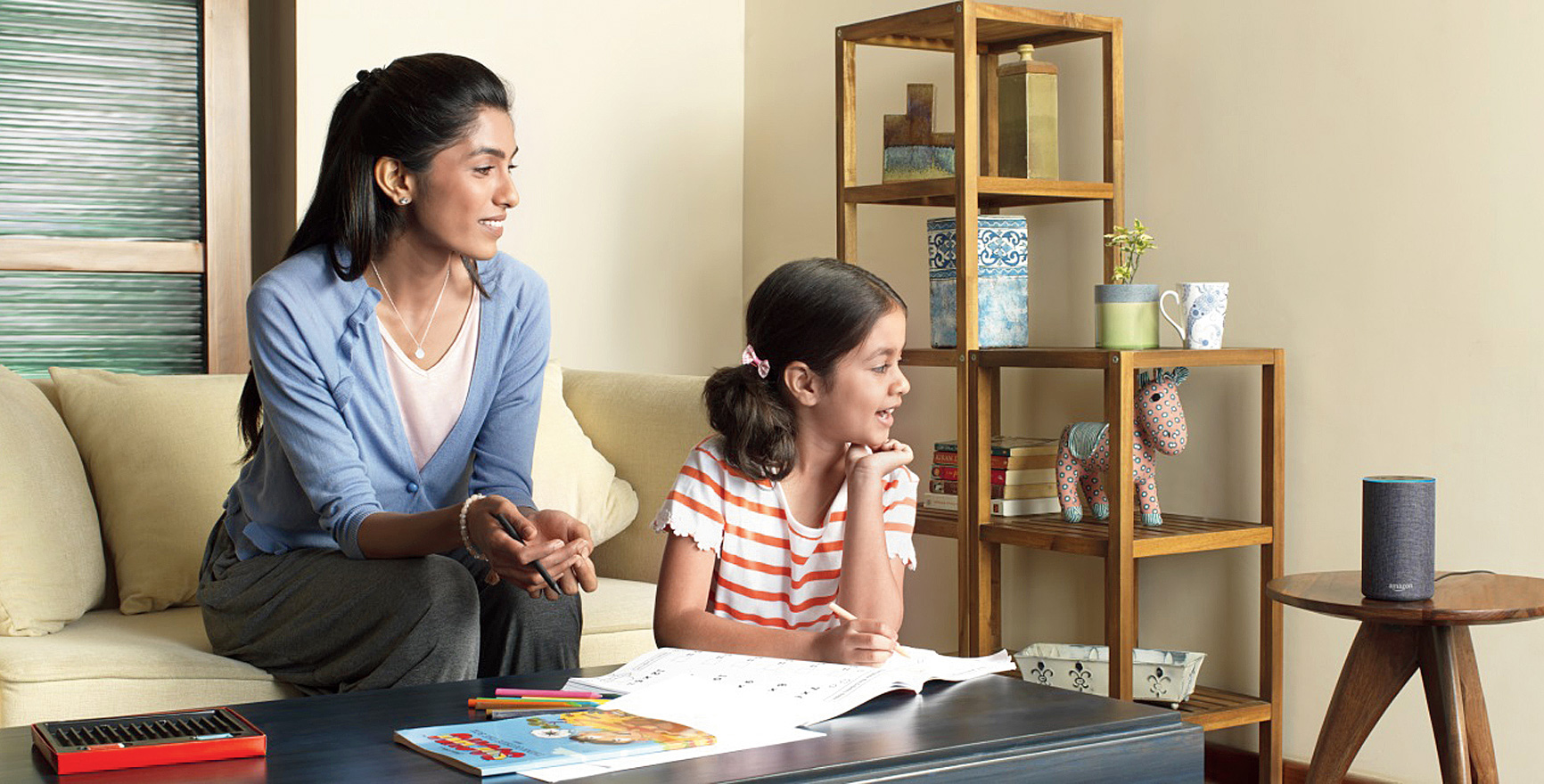 Amazon's Alexa has become an important part of some people's daily routine, be it in the form of Amazon Echo devices or Alexa-enabled products from third-party manufacturers.
Amazon India
---
Published 12.12.18, 10:22 AM
|
---
Alexa spends nearly 15 hours a day singing songs on request. The virtual assistant developed by Amazon, in fact, spends an hour every day singing Happy Birthday. She gets asked "Will you marry me?" every two minutes. It's been just over one year that Alexa launched in India but she — yes, people refer to her as a person! — has become an important part of some people's daily routine, be it in the form of Amazon Echo devices or Alexa-enabled products from third-party manufacturers.
We spoke to Dilip R.S., country manager for Alexa skills, Amazon India, and Puneesh Kumar, country manager for Alexa experiences and devices, Amazon India, about the product's milestones and future.
Alexa is now a little over one year old in India. What have been some of the high points?
Dilip R.S.: Alexa is the brain behind Amazon Echo devices. We started rolling out Echo smart speakers last October on an invite-only basis and in February this year we opened it out for everyone to purchase. A lot of our focus in the last one year has been around making Alexa sound as Indian as possible. First, she has to understand how Indians speak, no matter which part of the country users come from. She has to understand things in the Indian context. Now she understands Indian festivals, cricket, she loves Bollywood… it's been about understanding the way India talks and listens. Second, it's also been about how Alexa speaks more Indian… in terms of her accent, intonations and choice of words. Now there are many people who wake up in the morning and wish Alexa good morning. That's the kind of engagement we are enjoying.
In way of products, what have been some of the success stories?
Dilip: From a product point of view, we have launched several features. Working with third-party developers and device manufacturers, we constantly strive to extend Alexa's footprint. When we launched last year, we had only partnered with two manufacturers who provided devices with Alexa built-in. Now we have 13, across a range of smart speakers, headphones, earbuds and so on. Recently, Alexa came alive on FireTV Stick in India.
Last year there were around 10,000 skills for Indian customers. In one year our skills store has grown more than 100 per cent and currently has around 20,000 skills (for Indian customers). From having Indian music available through Saavn to access to radio in local languages, it's all there. For instance, we have worked with the ministry of information and broadcasting and have launched 17 All India Radio skills in 14 Indian languages. Anybody in any part of the country can ask Alexa to play AIR in, say, Tamil. Also, people are using Alexa to listen to spiritual gurus. Another important segment is kids.
In July this year we launched 350-plus skills for kids. Leading brands like Amar Chitra Katha and ChuChu TV have brought their famous characters to Alexa. Suppandi, Shikari Shambu and Chhota Bheem are all on Alexa and kids not just love to engage with these skills but also learn something new.
In terms of Echo devices, there were only three at the time of the launch, in April we launched Echo Spot (which comes with a screen) and a few weeks ago we announced upgraded versions of some of our devices, besides a few new ones.
Indian customers mix English with several other languages. How is Alexa learning new words?
Puneesh Kumar: When we launched Alexa in India, it was important for her to be able to understand how people in India talk. When we speak among friends, we mix up languages. Let's take something that may appear simple. When I tell Alexa "Play songs from Zindagi Na Milegi Dobara", is the sentence in English or in Hindi? Four words out of the seven are in Hindi. We had to make sure Alexa understands not just Hindi but also Tamil, Telugu and Marathi. We also had to ensure she understands proper nouns, names of places and movie titles. Her vocabulary is ever-growing. With Alexa being in the Cloud, she is always getting smarter. When people now say "Light on karo," Alexa can decode both the languages. With machine learning she is getting smarter.
Dilip: Another skill is around Cleo, which was launched by our AI team. There are many customers who want to teach Alexa to speak the Indian way. You can choose any Indian language and what follows is a gamified experience, one in which Alexa lets the user respond in the language of their choice. In every language there are synonyms; it's one of the things Alexa learns. For example, you can ask her to play a radio station in multiple ways.
Can we expect Alexa to learn and remember important milestones in the user's life, like anniversaries and birthdays? We are talking about customisation.
Puneesh: It's a feedback we have heard from other customers as well. We definitely want Alexa to have a greater part in the user's life, helping them remember things through, say, notifications. In the US, we recently launched a feature called Hunches. Say you are leaving a room and you tell Alexa that you are leaving, she can check (provided you have home automation) if the lights are on or the balcony door is open.
Dilip: At the moment we have 'custom lists' as a feature. Customers can add or delete items on a shopping list, like "Alexa, please add Bournvita to the shopping list." Recently we launched another feature called Blueprints. It's an easy way for a customer to create a skill that's private to his or her device. For example, I don't remember the Wi-Fi password when a guest comes home. I can ask Alexa to share the password with that person. Instead of publishing the password to all devices, I can make it publish to only one device. It hardly takes two minutes to make a personalised skill up and running.
How do you decide what Amazon will launch next in way of Alexa-driven devices or features?
Puneesh: When we decide to launch a device, our primary criterion is what value would it give a customer. We want to give as many choices as possible. As far as buying habit is concerned, customers are interacting more and more with the devices. Once a customer becomes comfortable with one device, they are buying the second or their third Alexa built-in device. People are buying devices for themselves and also as gift for family members and friends.
There are certain features that are taking the Alexa experience to a new level. Say if you have multiple devices, you can now set up a music system kind of experience with multi-room music. There are other use-case scenarios. A schoolteacher in Maharashtra is using Alexa in the classroom to help students speak English more eloquently. Then a 13-year-old kid has developed a Minecraft skill for Alexa to help his friends improve their game. We are only restricted by our imagination.
Dilip: Smart homes have also become a reality. Imagine you are very sleepy after binge-watching a show on Amazon Prime. Instead of getting up to switch off the lights, you can ask Alexa to do the same while lying in bed. A lot of Indian brands (like Bajaj, Syska and Havells) are riding the voice wave by putting out devices centred around voice.
Puneesh: Also, when we talk of Alexa, we are not just talking about Echo devices. Customers can also choose to buy a JBL or Bose speaker, which have Alexa built-in. Companies like iBall, Sirena Technologies, boAt and MyBox have also leveraged the power of Alexa. In the coming months, Alexa will be seen in a variety of devices.