Humans rob chimpanzees of diversity
Study finds loss of capacity for varied behaviour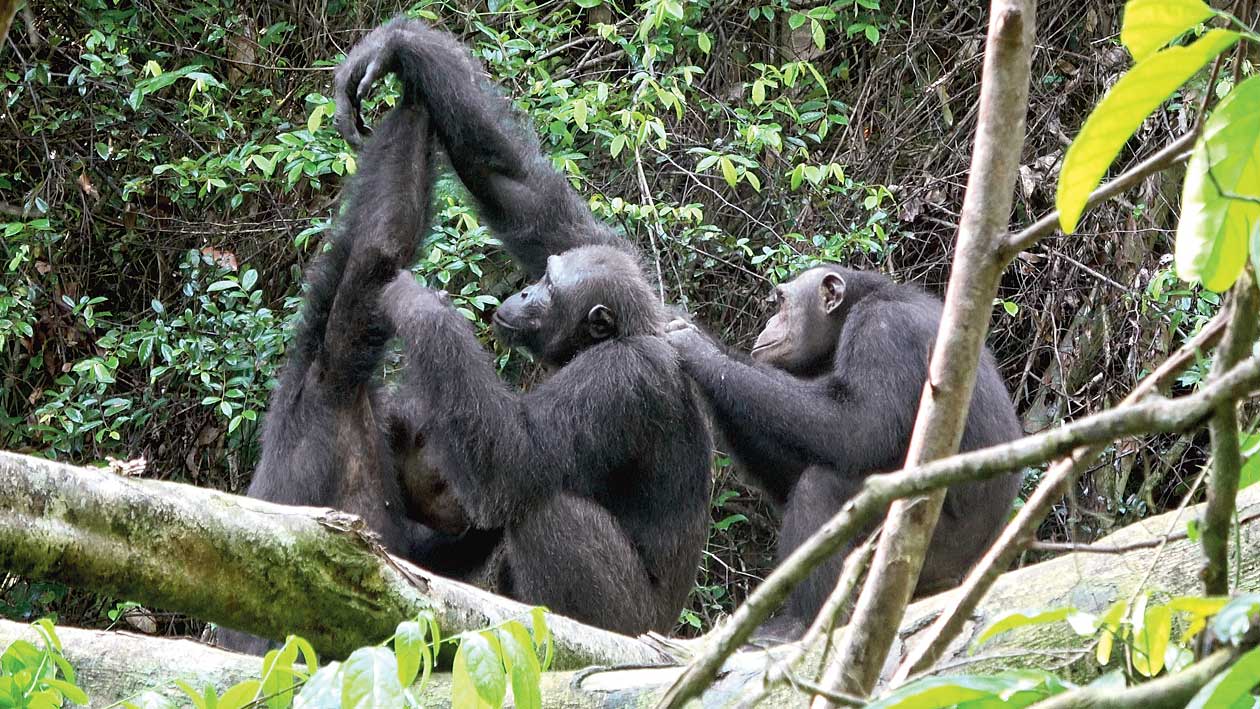 Male chimpanzees in the Loango National Park, Gabon.
Photo credit: Stefano Lucchesi/Loango Ape Project
---
New Delhi
|
Published 09.03.19, 08:02 PM
|
---
Chimpanzees living in proximity to humans have lost their capacity for diverse behaviour, an international team of scientists said on Thursday after a study spanning 144 chimpanzee communities scattered across 15 countries.
Their study suggests that humans are impacting not just chimpanzee habitat, population and genetic diversity but also their behavioural diversity marked by their capacity to scoop out algae, fish for ants, extract honey with tools, among other behaviours.
The scientists found that chimpanzee communities located in areas with high levels of human impacts exhibited 88 per cent lower occurrence of various behaviours compared to chimpanzee communities least impacted by humans. Their findings were published on Friday in the US journal Science.
"Human disturbance is causing chimpanzees to lose their behavioural diversity — some behaviours that we have not even documented yet may be lost through this process," Ammie Kalan, a primatologist at the Max Planck Institute of Evolutionary Anthropology in Germany who led the study, told The Telegraph in a telephone interview.
Two independent assessments over the past two years have estimated that human impacts — through loss and fragmentation of habitats and populations — are likely contributing to a 2 per cent to 6 per cent decline in populations of the great apes, including chimpanzees.
Kalan and her colleagues documented the presence or the absence of a set of 31 known chimpanzee behaviours in 46 chimpanzee communities and relied on additional behavioural information from previous observations of chimpanzees by different researchers from 1951 to 2017.
The researchers analysed behaviours from 144 chimpanzee communities across Africa.
Not surprisingly, they found that areas with high human impact had lower chimpanzee behavioural diversity. "The behaviours we focused on are mainly socially learned or culturally transmitted across chimpanzee communities," Kalan said. "We believe chimpanzee population decline and habitat degradation could explain the observed loss in behavioural
diversity. This would result in fewer opportunities to learn these behaviours from others and less opportunities to express natural behaviours."
The researchers say their findings underscore the importance of getting conservation efforts to focus not just on population abundances and genetic diversity of species but also on the behavioural and cultural diversity.
"We are calling for more efforts to conserve behavioural and cultural traits among such unique species," Kalan said.