'Hermitage' is 5 hours and 20 minutes of cinematic bliss
The movie has been shot in one continuous take using the iPhone 11 Pro and on a single charge of the battery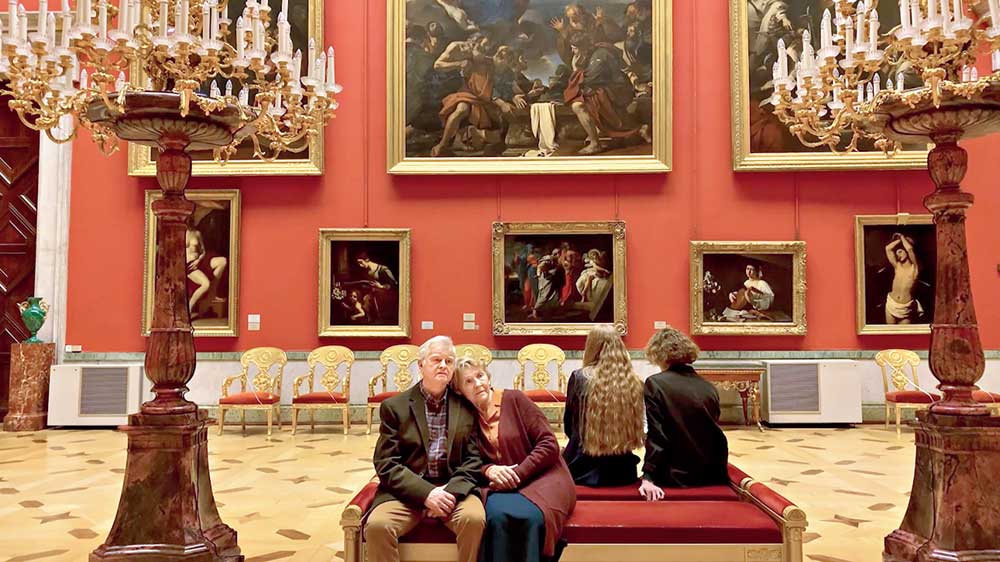 A still from the film 'Hermitage', which has been shot using an iPhone 11 Pro. The one-take cinematic journey around the State Hermitage Museum in Saint Petersburg has been directed by Axinya Gog.
Picture: Apple
---
Published 15.03.20, 01:17 PM
|
---
We all shoot videos on our smartphones. Amateur aspiring Sean Bakers and Steven Soderberghs take it several notches higher by filming on the iPhone. While some of them are trying to make the next award-worthy film, others are trying to deliver titles that would resonate around the world. Russian filmmaker Axinya Gog's latest work is a mix of both.
The 29-year-old has come up with a five-hour, 19-minute and 28-second film called Hermitage. What makes it unique? It's filmed entirely on the iPhone 11 Pro in one continuous take on one battery charge, taking viewers around the iconic State Hermitage Museum in Saint Petersburg, Russia.
We got an opportunity to interact with Axinya over email and here's what she has to say.
A continuous shot that lasts five hours and 20 minutes. What kind of arrangement did you need to make before filming Hermitage? Did you get a chance to practice?
From the very beginning, we understood that the museum was a "living organism" with its own lifestyle and schedule that had to be respected. We were given two days when the museum was closed for visitors — one to practice and one to shoot. But even on such days off, so much goes on inside — artefacts are cleaned and moved, hundreds of staff members are around, and so on. So we did most of the initial practising on regular working days, test filming among visitors. This is when we really experienced the benefit of shooting on the iPhone for the first time.
Being lightweight and compact, we were able to do our thing without attracting undue attention. During our fist "empty house" rehearsal we were shooting in parts, not continuously, and when we added all of the material together we only had three hours of material, so we had to go back to planning and prepare a very detailed script for all our movements. Finally, on shooting day, we had just one chance to get it right and some things had to be improvised along the way because we had to keep going no matter what… just like in real life.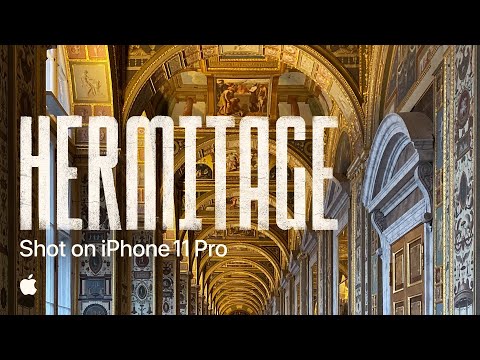 Since the State Hermitage Museum occupies six buildings and houses the largest collection of paintings in the world, how did you decide on what would make it to the film?
Being a director is about the art of selectively guiding viewers through an emotional roller coaster. Normally, there is a wide variety of methods and tools for this. But for this project, creating the route was one of the most difficult things as it affected the whole narrative. I chose the halls, based on their cinematic appeal and on how well they played off each other to create a more dramatic effect, not the more traditional "artistic value" criterion. This is why we ended up with a non-touristy route.
As you moved through the museum, the lighting obviously changed. Since this is a one-take film, how did the iPhone 11 Pro perform when it came to working under varying light conditions?
On the one hand, we tried to make the most of natural light, but as we were filming in St. Petersburg in December, when the sun is out for only about five hours, we had to rely on the camera to perform well in these complex conditions. This required manual settings that the native camera app does not offer. Naturally, we tested various options available on the App Store but couldn't find one that would cater to all of our needs. So the team set out to make a new one specifically for this shoot. Just in a matter of weeks we had a working prototype of an app called Catch, available in the App Store. Not only did it allow us to manually control settings, such as ISO, white balance and focus, but it also gave us the ability to do it using the Apple Watch's Digital Crown. Such "physical" controls proved much more effective for our scenario. An assistant would follow the cameraman and change the settings from room to room, this allowed us to get great image quality in rooms that were both really well-lit to completely dark where we used spot artificial lighting to create a more dramatic effect.
You obviously had more to showcase than just the museum, which came in the form of a ballet sequence around the halfway mark and the live performance towards the end. What were the challenges in capturing these two segments?
It wasn't too challenging from a technical point of view. The iPhone's autofocus and extended dynamic range did a great job, resulting in crisp video quality and a well-exposed picture even in the most challenging conditions. It was more of a logistical challenge. For example, the ballet scene included a lot of 360 movements, so the cameraman was the only person there besides the dancer, the rest of the crew had to wait outside the hall. This is another example of how we utilised the device's compact size — it gave more freedom to the cameraman who was in a way doing a choreographed dance together with the ballerina!
In way of sound in the live performance towards the end, how did you manage? Also, there was a small crew to help with the shoot. How did the team manage to maintain silence?
The sound for that live performance scene was recorded with separate microphones hooked to the musicians and then went through some post-production. It would not be possible to record it properly with the camera moving around so much. But you're right about the size of the crew. While there were many people working on the project — from the creative team to technical staff and actors, there were just a couple of us following the camera along the seven-kilometre route. At times it felt like we were astronauts on a mission travelling through space!
How did the battery hold up?
Before the shoot we did a lot of tests and were surprised to find out that things you assume would influence battery life, such as screen brightness or LTE connection, were actually of low impact. It was the change of scenery and lighting conditions that impacted it most. For example, if you set up the phone to record a blank wall with no action going on, it can go on for hours and hours. But once you start moving around with the camera adapting to the changing conditions and the chip processing all this information in 4K with extended dynamic range, that's when you put it to the real test. We started on a full charge and after the five-hour 20-minute shoot in 4K, we still had 19 per cent of battery left — thanks to highly-optimised camera sensors and energy-efficient chip, iPhone managed to perform extremely well and surpassed our expectations.
If you can share about the post-production work that went into the film and also, other equipment you used while filming...
We built our whole production around iPhone, no "workarounds" — it was an honest experiment. The post-production was your basic colour correction and sound design and when we were filming we didn't use any additional equipment, such as lenses. The phone moved between the cameraman's hands, a dolly and a crane using quick-release (a mechanism which allows you to manipulate the device quickly and set it into or take it out of locked position).
What would you like to see in future iPhones on the video front?
To be honest, this was my first experience with the iPhone on such a scale and I feel like I've still got more to discover about the device but I definitely love where this is going. A university friend of mine, a huge Apple fan, started filming everything on iPhone when it first came out and was always telling me: "Mark my words, Axinya, this is the future of our industry." This was about 10 years ago and I only scoffed then — and look at me now (laughs).

Interesting facts
The full film, recorded in one take in 4K, measured to over 125GB. After the five-hour 20-minute shoot, there was 19 per cent battery left on the device.
A new app was developed by the team to film the project, allowing the crew to manually control iPhone camera settings (such as ISO, WB, focus) from a distance using Apple Watch. The app's name, Catch, is a combination of Camera + Apple Watch and is now available on the App Store.
Director Axinya Gog spent most of her childhood in a museum — her mother worked as an art historian and curator at the Tretyakov Gallery in Moscow.