Hello, Isro, got a rocket? Yes, lift-off in 72 hours
Launch-on-demand service for small satellites from this year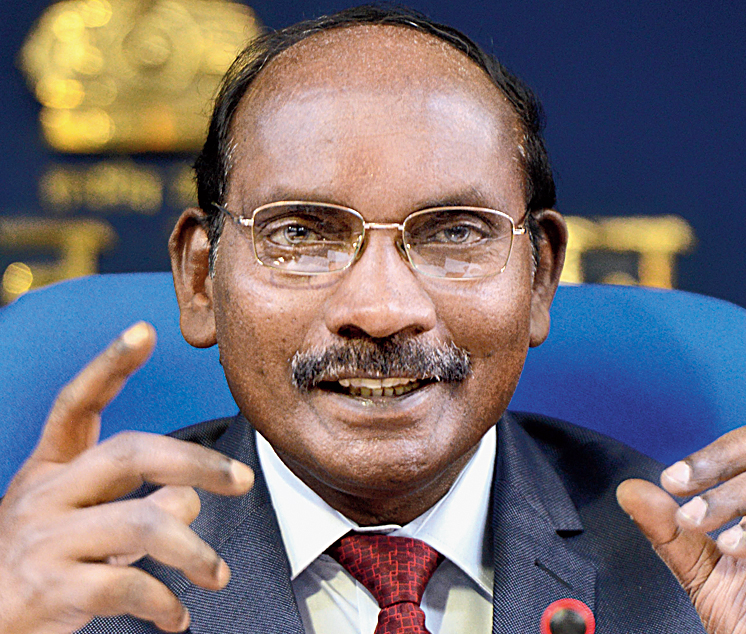 ---
---
 India's space agency will introduce this year a launch-on-demand service for small satellites through a new rocket that could be prepared for flight within 72 hours, senior space officials said on Friday.
The Small Satellite Launch Vehicle (SSLV) is intended to ferry small satellites, including student-built space science payloads, weighing up to 500kg, senior Indian Space Research Organisation (Isro) officials said.
But space technology and strategic affairs specialists said the SSLV could also enhance India's capabilities for rapid surveillance if required for security or disaster management applications.
The SSLV will be an addition to Isro's stable of workhorse rockets — the Polar Satellite Launch Vehicle and the Geosynchronous Satellite Launch Vehicle that can carry of up to 4,000kg of payloads. The SSLV's first flight is scheduled for July 2019, the officials said.
"It (the SSLV) will be the country's smallest and most economical launch vehicle," said Isro chairman Kailasavadivoo Sivan. Isro hopes to increase its frequency of launching small satellites — whether for commercial customers or academic institutions — through the SSLV.
"Students could focus only on the payloads — their payloads would be plugged into SSLV and launched," Sivan said, outlining an ongoing Isro outreach programme that seeks to expand its collaboration with academic institutions within and outside the country.
But space technology analysts say the SSLV will augment rapid surveillance capabilities.
"A launch-on-demand service would add to our existing space-based remote-sensing assets — what might be called a bespoke surveillance capability — tailored to specific military or civilian requirement as it arises," said V. Siddhartha, a space and defence research expert with experience in both departments.
"Small surveillance satellites could be launched quickly for monitoring short-armed conflicts if assessed as imminent, along borders, or for quick assessment of the extent and magnitude of natural disasters that the National Disaster Management Authority is responding to," Siddhartha told The Telegraph.
But analysts also caution that India will need to enhance in parallel its capabilities to build such on-demand surveillance satellites.
"A launch-on-demand service would of course be good, but we have to have the ability to manufacture satellites in response to demands," said Rajeswari Rajagopalan, the head of the nuclear and space policy initiative at the non-government Observer Research Foundation.
"If Isro has some capacity deficit, then it would need to work with industry players and help develop an ecosystem where the industry could help address the deficits," she told this correspondent.
Space officials said Isro also planned to conduct this year its first-ever automatic landing test of a proposed reusable launch vehicle (RLV), a craft designed to deliver payloads into low-Earth orbit and return to land on a runway as the American Space Shuttle did.
In the RLV landing test, a helicopter would hoist and release the RLV at an altitude of about 3km from where the craft would land on its own, guided by onboard computers. "The test will evaluate automatic navigation, steering, landing gear, alignment to the runway and touchdown," a senior space official said.
"The RLV is expected to reduce the cost of access to space," R. Umamaheswaran, Isro scientific secretary said. "No one has a full-fledged RLV today. It is a futuristic vehicle — we're about 20 per cent towards the RLV goal."
Sivan, outlining Isro's upcoming missions in 2019, said the Chandrayaan-2 lunar lander mission was expected to be launched between March 25 and April 30. Chandrayaan-2 — a follow-up to the first lunar orbiter mission a decade ago — will land on the Moon with a lunar rover.
Senior officials said Isro also planned to launch by October this year GSAT20, a telecommunications satellite, to provide 100 Gbps broadband connectivity and a satellite each for microwave remote sensing and advanced geographic imaging.