Glow of approval: Three apps that have had a meaningful impact
The Telegraph speaks to the teams behind the apps that are among this year's App Store Award winners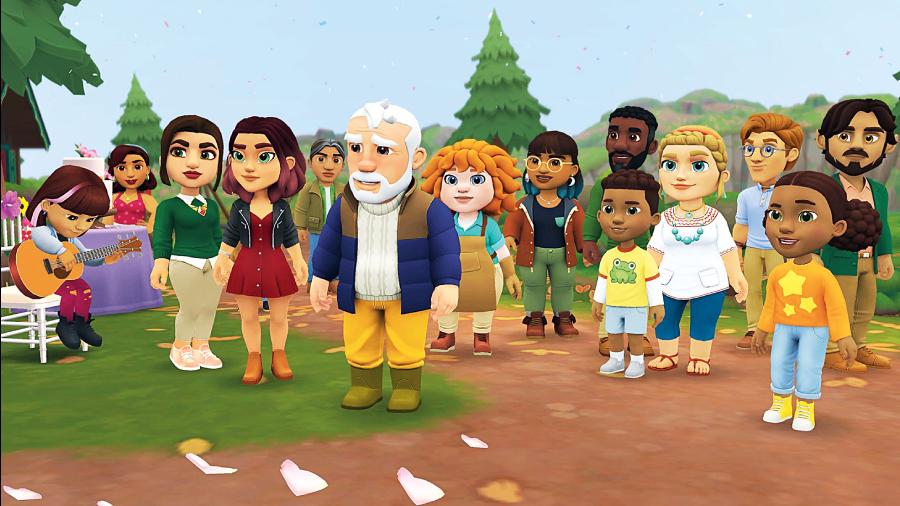 The characters in Wylde Flower
---
Published 04.12.22, 01:35 AM
|
---
The Apple App Store is where "innovators and dreamers can bring their ideas to life, and users can find safe and trusted tools to make their lives better," said Apple CEO Tim Cook a couple of years ago. Since the introduction of the App Store several years ago, there has been a stream of opportunities for entrepreneurship, health and well-being, education, and job creation. Every year, Apple celebrates some of the developers who highlight the essence of the App Store. The App Store Awards is a coveted prize among developers and t2oS spoke to three of the winners (there are several others) via video call. This year's winners represent the abundant possibilities across the App Store and Apple's ecosystem of devices. Here's what they told us. Wylde Flowers
Prize: Apple Arcade Game of the Year
The game: The lead protagonist is Tara and players play as Tara; you farm by day and become a witch at night. What makes Wylde Flowers special is the diverse range of characters, who represent a wide age spectrum, body types, race, religion, sexual orientation and gender.
Hear it from: Amanda Schofield, founder, Studio Drydock Diversity matters…
We're just so thrilled for the recognition, especially since Wylde Flowers is our very first game as a studio. Studio Drydock was formed in 2019 and what we really wanted to do with the studio is to develop games where underrepresented folks would be able to see themselves, especially people who maybe hadn't seen themselves in games before. And definitely hadn't seen themselves as major characters. To do that, we feel that it's just as important that the team who builds it is super diverse as well. They're based in Australia, which is our HQ and that's where the studio was founded. We're also in New Zealand, Canada, Costa Rica, and the US.
Based on real-life cultures…
We have had quite a few cultural consultants come in and make it as inclusive as possible. We wanted to do justice to our characters.
Cutscenes and voiceover actors…
The characters can emote to the degree of, say, a Disney character. We have over 350 cutscenes in the game, which is about six-and-a-half hours or a couple of long movies. Nobody skips cutscenes in our game because it is at the heart of the story. People love the experience. We also needed an incredible voice acting cast. We have Bafta Games Awards-winning Cissy Jones from Firewatch, who plays Hazel. Then there is Valerie Rose Lohman (of What Remains of Edith Finch fame), who is the voice of Tara. The whole story is pulled together by the voice actors. Even the romantic cast is important, like the nonbinary butcher Kim, voiced by Erika Ishii.
The world itself is beautiful. We have familiar places, like the mine, farm, village or fishing. But we are a witchy game, so there is the fairy village and the enchanted forest. There are plenty of places to explore and things to do. Then there is the element of magic, so you learn to make potions. The game is at its best when players use witchcraft and farming together to achieve goals. Ever since it came out in February, we have been hearing how players like spending time with the characters. Despite being a 30-60-hour game, we started hearing that users wanted more. We are bringing our free content tool and it's called Endless Seasons in Romance. It focuses on things players wanted to see most in the game after they had finished playing the title.
The colour scheme…
It is something that's close to my heart. I come from Sims (game) in my previous life (before founding her studio), so I know the importance of colour schemes. I really wanted to push these elements as far as I could. On the mobile, colour schemes are very important; it is important to have vibrancy.
GoodNotes 5 Prize: iPad App of the Year
The app: GoodNotes is a freeform digital paper that allows students and professionals to handwrite and take beautiful freeborn notes, annotate PDFs and share their notes with friends and colleagues.
Hear it from: Steven Chan, founder of GoodNotes, and Minh Tran, VP of operations, GoodNotes. How it started….
Steven Chan: GoodNotes was originally created to help me go paperless when I was still in college studying math more than 12 years ago. Because I was studying math, I used the pen and paper a lot; it is so much easier to write equations by hand. But I probably used too many pages because I often would just tear out pages when I made a mistake. I'd just throw them on the floor.
The iPad came out in 2010 when I was just about to start college. The screen size was perfect for going paperless. I tried different note-taking apps of the time, but I couldn't find one that I liked. During my last year of college, I decided to write the app to solve my problems of having too many papers all over the place for my math study. I worked almost full-time on the app during my last semester, skipping lectures, and only doing assignments and exams. At the end, I got the worst grade for my last semester. But I managed to finish the app in that semester.
The turning point…
Steven: I set fixed working hours every single day. For the first five years, it was actually me handling everything, from coding to customer support to design. Back then handwriting on the iPad was still a very niche use case. People had to buy a capacitive stylus that was inaccurate.
The big moment came when the Apple Pencil was announced in 2015 because it made handwriting on the iPad so much easier; it became a viable alternative to pen and paper, thanks to its accuracy and low latency.
It was really the moment I had been waiting for years; it turned the iPad from being a niche to a mainstream product. Almost immediately after the Apple Pencil arrived, I started hiring, because I had so many ideas. For example, make pen-and-paper collaborative, like two people working on the same piece of paper at the same time, but in two different physical locations.
Users around the world…
Minh Tran: GoodNotes today is a global community with users in every corner of the globe, including India. And we have 19 million monthly active users and that number has grown 10x in the last three years during the pandemic. We're very fortunate that 99 per cent of our sales are organic, purely through word of mouth, and a user spends an average of 106 minutes per day in our app. So it's a true companion for our users when they work and study. This year alone, our users have created 1.6 billion notebooks. And that number has also grown in the last three years. In 2019, our users created 300 notebooks per minute. Today, they create 3,000 notebooks per minute.
Audience, then and now…
Steven: When I started the app I was thinking about solving my own problem with too many papers. I think the oldest target audience is actually people who rely on pen and paper for either study or work. Now we are seeing a lot of beautiful notes from engineering as well as medical students. We also have a lot of professionals; entrepreneurs like to mark PDF documents. What may come as a surprise is people started using GoodNotes for planners. I didn't expect people will be doing their digital panning on the iPad.
Coder to entrepreneur…
Steven: It has been my biggest challenge. When we started hiring, that is, when the Apple Pencil was announced, there was some struggle… how to work with a few people, and how quickly they learn. I soon realised that they like reading books, talking to other people, sharing ideas… we always have a comfortable way to work together. When I got a team, I realised the difference communication makes.
Apple has a new app called Freeform…
Steven: I think we are not competing; Freeform is more like a digital whiteboard. We are really focused on a digital notebook concept.
El Hijo Prize: Apple TV Game of the Year
The game: Six-year-old El Hijo, which is Spanish for "boy", needs to sneak past several dangers and as he overcomes challenges, he gains self-confidence. On his journey, he will find a remote monastery in a harsh and unforgiving desert setting, and a frontier town rife with crime and villainy. The journey begins when a farmer and her son are attacked by bandits, who raise the farm to the ground. The mother decides to leave El Hijo at a secluded monastery in order to protect him. However, he tries to escape.
Hear it from: Jan Pytlik, producer, QA Lead, HandyGames Around since the time 'phones still had buttons'…
HandyGames as a publisher and developer of video games was originally founded in 2000 by the brothers Christopher and Markus Kassulke (also Udo Bausewein). They started pioneering mobile games when phones still had buttons. Now we are established as a publisher and developer of all types of games. Since 2018, HandyGames has been a part of the THQ Nordic, and this provided us with access to a lot of great and established IPs. Naturally, the idea came rather quickly to level up mobile gaming, and provide gamers with console PC-type quality games on their mobile phones. This ambitious plan was successful and with the PC console Battle Chasers: Nightwar, which is also available in the App Store, we were able to bring the game to mobile devices and it was a huge success. Since then, we released multiple mobile premium games and with a proven track record, we tackled El Hijo.
The idea was to create a game set in the Wild West, but without all the violence, creating a game that is both fun and accessible for a broad range of audiences. And with the unique art style, the game found an audience right from the start, but it is also deep enough to provide the challenge for a seasoned gamer.
What makes the game unique…
Since development started, there was a big emphasis on the overall aesthetics. The indie look gave the game a special charm. And it has a context-sensitive and atmospheric soundtrack, fully supporting the playfulness of the game. Playfulness is also something of a recurring theme in the game. It uses as little text and voiceover as possible. It's more of a visual delight, which makes it very accessible to a broad audience.
Adults too can enjoy the game…
The playfulness element is important. When you're running around as a child, and using all those toys, and the sling, you go back to your childhood a little bit. At least that was my feeling when I was playing the game. I was feeling young again. Also, the protagonist being a child, it's a perfect game for families.
Can games inspire more content for TV?
Judging by all the inquiries we get from TV and series makers, I would say yes. In general, games always provide great stories that are maybe a little bit different from the mainstream. So they also become a perfect target for TV series and shows. I think it will continue to do that. And we see a lot of production from all kinds of TV shows and everything going on.
Coming up…
Our mission is to take mobile gaming to a new level. We just released Wreckfest Mobile and it is a destruction derby-type racing game that comes with gorgeous graphics, space distraction models, and local multiplayer over Wi-Fi. We have Endling: Extinction is Forever coming very soon. It tells an emotionally touching story of a mother fox on a quest to find her lost cub and avoid the dangers that come through a ravaged and destroyed planet. It's an emotional game with a very strong message. It is our mission to stay as true to the original PC and console games as possible, and provide the same great experience. And of course, we're also working on titles for Apple TV, so we can win the award next year too.