Galaxy S20+: makes you feel that the phone is your castle
The phone excels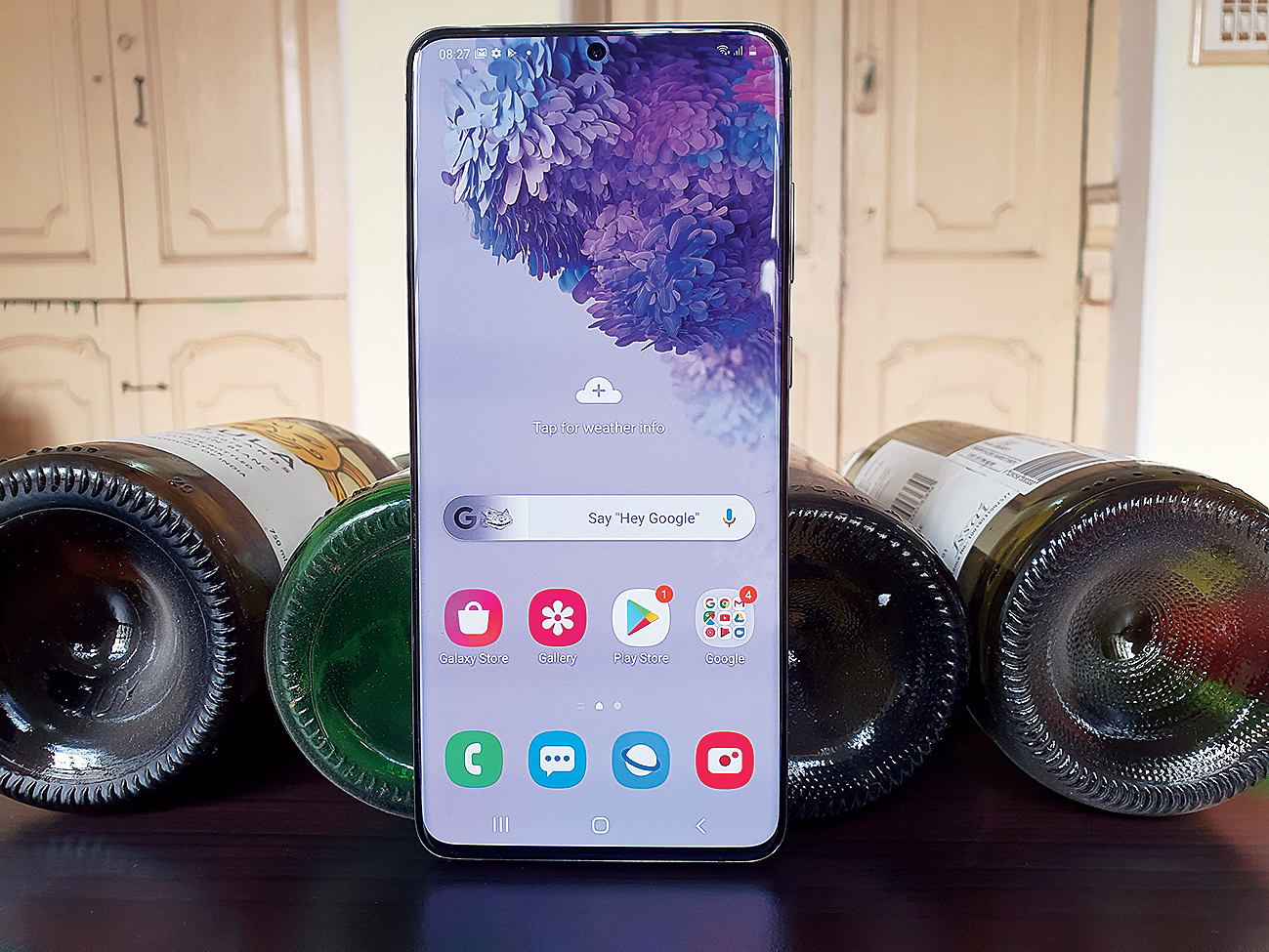 ---
---
Say you are in the market looking for a smartphone tailored to your needs. The exercise comes with a couple of problems. First, having a list of specifications eliminates most of the brands available. Second, going only by specifications makes the consumer ignore important aspects like build, software experience or support. Specs alone do not make a phone. Alternately, if you ignore this aspect, one may end up buying a nightmare of a device. The only factor that's steady is choosing between Android and iOS.
Loyalty is a complicated word in 2020, more so when talking about technology. Kendrick Lamar asks in his song Loyalty: Is it money? Is it fame? Is it drink? In technology, the questions could be "Is it familiarity? Is it quality?" and they are met with a resounding "yes" when using the new Samsung Galaxy S20+, which is more than just a refresh of the naming sequence. Samsung is a company (besides Apple) that still shows us what technology can do. So what can the Galaxy S20+ do? Read on.
Ultra-smooth experience
Out of the box, the first thing that grabs one's eyes is the display, a beautiful 6.7-inch Quad HD+ Dynamic AMOLED 2X display, which packs an exorbitant number of pixels, going from edge to edge of the phone. Despite the size, the phone is light with an aluminum chassis and perfect balance. When you are texting or simply swiping, the display engulfs you, kudos to the 120Hz refresh rate support. What's that?
This is something one needs to experience to feel the difference. For the sake of explanation, we constantly scroll, which can be endless. With the usual 60Hz refresh rate, scrolling and animation may not appear smooth but with a faster refresh rate there is zero lag. You can virtually read as you scroll while touch responses are more in tune with your finger's placement. To break it down further, a 60Hz screen refreshes the on-screen image 60 times a second while a 120Hz one 120 times. Once you experience 120Hz, it's tough to go back to what may seem like an old technology. The experience is ultra-smooth.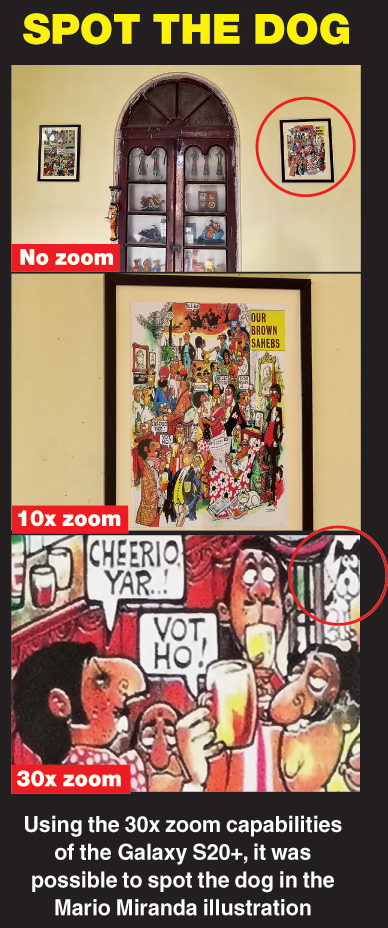 Of course, one may say that Asus ROG Phone II has it and also Poco X2. We have seen the 90Hz version on the Pixel 4 and so does OnePlus 7 Pro. But one needs to think of the bigger picture. Samsung has a global appeal and the US market will lap this feature up. The feature is not on by default and you have to choose between either ultra-high resolution or high refresh rate, which is fine. The other trade-off is that a high refresh rate drains the battery more than usual.
Staying on with the screen, the phone's in-screen finger scanner uses an ultrasonic sensor rather than an optical one but it's much faster than before. Unlike last year's Galaxy S10+, this time the punch hole is bang in the middle of the top edge instead of corner right, which is acceptable.
Better sensor, great photography
Moving to probably the most important factor for many — camera. The S20+ comes with a set up of 12MP ultra-wide camera, 12MP wide-angle camera, 64MP telephoto camera and DepthVision camera. You have heard of phones that come with 64MP camera but what also matters is the company a top-end camera keeps.
The basics first. When digital photography began, it was about who can come up with a camera with the highest resolution. The king needed to have the highest megapixel count. So we went from 2MP to 4MP to 8MP, leading to a noticeable difference in image quality. Today we have 12MP cameras in the market but also present are options like 64MP and even 108MP (S20 Ultra). One advantage that comes to mind is when you are working with a photo that will be printed. In general, to print great quality photo, 300DPI works. So a 24MP camera with 6,000x4,000 pixel resolution, you can easily print 20x13-inch photos. Let's move to 50MP, the size of the photo increases, which, in a way, is good. With lower-resolution cameras you can take good prints if you have some smart apps. Also, higher megapixel offers greater flexibility in post-production, especially when it comes to cropping. But with ultra-high resolutions the file size increases, offering slower continuous shooting and slower auto-focus moments. So, a generally less-responsive shooting experience.
What has Samsung done differently? Sensor arrays that are larger and deeper will produce better quality images. On the S20+, the 12MP wide-angle camera's new sensor has larger pixels — 1.8µm. This makes a difference to the picture quality (especially at night) because it absorbs light better than many others.

The other big feature is 30x zoom (optical plus digital). Of course, it's a lot less than what one has on the Ultra model (100x), yet it's something that delivers good pictures. On the viewfinder on the phone, you can tap through the zoom, 0.5 (wide angle) to 30x. The more you zoom, the more support you need to keep your hand steady. But the final images are very much Instragram-able.
What excited us more from technology standpoint is the phone's 8K video recording capabilities. It feels great to shoot 8K videos at 24fps (7,680x4,320) and not only that, one can even take 33MP still photos while playing back an 8K video. Superb. Unfortunately, most of us don't have a TV that would play 8K but there is support in the form of YouTube. The feature makes sense if you are shooting something very important and would like to retain it for future use.
To that one camera feature which rocks. Single Take, which is a software innovation. Simply press the shutter button to record three to 10 seconds of videos, which are sliced and diced to give you a selection of different photo types and videos. To get the hang of the mode a small amount of practice is needed. It's helpful, especially when you have a small window to capture a moment and would like to make the most of it.
Snappy performer
Powering the device in India is an Exynos 990 chipset (fabricated on the 7nm+ process), the equivalent of Snapdragon 865 SoC. It's a power beast. But making all the difference while playing games is the 120Hz refresh rate, especially while playing a game like Riptide GP2: Renegade. Packed with Arm Mali-G77 MP11 GPU, gaming experience is more realistic and immersive. The device supports 25W fast-charging for which there is an appropriate charger in the box.
Verdict
The S20 series contains the first major 5G phones to arrive in the US and some other markets. Rest assured that millions in the US would buy the S20, S20+ and S20 Ultra. What about India? We will obviously have the 4G variant because the government still hasn't chalked out a roadmap for the deployment of 5G in India. Frankly, nobody knows when it would arrive.
So who's the S20+ for? Photography enthusiasts would be blown away. Gamers would be glued to the device. Better sound quality and an AKG headphone in the box win brownie points from music lovers. It's a big, beautiful, crystal-clear screen, so a big yes from streaming service addicts. If that reads like an all-you-can-eat buffet, yes that's what this phone is about.
The Samsung Galaxy S20+ has set the bar for 2020 and makes one feel that the phone is the user's castle. It excels.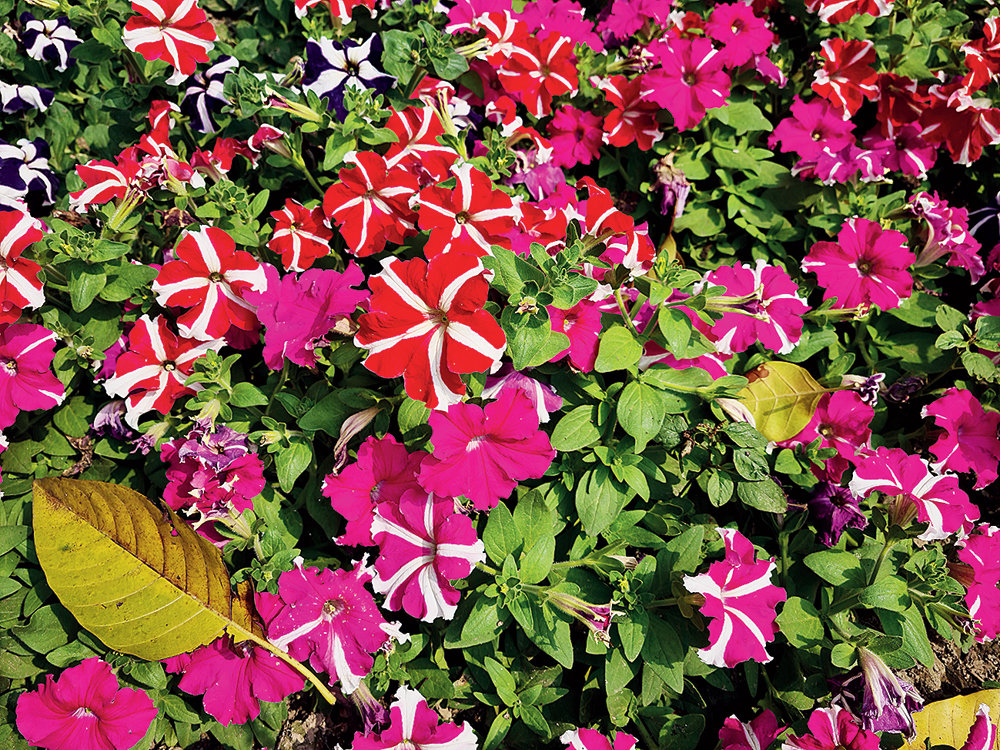 At a glance
Model: Samsung Galaxy S20+
Display: 6.7" Quad HD+ Dynamic AMOLED 2X Infinity-O (3,200x1,440); 120Hz refresh rate support
Camera: Front — 10MP, F2.2 (pixel size 1.22um); rear — 12MP ultra-wide (pixel size 1.4um), 12MP wide-angle (pixel size 1.8um), 64MP telephoto (pixel size: 0.8um), DepthVision; zoom — hybrid optic zoom of 3x and super resolution zoom up to 30x
Video: 8K video recording at 24 fps (7,680x4,320)
Processor: 7nm 64-bit octa-core
Storage: 128GB + 8GB (expand with microSD card, up to 1TB)
Battery: 4,500mAh
Price: 73,999