Speed is everything on the OnePlus 9RT 5G
Besides killer looks, gaming is one of the big features of the smartphone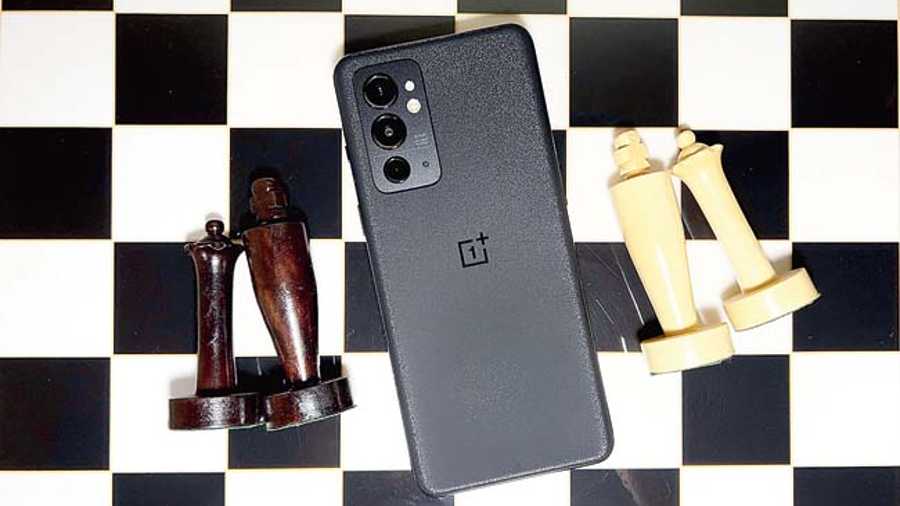 OnePlus 9RT 5G is an all-round package that doesn't disappoint.
Pictures: The Telegraph
---
Published 16.01.22, 11:53 PM
|
---
Playing it safe: As sportspersons mature they become aware of what's called 'risk intolerance'. Some golfers would prefer a par rather than aiming for a tricky birdie which has a high chance of turning into a bogey. And playing it safe is not a bad strategy because these are players who are already established and are in the game for the long run. OnePlus has played it safe with the 9RT 5G, which has almost everything most users want. It doesn't disappoint. You walk into a Bruce Springsteen concert wanting to hear Dancing In The Dark or Hungry Heart and the Boss delivers. The question is: What does playing it safe means in a place like Las Vegas, which sort of represents the phase the smartphone industry is currently in?
Top-of-the-line performance
The biggest come-here features of the device are its camera and performance. To ensure zero compromises, the Snapdragon 888 processor has been combined with up to 12GB of LPDDR5 memory and 256GB of UFS3.1 high-speed flash memory. It basically means you can push the phone more than other devices in the price range, from gaming to everyday work.
In fact, gaming is one of the big features of 9RT. To help the cause of gamers, there is 300Hz response rate on the display, which can be doubled to 600Hz using game tools plug-in. At 600Hz, the touch delay is brought down from 36ms to an astonishing 29ms. This goes hand-in-hand with a massive VC liquid cooling system and the vapour chamber is 59 per cent larger than the one used in OnePlus 9 Pro. Even after one hour of continuous gaming, the device didn't heat up.
Performance is absolutely top of the line even on the network front. Advanced network solutions include tri-eSport Wi-Fi antenna system. Usually we get dual Wi-Fi antennae set-up but there is an extra gaming-focussed antenna to improve Wi-Fi connectivity.
If performance on the display front is looked at, there are zero compromises, thanks to a Samsung-customised 6.62-inch E4 OLED flat display with a 120Hz refresh rate. Hang on, there is 100 per cent DCI-P3 wide colour gamut coverage, and very little blue-light emission. The best feature: In the screen colour mode section, there is cinematic mode which allows you to use Display P3 mode for almost perfect colour reproduction, something that helps while watching films. Needless to say, you get dual stereo speakers and Dolby Atmos.
Recently, Samsung launched Galaxy S21 FE, which is a direct competitor of the 9RT, but the India variant comes with Exynos processor, which has been on the receiving end for years, even though benchmark scores are quite good. Since the 9RT is for gamers, it does have a bit more processor muscles courtesy Snapdragon. No-nonsense camera performance
The second part of the story involves the camera. And this is where OnePlus has played it safe. There is a 50MP main camera with Sony IMX766 sensor, which OnePlus had used on the ultra-wide of 9 Pro. No doubt, it's a very good sensor and pictures come out crystal clear most of the time, with low noise. Plus, there is optical image stabilisation, which takes photography and videography to a new level. And night performance is absolutely stunning. Add to this the 16MP ultra-wide camera, which has an excellent field of view. Personally, I have enjoyed taking photographs on the 9RT, with OnePlus' algorithms helping along the way.
In the same breath I need to mention that the Samsung Galaxy S21 FE was in for review a few days ago. As far as colour reproduction goes, both phones do well but FE has a slight edge in way of dynamic range as well as sharpness on the ultra-wide lens while 9RT does a slightly better job at night photography in way of details. For selfies, it's an able 16MP camera with Sony IMX471 sensor on the 9RT, but I would have liked video capabilities beyond 1080p@30fps. In the coming days we will do a more detailed review of the cameras on the two phones (and also one from Xiaomi).
Should you buy it?
A few things to remember. The overall finish of the 9RT is one of the best in recent times. We have the Hacker Black variant with an absolutely flat flawless display. Second, the software. Out of the box, you get OxygenOS based Android 11 with a November 2021 security update. Agreed that things are looking more and more like ColorOS but I wouldn't go knocking this phone because the next-generation OxygenOS is due to roll out in spring, which means things may improve. Third, even though the phone comes with an efficient 4,500mAh battery and 65W charging but there's no wireless charging.
The most important question you need to ask yourself is what do you want to do with the phone? If gaming is on your mind, this is a fantastic device to have. For everyday work, there are hardly any complains. In case you are an amateur photographer, things are middling to good. The phone prepares you for the next big OnePlus launch. Credit goes to the company for keeping its phones clean, free of advertisements while retaining killer looks. Speed is everything on OnePlus 9RT 5G (and killer looks).
At a glance Device: OnePlus 9 RT 5G
Price: Rs 42,999 (8GB+128GB) and Rs 46,999 (12GB+256GB)
High notes
• Stunning design
• Powerful processor
• Excellent gaming performance
• One of the best displays in the market
Muffled notes
• No wireless charging
• Selfie camera performance can be improved