AIWA SB-X350J brings out the best of every music genre
The pill-shaped speaker is on the heavier side, making it ideal for your workstation or the living room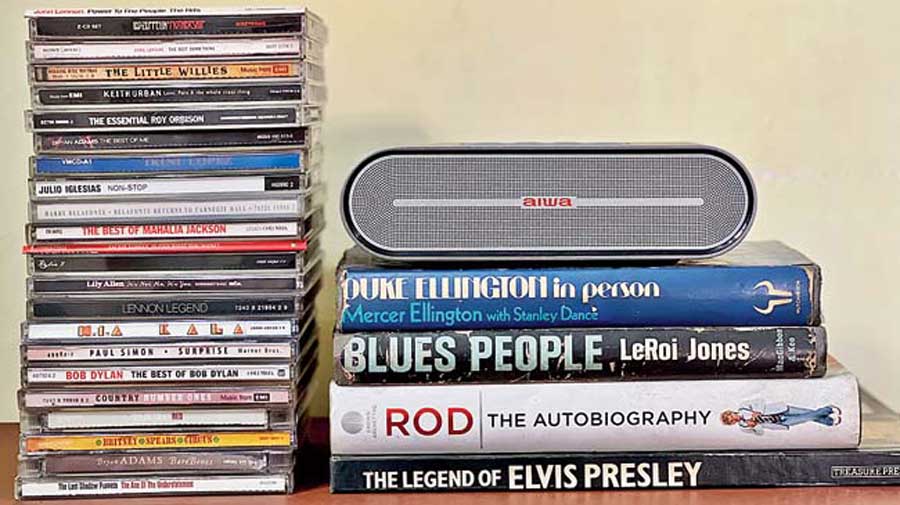 AIWA SB-X350J is only a Bluetooth speaker but a fine one at that.
The Telegraph
---
Published 25.01.22, 11:06 PM
|
---
A small, well-built Bluetooth speaker that delivers big sonic punches. AIWA is a brand name that comes with a lot of respect and has a long history to live up to. Just when one thought Bluetooth speakers can't surprise any longer, the AIWA SB-X350J arrives with its sleek finish and surprisingly good sound.
Frankly, it's a speaker that can't get simpler but the joys of life lies in simplicity. The pill-shaped speaker is on the heavier side, making it ideal for your workstation or the living room. Placed anywhere in the room, it offers all the audio magic. The metal mesh-covered speakers fire towards the front and back while the body is solid metal. On the top is an LED panel with some simple controls — power, mute and volume. On the side is a USB-C port for charging, next to which is an Aux-in port. It can't get any simpler.
Let's talk about what it can do. It can fill a medium-sized room while keeping the volume at 60 per cent. Filling a room isn't enough; it can achieve it while maintaining clarity. We started with Madonna's Confessions on a Dancefloor and its standout piece, Isaac, which was reportedly inspired by the sixteenth-century mystic Yitzhak Luria. The galloping beat and cascading acoustic guitar loop create a layer of complexity that comes through easily without killing vocal clarity. On The Corrs' album Jupiter Calling, there is enough of mournful piano, vigorous fiddle playing and, of course, exquisite vocals, all of which are done justice to.
Changing gears to something punchy — AC/DC and their album Power Up. The unbridled power on tracks like Shot In The Dark and Through The Mists of Time makes the speaker fire on all cylinders, bringing out the range it can support. From classic rock to Bach and the uplifting  sounds of the composer's Third Brandenburg Concerto; it's heartbreaking as the violin soars, packed with moments of contrast. And then it was time for Billie Eilish's Happier Than Ever. Be it the funk-pop on My Future or the subtle layering in Your Power, the richly-nuanced album shines when listening to it on this powerhouse of a speaker.
All this and more I heard over 10 days with volume kept to 40-50 per cent most of the time. There was never a dull moment, thanks to the two 40mm active audio drivers. It's the kind of sound that's rarely seen in the Bluetooth speaker segment. AIWA didn't stop there. The company has thrown in Qualcomm aptX HD codec technology, which ensures CD-like quality, supporting 24-bit music quality over Bluetooth. It's so powerful that sometimes I felt like using it as a soundbar, cranking it up to 11, watching a Clint Eastwood classic.
Some may point to the pricing, which is enough to compete with the likes of Marshall and Bose speakers. Frankly, the sound is also in the same category, so the pricing is justified. Sure, I would have liked to see the battery juice up quicker and the charge lasting me more than five hours (60 per cent volume) but this is a speaker that I would keep in the living room, connected to a power source. As for the heft, I like it; there's a feeling of solidness, which has gone missing lately in the Bluetooth speaker category.
In case you decide to get a pair of these speakers, you can take advantage of true wireless stereo technology and get a full stereo experience while, say, watching TV or listening to music. Perhaps the biggest USP of the AIWA SB-X350J is its ability to bring out the best of every music genre. It's a versatile speaker. At a glance
Device: AIWA SB-X350J
Price: Rs 17990 (special Republic Day offer is on Rs 12,990)
High notes
• Fills up the room
• Can work on any genre of music
• Big sounds without losing clarity
• Solid finish
Muffled notes
• Battery life could have been better