Fitbit Versa 3 does not fail the user
It has a number of options on offer but your choice should largely depend on how diligently you want to track your workout progress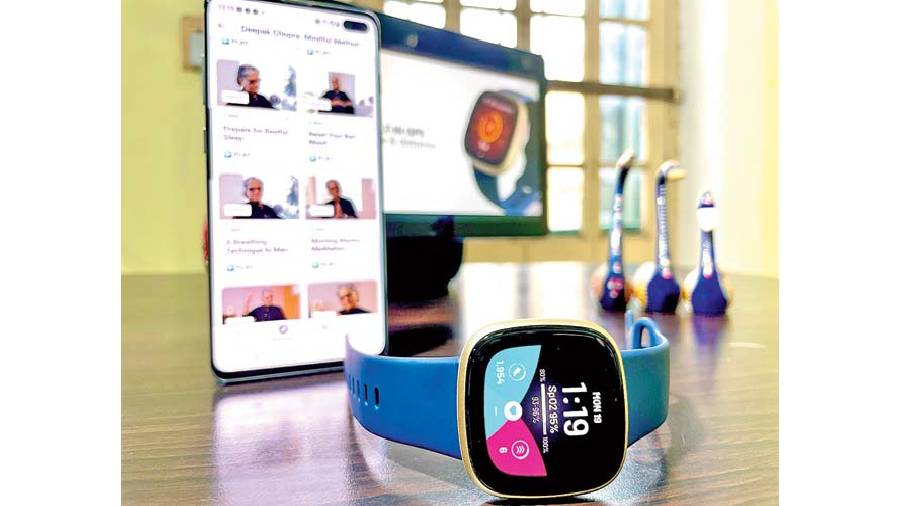 ---
---
There are a bunch of trackers and fitness-focussed smartwatches but only a handful prove useful in the long run; Fitbit is one of them, next to the Apple Watch. The brand has a number of options on offer but your choice should largely depend on how diligently you want to track your workout progress over time. The Versa range is the one we have our eyes on, especially the recent entrant Fitbit Versa 3. And it's a classy companion for the wrist.
Pay for that extra benefit
Unlike Redmi, Realme or Amazfit smartwatches, Fitbit does quite a few things accurately, plus you have access to a selection of apps that can be helpful. There are a few utility apps that you can install, like To Do List and Hooks. Also there are a few health and fitness apps. Agreed that it's not a wide selection like that on the Apple Watch but it's significantly better than what you find on the average smartwatch.
Truth be told, I personally find Fitbit Premium (the company's monthly subscription service that unlocks extra fitness features) to be a perfect companion for Versa 3. I opted in and that's ensuring I engage more with the smartwatch. Coming for Rs 99 a month, there is access to a good looking dashboard which offers a clean view of all the readings and there are plenty of charts to read. And then there is the section 'Deepak Chopra: Mindful Method'. Your Fitbit app opens the gate to a world of videos to practice mindfulness and also shorts featuring Chopra, like him talking about total well-being, resetting bad mood and restful sleep. By combining the premium model with the functions of the watch I was able to get a lot more out of the device than on any Android phone-focussed brand.
Focus is on well-being
Even without paying extra to access the premium section, users can still enjoy a variety of functions, the best being the built-in GPS, which will give you the freedom to leave the phone behind and go on a run. The GPS on the watch is spot on, complete with all the nuances that come with a complicated route. Personally, I didn't have a problem using the Versa 3 and the GPS tracking matched the readings of the Apple Watch. To get GPS going, just choose an exercise, like running or walking. Speaking of the activity list, there are plenty of options — swimming, tennis, treadmill, yoga, martial arts, pilates, golf, elliptical, circuit training and more. Yes, there are brands that offer four dozen activities but seriously, you won't use most of them.
There is an option for relaxing in which you have to inhale and exhale for two minutes. It's the kind of exercise that makes you feel relaxed even when you are working from home. The heart rate sensor too works flawlessly, offering accurate ratings.
The option that can be improved is SpO2. Personally I feel having SpO2 on any smartwatch is an overkill because users don't know what to do with the data and if blood oxygenation is priority, you will be better off with an oximeter. Anyway, the watch takes SpO2 reading only if you have certain watch faces downloaded. You can see your average nightly level at a glance with the watch face and weekly levels in the "today" dashboard on your wrist or in the app.
Also there, access to Google Assistant or Alexa and notifications can be dealt with quick replies, something that can also be modified through the app. You can also control your Spotify app using the watch.
Instead of a zillion options, the focus of Versa 3 is on exercise and well-being. Having fewer distractions while bicycling or exercising is what one needs. Most fitness enthusiasts are interested in battery life over how many songs can be stored on the smartwatch. You can get six days of battery life on the Versa 3 but with always-on display and GPS tracking on, don't expect more than four, which is way better than the Apple Watch.
Should you buy it?
Not that Fitbit Versa 3 is perfect but it doesn't make tall promises. The haptic feedback on the watch is perfect but the placement of the button is awkward — on the left side of the frame, which makes access slightly difficult. At the same time, the AMOLED display is flawless and so is the shape, complete with the aluminum casing. Fitbit is at an interesting stage. It's one of Google's biggest acquisitions but Google is also working closely with Samsung to make Wear OS and Tizen meet. Yet, Fitbit will always have a special place because of its huge following. It's a brand with excellent sports tracking credentials and longevity. If it's health and well-being you are after, Versa 3 gives users a focused approach. Stylish, rich in features and well built, Fitbit Versa 3 does not fail the user.
Device: Fitbit Versa 3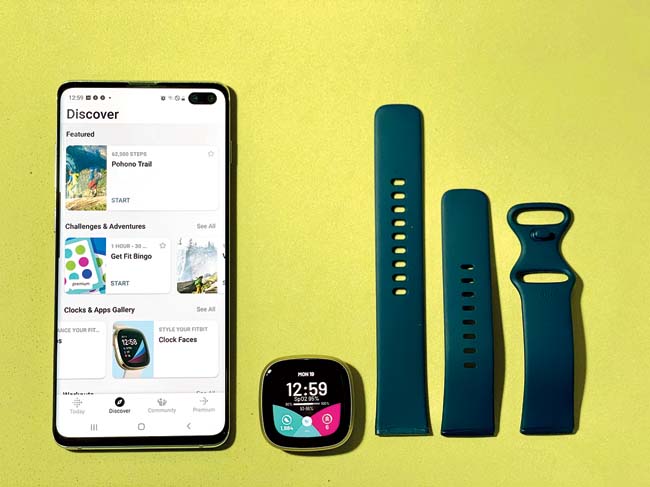 Price: Rs 18,999
Fitbit Versa 3 comes with good battery life, easily lasting four days with most features turned on
High notes
• Comfortable to wear
• Excellent battery life
• Accurate set of sensors
• When combined with Fitbit Premium, it becomes a versatile device
• The strap is comfortable enough to be worn for hours
Muffled notes
• SpO2 reading process can be simplified
• The button should be moved to the right bezel of the watch frame