Everything you need to know about Samsung's unpacked event on February 1
The February event is being hosted in San Francisco after a pandemic-induced three-year break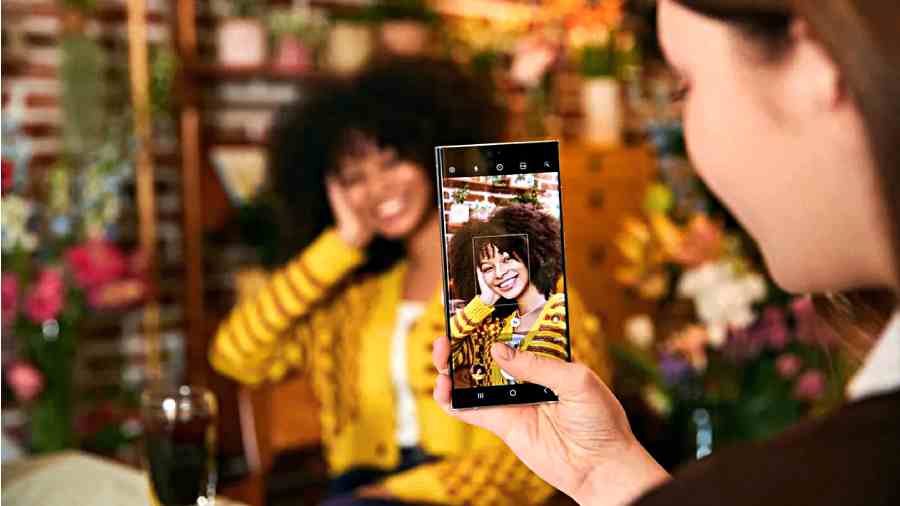 Samsung Galaxy S22 Ultra
The Telegraph
---
Published 27.01.23, 02:32 PM
|
---
Samsung will host an inperson Unpacked event in San Francisco after a pandemic-induced threeyear break on February 1. Set to take place at the Masonic Auditorium, it will mark the launch of the Galaxy S23 series though Samsung hasn't officially announced the exact product lineup for the day. Let's take a look at what could be announced during Unpacked.
NEW SHINY PHONES
Last year's Samsung Galaxy S22 phone made a substantial upgrade to its camera system to ensure better night photography but there's always room for improvement and that's what possibly will be shown on February 1.
In a recent official blog post, TM Roh, Samsung's president and head of MX Business, hinted that the "upcoming Galaxy is all about camera, performance and sustainability". The company has also unveiled its 200MP image sensor. Let's put two and two together. Wouldn't it be great to have this on the S23? The new sensor allows the camera to capture more detail (and resolution) without needing to be physically larger, ensuring the camera bump doesn't get bumpy when the phone is kept on the table.
The sensor, called the Isocell HP2, is in mass production, and though there aren't any HP2 samples to test yet, the company has a track record of presenting improvements year over year. It's a fact that increasing sensor resolution means each pixel on the sensor is smaller while smaller pixels are unable to gather light as well. So shots taken in low light can be a problem. The HP2 can tackle the situation. According to Cnet, the HP2 is a bit smaller than its HP1 predecessor but each pixel is more efficient at gathering light, an engineering direction that enables higherresolution photos and a smaller camera bump. They can gather light more effectively and boost high dynamic range (HDR) photos to cope better with scenes with dark and bright elements, the company has told Cnet.
To handle photos, something called pixel binning is used. The technology allows groups of physical pixels to be combined into larger virtual pixels so that more light can be gathered in low-light situations. Galaxy S22 phones delivered 3x3 pixel binning since 2019, offering 108MP photos in good light and 12MP photos when it's dim. Samsung's HP2 can take 200MP photos and with pixel binning, it can group pixels into 2x2 chunks for a 50MP image while in a very dark environment, 4x4 'Tetra2pixel' chunks take 12.5MP photos.
Since the new phones will come with the latest chipset, we can expect a lot of AI-based camera tricks, like we have seen on the Pixel 7 and 7 Pro (Photo Unblur and Face Unblur). Samsung already has in its bank Expert Raw.
We expect three new phones to be launched and though we already have 45W charging on Galaxy S22+ and Ultra (one needs to purchase a separate charger), we would like to see the figure get a boost to something like 65W or 80W.
NEW GALAXY BOOK LAPTOPS
It would be great to have Galaxy Book3 to keep the new phones company. We have heard rumours about something called the Galaxy Book 3 Ultra. It will use new OLED display tech and reports suggest we will get Intel's Core i9 13900H processor along with up to 32GB of LPDDR5 memory and 1TB of PCIe Gen 4 storage. It may have a dedicated Nvidia GeForce RTX 4070 graphics card. The Galaxy Book 3 Ultra will reportedly have a 76Wh battery and will come with a 136W USB-C power adapter. The South Korean company is also expected to launch the Galaxy Book 3 and Galaxy Book 3 Pro in both standard and 360 variants.
YOU CAN ALSO WATCH THE LIVESTREAM….
Join Samsung Unpacked, which will be streaming live from San Francisco on February 1 at 11.30pm IST. Customers can pre-reserve the flagship Galaxy S series by paying a token amount of Rs 1,999 on Samsung.com, Samsung exclusive stores, Amazon.in and leading retail outlets across India. Consumers who pre-reserve the upcoming Galaxy S series smartphone will get pre-reserve benefit worth Rs 5000. Consumers need to purchase and activate the device before March 31, 2023.
HERE'S WHAT SAMSUNG HAS TO SAY…. T M Roh, president and head of Mobile eXperience Business at Samsung Electronics, offered broad hints as to what can be expected during the February 1. Here's what the man has to say: "This year, Galaxy S series has extended our innovation heritage by doubling down on our fundamentals. That's why our pro-grade camera system is getting smarter, offering the best photos and videos in any light among our Galaxy smartphones. Along with hardware and software optimisation, our newest chipset born out of Samsung's open partnership philosophy enables the fastest and most powerful Galaxy performance. Our ecosystem connectivity is also getting easier and more seamless than ever…. At the top of the Galaxy S series is our Galaxy S Ultra. It's the product you can trust to give you the best of the best with redefined performance and quality. On February 1 at Unpacked, we'll show how innovation and sustainability working together brings the ultimate premium experience.