Often we are asked for our phone numbers at retail stores and at other places. Also, we are living at a time when calls from delivery services are high. How comfortable are you when it comes to sharing your personal number? This is where Doosra comes in. The Hyderabad-based start-up is proving quite a mover-and-shaker when it comes to upping privacy quotient. What you get with Doosra is a virtual number, which you can share but all incoming calls to the Doosra number are blocked by default and go straight to voicemail. You can answer calls when required.
Behind the platform is Aditya Vuchi, who hit upon the idea after a personal experience a few years ago. Here's what the Hyderabad HQed platform's founder has to say about the service.
What are the primary focus points for Doosra at the moment?
I think we are in bit of an uncharted territory for two reasons. One is the whole notion of privacy. If you had asked anyone in India, maybe two or three years ago, they may have said there was no notion of privacy. So it's a new space we are exploring. Second, this is a paid product. Usually we see many digital products that are either subsidised or completely funded by venture capital money. Here, users have to pay.
In the last year or so, and this has especially become more pronounced with Covid, your mobile number has become a part of almost every transaction. You walk into a building or the supermarket or mall, being asked for your mobile number has become common. There is a mixed reaction to this. On one side everybody is asking me for my mobile number and on the other, I see data leaks happening every other month. This is making the need for a product like Doosra obvious. And people are getting used to paying for a service like Doosra.
While I'm very happy that people are understanding the need for such a product, getting it into the broader spectrum — and not just the early adopter community — is something we are focused on.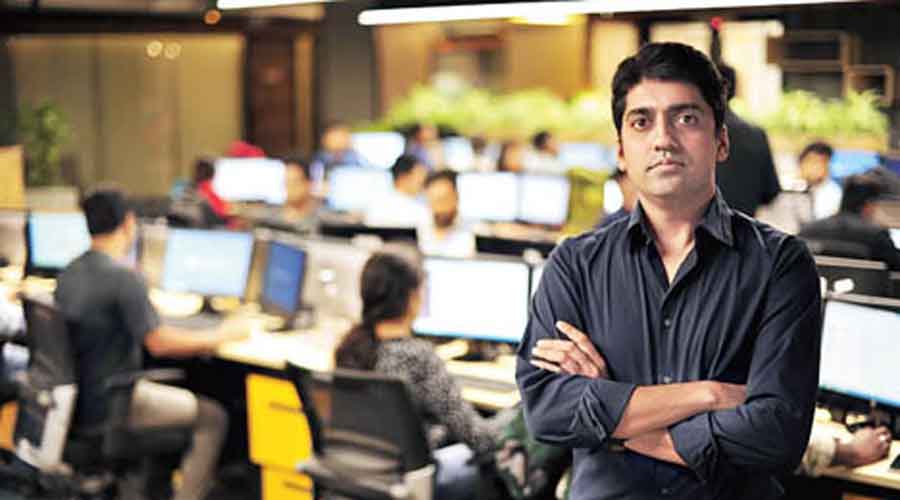 Aditya Vuchi, CEO and founder of Doosra. The Telegraph
Any milestones in the first one year?
From a milestone perspective, the number of installs that we have on Android is over 100,000. We have seen over half a million phone calls and over 2m messages been exchanged on the Doosra platform. When I say exchange, these are really incoming messages and incoming calls.
How does Doosra work?
Doosra was meant to be a secondary mobile number that you can share at places where you're uncomfortable sharing your primary number. What a Doosra number does — compared to any other mobile number — is that it blocks all calls by default. So, it's the reverse of a mobile number. On a mobile number, when somebody calls, the phone rings and you have to decide whether or not to take the call. When you take a call, it could be a telemarketer. And then you can block the person. Once blocked, they may call you from a second number and then a third. On the Doosra number, all calls are blocked by default. But you can allow certain calls to come through based on your preferences. For example, you can add somebody as a trusted contact. If the person calls you from that particular number, then the call will not get blocked, it will get forwarded to your primary number.
In this perspective, Doosra is trying to create a consent-based communication system so to speak. There is also a way to sort through messages.
Any incident that proved to be your eureka moment?
I come from a digital marketing background. I understand how personally identifiable information can be sort of cross-coordinated online and offline data can be brought together to create a profile and stuff like that. A few years ago, I walked into a sporting goods store and at the billing counter, the clerk asked me for my mobile number. Generally, shops don't say anything when you refuse to share your number. At this store, I was pointedly asked for my number even though I was willing to pay in cash for the goods I had bought. I walked away from the store but it also gave me the idea. Later I went and bought a second SIM card. This was in 2016. But using a second SIM card was a clunky experience and if you have two phones, you will need to charge both devices. I reached out to somebody in the telecom space and luckily for us, telecom operators helped us put this product together. It took us about 18 months to get it together.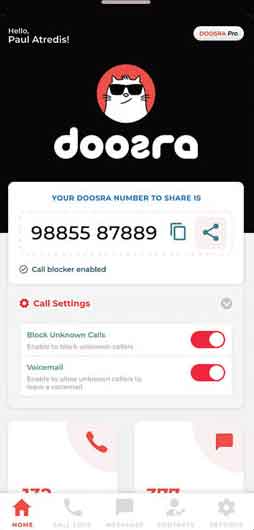 The Telegraph
But there's something called Truecaller?!
Truecaller has a large base in India but it has been built on the on the back of personal data. And on Truecaller if the call comes through, you still have to decide whether to block it. If the phone rings in the middle of a meeting, you will wonder if it's an important call, like from a delivery service or is it a spam caller. As we order more things from e-commerce service, getting calls from unknown numbers is becoming a fairly common occurrence. We have tied up with Swiggy, Zomato and others… we are building out a pipeline. If an e-comm platform representative calls, there is a simple on-off toggle within the app, which allows calls from that service.
There is also a way to turn the call blocker on/off according to a schedule. If I am a yoga instructor, I would like calls to come through between certain hours; I can do that on Doosra. I can always decide to call back people based on the voicemail.
Can you call somebody from a Doosra number?
No, you cannot make outgoing calls. We want to avoid fraudulent activities. But what you can do is if somebody calls you on your Doosra number, you have the ability to call them back. Let's say somebody calls you and it was a call that you should not have ignored. Say, it's a delivery person waiting at the gate and you are not home. You can call back the same way a delivery person calls you. You don't see their personal mobile number but a landline number. Now we are giving consumers the ability to call somebody without revealing their personal number. But you can ONLY do that for a call back. (Indian virtual numbers are not allowed to have outgoing calling facility via a dialpad. However, you can respond to any missed call using Doosra's secure call-back feature.)
How about some use cases?
I'll give you an example. During the second wave of Covid, there were a lot of volunteers helping people find beds and oxygen concentrators. They were taking to social media asking if any beds were available, etc, plus a request to call them. Many of them were giving out personal numbers. And we saw a use case very early on in the journey of Doosra. We launched a programme for volunteers during which we offered free Doosra number for six months. And they appreciated it.
How big a team do you have?
We're a small team; a bunch of about 25 people based out of Hyderabad. We continue to build out the product.
What about running WhatsApp using a Doosra number?
I use an iPhone and I have my primary SIM card attached to my WhatsApp account but I also have signed up on WhatsApp using a Doosra number (Doosra Pro plan) by downloading the WhatsApp business account. Now I am running two WhatsApp accounts seamlessly. So if I'm talking to somebody like a car dealer, I use my WhatsApp business account.
Are you focused on India only?
At the moment, we want to get our bearings right and not cast our net too wide.
At a glance
⚫ Your Doosra number does not require a separate SIM card or phone. It works on your existing phone. But to use, you need to take a half-yearly or annual plan.
⚫ All incoming calls to your Doosra number are blocked by default and go straight to voicemail. You can also answer calls when required.
⚫ The Doosra app lets you whitelist contacts, allowing them to call or message you on your Doosra number without being blocked.
⚫ The app allows you to call back any incoming call you blocked without revealing your real number.
⚫ It is not for people who are looking for a secondary phone number to make outgoing calls.