'Electronic intel' hunt
ISRO's latest satellite launch could be intended for electronics intelligence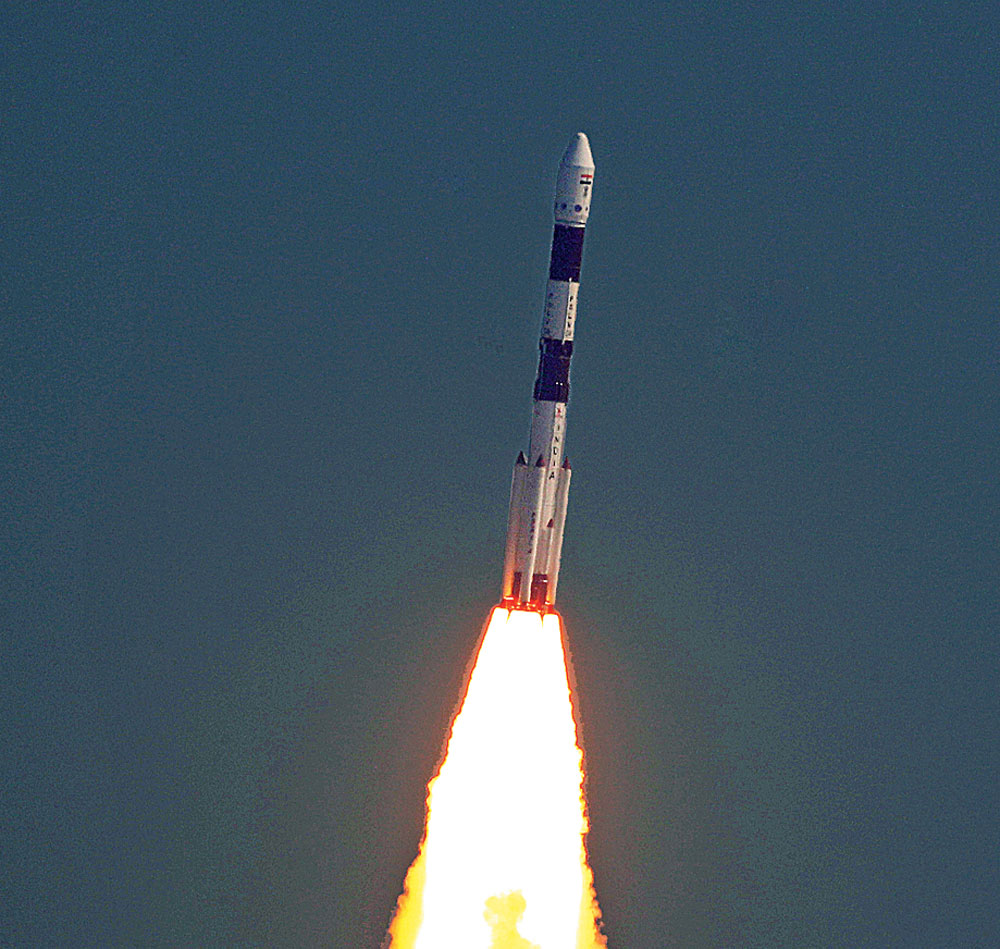 ---
---
India's space agency on Monday used its Polar Satellite Launch Vehicle to place into orbit an Indian defence satellite and 28 foreign satellites and then turned the PSLV's fourth stage itself into an orbital platform for space experiments.
The main passenger on the new variant of the PSLV — with four strap-on rocket motors instead of the usual six — was an Indian satellite, EMISAT, which the space agency said is "intended for electromagnetic spectrum measurement".
The PSLV lifted off from the Sriharikota at 9.27am and injected EMISAT into a 748km polar orbit about 17 minutes later, the Indian Space Research Organisation (Isro) said.
Isro's telemetry, tracking and command network in Bangalore has assumed control of the satellite, which will be brought into its operational configuration in the coming days, it said.
An Isro spokesperson declined to discuss the satellite's objectives but said it is a Defence Research and Development Organisation satellite. A spokesperson for DRDO declined to comment on the satellite.
But strategic technology analysts not associated with the project believe it could be a satellite intended for electronics intelligence, which involves information extracted from electronic signals that do not contain text of speech.
The broad application of electronics intelligence is to gain superiority in electronic warfare.
After EMISAT's separation, the PSLV's fourth stage engine was restarted twice to place the 28 foreign satellites — 24 from the US, 2 from Lithuania, and one each from Spain and Switzerland — into their intended 504km polar orbits.
Three hours after the lift off, Isro engineers restarted the PSLV's fourth stage engine again twice to move it to a lower circular orbit of 485km to establish it as an orbital platform for experiments with three other payloads, the agency said.
The payloads aboard the spent PSLV fourth stage are an Automatic Identification System for Isro, an Automatic Packet Repeating System from AMSAT India, an amateur radio satellite programme, and the Advanced Retarding Potential Analyzer for ionospheric studies from the Indian Institute of Space Science and Technology.
Isro chairman K. Sivan said the flight on Monday was unique in several ways. "The PSLV vehicle achieved three different orbits and for the first time the fourth stage itself is powered by solar panels," he said.