Digital storytelling has reached new heights with the video power of the iPhone 11, say a bunch of food enthusiasts
The Telegraph finds out how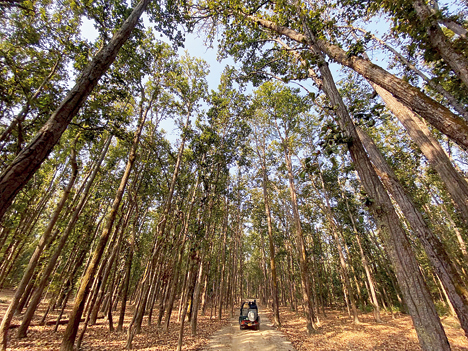 Courtesy: Rocky and Mayur
---
Published 28.04.20, 02:36 PM
|
--- 1. Rocky and Mayur
Food enthusiasts and childhood friends Rocky Singh and Mayur Sharma have together travelled more than 120,000km across the length and breadth of India. They are known for the popular show, Highway On My Plate.
Radhika Khandelwal
Radhika Khandelwal is the brain behind the food at Ivy & Bean as well as Fig & Maple, two very popular restaurants in Delhi. The executive chef and owner of Fig and Maple, Khandelwal still cannot define the cuisine of the restaurant as she keeps experimenting with seasonal ingredients. 2. Vicky Ratnani
The Mumbai-based chef has several TV shows to his credit and his restaurant, The Korner House, is well-known. He consults as culinary director and conceptualises restaurant menus and food concepts and has developed a web series called Vicky The Gastronaut, streaming on Facebook (has crossed 10 million views). In 'Pro Max' heaven
Rocky: I started with the iPhone 7, which came out in 2016-17. It was the most incredible phone I had used till that point. It had so much in excess than what I needed that until I got the iPhone 11 Pro Max like two months ago, I didn't even feel the need for an upgrade. With the Pro Max, I'm in heaven. I am hooked. I don't think I can use any other phone any more.
Mayur: Rocky and I are not chefs per se. We travel and meet people. What the lockdown has done is that we have to share our journeys from home. We have been shooting most of our stuff in portrait because a lot of our work goes up on Instagram and IGTV. We have had to learn bottom-up but it's very easy to learn. We can edit videos on the phone itself. We know how to snip posts, layer music… all that we have been learning on the fly.
Rocky: With the iPhone it's just a parallel world you keep going into and there is everything I need. I am stuck to the iPhone. My average usage per day for the last 35 days has been around seven hours. The phone lasts from say 11 in the morning till beyond the next afternoon. Battery life is ridiculously good.
Two takes, one shot
Mayur: Before the lockdown, we had used DoubleTake. We were in Calcutta and at 6 Ballygunge Place. We were seated across the table, talking about, I think, daab chingri. And we posted it on Instagram. It's a neat way of having a banter on the same screen.
Rocky: Earlier we would either have to look at each other or at the camera. Now we are doing both at the same time. These little features help a lot.
Using iPhone 11 beyond lockdown
Mayur: Yes, it is possible. Given the work we do and our style, it works. I mean, our shows are not scripted. We have a lot of movement and react to each other on the camera. We may need a couple of other gadgets, like the gimbal, which ensures a steady shot. Shooting using the wide-angle camera on one phone and somebody holding the other phone camera and moving it would be a good experiment. Brands will look at something like this. Once everything opens up, there will be some economical challenges but with such a set-up, things become affordable while at the same time the phone enables great-looking content. There is also a whole multiverse of great apps to boost productivity.
Rocky: We have worked in TV for so many years and would always demand a certain level of production quality. The use of lights is one aspect, so some extra things are needed. Yet, there is so much on the new iPhone. Say, the night feature. It's very good. Earlier, there used to be a glare on everything. Now the lit parts as well as the dark parts get accentuated, so you get a very beautiful nightscape. Being on the road, there is a sense of freedom. We want to drive from Delhi to Singapore and we want do it with the iPhone Pro Max. Also, I want to point out that earlier audio used to be a challenge. You couldn't pick up audio in a marketplace but with the directional feature, you can pick audio from wherever you want. I discovered this by accident. I was cooking something and had put some ingredients in hot oil while pointing the camera to it. The sizzle of the vegetables came across clear while I was also talking into the phone. It's heaven-sent. We're super happy using our iPhone11 to shoot a project for Sugarfree #StayHomeStayFit and also our Instagram #RnMFridgechallenge project.
Apples in her life
I have been using the iPhone for nine years now, so I don't know any other way of life! In fact, I am an avid fan of all Apple products, from AirPods to Apple TV, Mac to iPhone. I use the iPhone 11 Pro Max and the camera is amazing. It's user-friendly and at the same time, the night mode is wonderful. I have to shoot a lot of cocktail videos at night, this is when the phone really shines. Life has become way easier because one doesn't have to look beyond this one phone to do everything.
Since I got this phone, it is being used to take a lot of photographs and professionals don't need to come in. The advantage of the iPhone is being felt especially during the lockdown because nobody can come in to help. Before the lockdown, I was doing my videos but now I have to shoot more. The opportunity is there to save money. I am a chef and I know how my food should look. So taking pictures on my own is easy and it saves time. Equally impressive is the audio quality, which is loud and clear. This is one important aspect when it comes to videos. I simply need to stitch things together… and that's easy. What I am looking at now is working with DoubleTake. One has to remember that Apple products sync well. There are devices and the iCloud. The other important aspect is longevity (of the iPhone and other Apple devices), which is also not an issue.
Demand for more content
I have been using an iPhone for a long time but it has mainly been photographs. Lately, I have been shooting a lot of videos while taking pictures. After the lockdown, people want to see more content. The iPhone is a great tool and the last few videos have been shot by my daughter and myself. I have done brand work with the iPhone. At the moment I am learning to edit on iMovies. I am getting a tutorial done and I am learning about DoubleTake. I also cook for the house and lately, I have been shooting a lot inside the house. Today I prepared some Sindhi biryani and really loved the portrait mode. Also, I like shooting pictures of markets. In fact, when I go on walks to the local market, it's all about taking photos. a one-man show
From the kind of response I have got… for the carousel of recipes, start to finish… I am really kicked about it. There is photography, video, time-lapse, slow-mo. It's a multi-layered experience. I am going to be doing this every day. The need for a set-up of two or three cameras has reduced. My daughter has taught me the basics of iMovies and if I work on it for two-three hours every day, a lot can be achieved. The idea is to create crisp, short content. This is the future. It's like a one-man show.
I am using the iPhone 11 Pro and the lighting is perfect. While preparing Sindhi biryani, there were shots of all these spices, my worktable and then came time-lapses and voiceovers. Equally impressive is the sound capture. (Laughs) My wife was shouting from the corner of a room and the phone picked up everything. In the future I want iPhones to capture the smell of food! On a serious note, it would be great to have more tutorials and suggestions.