Digital love: Niche dating apps gaining firm foothold
Look beyond the handful of obvious wooing apps for (long or short term) romance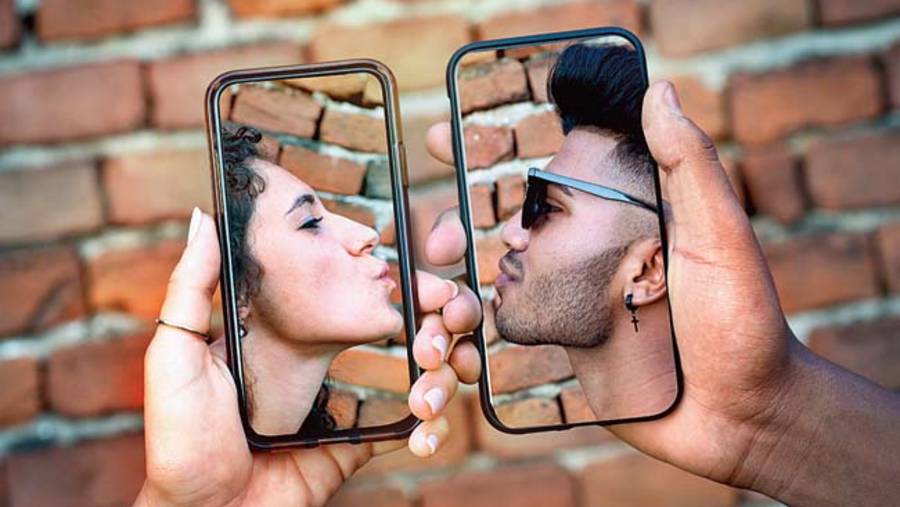 During the course of the pandemic, dating apps have flourished, even the ones that are niche.
File Picture
---
Published 04.08.21, 11:09 PM
|
---
There is, of course, Tinder and Bumble but dating apps are in plenty and some of them are niche. From an app dedicated to vegans to another for fitness, the digital dating game has reached a new level during the pandemic. Of course, there is no better alternative to face-to-face romance, but you can try a few of the following apps in case "digital love" is not an issue.
Tabby and Dig
Cats can be temperamental, maybe jealous of one's attention, perhaps even, well, debauch if you leave the furry friend alone with a sofa. And it's not always easy for the owner of a cat to find someone in a similar situation. Created by sisters Leigh and Casey Isaacson, the app is for cat lovers as well as cat owners, helping them find a common ground, perhaps plan cat-friendly dates or make videos of the furballs when they are at their mischievous best. For those who constantly feel like swiping left, opt for the paid tier, which doesn't come cheap. What if you are a dog person? Try Dig for love without compromising on your love for the pup. This app too has as founders the two sisters and response has been bark/meow-worthy during the pandemic.
Veggly
There are millions of vegans and vegetarians who want to mingle but dietary compatibility is an issue. The founder, Alex Felipelli, has a goal: "To provide the best dating app possible for vegan and vegetarian communities, making sure everyone feels welcome and finds love." Though the app continuously offers suggestions, like Aron is 304 miles away while Bindu is just 10 miles away, ads do pop up now and then, compromising the experience. There is a way to "super like" or "like" a photo; alternately, you can slide left to hide a profile.
TeamUp Fitness
Looking for a relationship with a person who is as much a fitness enthusiast as you are or perhaps you are seeking friendship with somebody who likes to talk about fitness. It's a well-designed app where you are asked enough questions before being allowed to browse, helping you to zero in on people who are in the same zone. So you need to select what brings you to the app — friendship, dating, and so on. It's followed by a list of physical features you like about yourself, like eyes, abs, arms, booty, chest, hips and legs. And then you need to question whether you are willing to travel or meet for a workout or do a virtual workout suit you. It's not about swiping left or right but thumbing through a feed until you come across a person with similar vibes.
Bristlr
Around for quite a few years now, it's for "facilitating communication between bearded men and women who love beards". The UI is quite basic and it's easy to fool the profile picture tool during the sign up process. And the results are not always correct. Yet, here's an option you can try but we are not guaranteeing you good results.
Hinge 'Designed to be deleted.' That's the motto of the app which is about "meeting people who want to get off dating apps". The profiles on the app are engaging and there is the option to display a lot of information about one's self, which may make finding a match easier. But the ultimate goal is to find a long-term relationship after which you wouldn't need a dating app. While signing up, you can collate a lot of information by linking the account to your Facebook profile but if you are uncomfortable doing that on a new app, there is a longish process — who you want to date, your thoughts on children, religious and political beliefs, whether the person drinks or smokes, answer a few questions about personal choices and so on. The results shown on the feed seem to be real and not AI generated.
Badoo
With millions of members, it's no way a niche dating app and is under the same umbrella as Bumble. But in a world of Tinder and Bumble, this one seems to get drowned out at times. More tailored to your tastes, the non-swiping app is available in plenty of countries. While signing up, it's difficult to hoodwink the app by uploading pictures of actors as profile picture.
Coffee Meets Bagel It's like a song from Chai Met Toast but the creation of three sisters — Arum, Dawon, and Soo Kang — is going strong. First the user needs to choose what he or she is looking for — marriage, a committed relationship, something casual and so on. The idea is simple. Each day at noon, guys will receive up to 21 matches or 'Bagels'. They can like or pass. Next, the app will curate the best matches for women among the men who expressed interest.