Deadly superbug rears its head in India
Klebsiella is a common bacteria that can cause lung, urinary tract and abdominal infections, but a strain has become highly resistant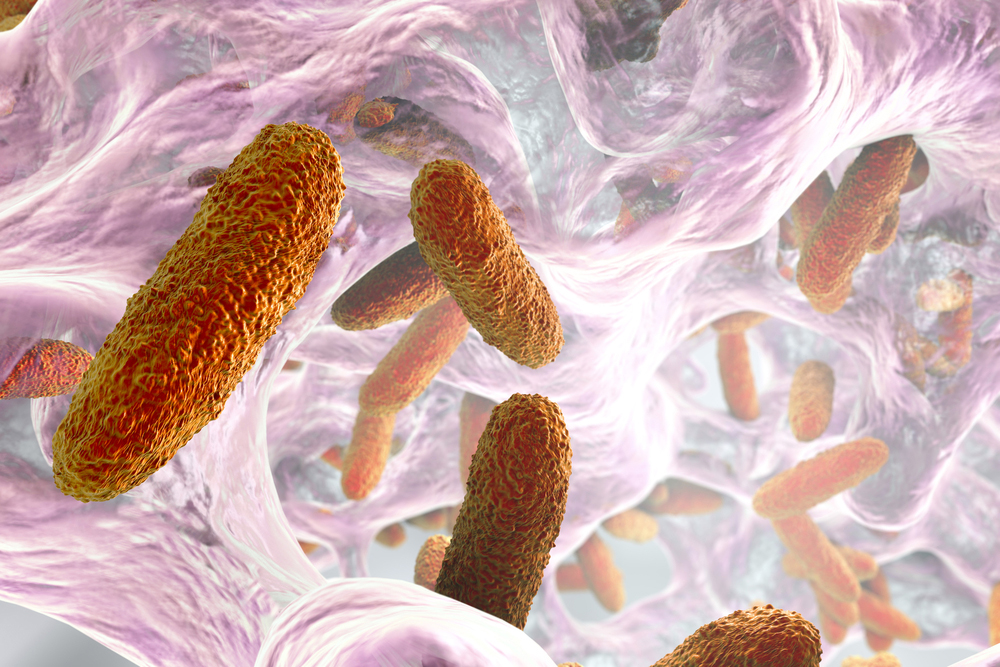 Klebsiella bacteria
Shutterstock
---
New Delhi
|
Published 05.12.18, 10:51 PM
|
---
Doctors have documented for the first time in India a rare but exceedingly dangerous strain of bacteria that can cause severe and untreatable infections even in healthy persons — a multi-drug-resistant and hypervirulent superbug.

Medical microbiologists at the Christian Medical College, Vellore, have found that 27 (31 per cent) of 86 patients treated for sepsis in the hospital over a two-year period had been infected by a strain of Klebsiella pneumoniae, both multi-drug resistant and hypervirulent.
Klebsiella is a common bacteria that can cause lung, urinary tract and abdominal infections. But doctors in Taiwan in 1981 noticed a Klebsiella strain that causes liver abscess and spreads fast to other parts of the body through the bloodstream.
Since then, the strain — which may also cause blindness, flesh-eating infections and meningitis — has turned up in other countries and been labelled by some researchers as a "new and dangerous" superbug.
"Our findings establish its presence in India — we're hoping our results will make other hospitals do similar investigations," said Balaji Veeraraghavan, professor of clinical microbiology at CMC and member of the Indian Council of Medical Research's antibiotic resistance surveillance network.
Doctors have been concerned about growing antibiotic resistance for decades. The prevalence of Klebsiella strains resistant to multiple antibiotics — and thus difficult to treat — has steadily increased and currently make up 40 per cent of Klebsiella infections in southern India.
"The hypervirulent strains are also acquiring resistance — so patients are facing a dual threat of resistance and virulence," Balaji said.
In hospitals, Klebsiella can spread through person-to-person contact, including from patient-to-patient, through contaminated hands. A person may also get infected if Klebsiella enters the respiratory tract through a ventilator or bloodstream through an intravenous catheter.
While classical drug-resistant Klebsiella is more likely to infect patients with compromised immunity such as the elderly and those hospitalised, studies outside India have shown that the hypervirulent strain can infect healthy people in the community.
Balaji and his colleagues used a laboratory technique called a string test and genetic studies to identify the hypervirulent strains in 27 among 86 samples of Klebsiella isolated from patients admitted to the hospital between 2014 and 2015.
The researchers have published their findings in the Journal of the Association of Physicians of India.
The hypervirulent Klebsiella strain has been associated with high mortality of up to 42 per cent in different countries. The Vellore study has documented mortality of up to 84 per cent with the hypervirulent strain also resistant to multiple antibiotics.
Researchers tracking antibiotic resistance in the country say the findings are worrying. "Most hospitals don't have the capacity to look for such strains," said Ramanan Laxminarayanan, director of the Centre for Disease Dynamics Economics Policy, a US-based research think tank.
"Most of what we know about resistance in India comes from a very small set of institutions from which we are trying to extrapolate to the rest of the country," he told The Telegraph.
Veeraraghavan said the mechanism through which the hypervirulent strain was turning up in one country after another was still unclear.