Celebrating 25 years of Samsung India
Samsung has reached a milestone — 25 years of innovation in India. We find out what keeps the brand evolving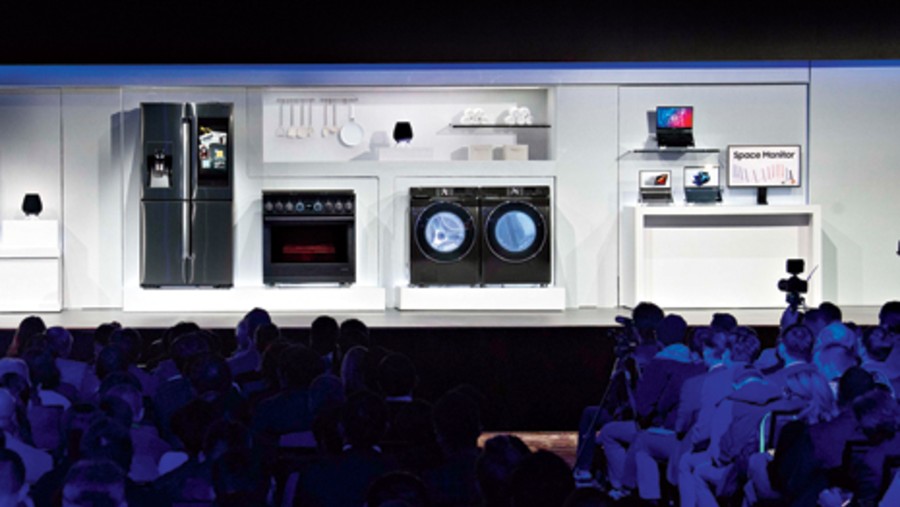 Samsung as a brand covers a wide range of products, as seen in this file picture of its CES in Las Vegas 2019
Samsung
---
Published 22.12.20, 12:04 AM
|
---
Mid-1990s was an exciting time for Indian consumers as the country was waking up to new brands after the economic liberalisation. One of the companies that had its eye on India was the South Korean electronics giant called Samsung. Today, most Indian households have a connection with the brand, which took a long time to build up. Consider this copy from a Samsung advertisement, placed in The Telegraph, on January 25, 1998: "Samsung sells the largest number of colour TV screens in the world. (Perhaps that gives you a better picture of us.)"
Twenty-five years later, the company continues to lead on the innovation front as much in India as it does globally. In fact, understanding local needs has helped cement the company's position here. We spoke to Raju Pullan, senior vice-president, consumer electronics business, Samsung India, about the journey.
What have been some of the growth strategies for Samsung in the last 25 years?
We started our business operations India in 1995 and right from the beginning, we had a strong belief in the India growth story. That is the reason why we invested in India, setting up our first manufacturing plant in Noida in 1996 and our first R&D centre in Bengaluru the same year. The first product to roll out of our factory was a colour television. We began manufacturing mobile phones in India in 2007 and a couple of years ago we inaugurated the world's largest mobile factory in Noida.
In the initial years, we worked on some passion points of India, like cricket and Bollywood. Be it launching a new product or a new category, we have worked around these passion points. I still remember Samsung Guru feature phones for which we had Aamir Khan as the brand ambassador.
While our R&D centres worked on local innovations, the rest of the organisation focused on manufacturing, strengthening distribution, nurturing our partner network and building a robust service network that could meet the demands of our growing consumer base.
What makes you proud about the company, the brand?
One of the core values of Samsung is co-prosperity. This journey of ours in India would not have been possible without the support of our partners. As of today, on all channels put together, we've almost 200,000 retailer partners across the country selling everything from smartphones to televisions and our digital appliances.
Some of these partners, including in West Bengal, have been working with us for 25 years now. They have grown with us, we have grown with them.
We have also created unique retail experiences for our consumers over the years. Take for example Opera House in Bengaluru, which is the world's largest mobile experience centre. Consumers can experience our products here like never before.
Our focus on quality helped grow our market leadership across categories. Besides, there is a sense of reassurance because of the strong after-sales service network that is required for a brand that is present in all corners of the country.
Samsung has the largest service network with 3,300 service points that includes our customer service vans. So, if a consumer even in a remote part of the country has a Samsung appliance that is not working, we have been able to reach them faster with our service vans. We can proudly say that our effort in the last 25 years has resulted in most Indian households having a bit of Samsung in them, be it a television, washing machine, microwave, air conditioner or smartphone. And we will continue to add new categories. Besides products and services, Samsung has also helped create opportunities in education and skilling…
Through our citizenship programmes, we have focused on education and skilling over the last few years. Through our Samsung Smart Class programme, we have set up 683 smart classes at Jawahar Navodaya Vidyalaya schools across the country, helping bridge the digital divide between rural and urban India and provide equal opportunities for quality education to children from all backgrounds.
Similarly, our Samsung Technical School programme helps train youth in different technical trades such as repair of Samsung appliances and makes them job ready.
Also, we have a programme called Samsung PRISM, which is a new industry-academia programme to collaborate with engineering students. This is run by our R&D centre in Bengaluru. In this programme, engineering students and faculty work on research as well as development projects to be executed over four to six months. 
In 1995-96 you were seen as a South Korean company in India but over the years the perception of the brand has evolved. What has helped the company grow?
We are a company that is Indian at heart. Our journey has seen its ups and downs but what kept us going is our focus on the Indian consumer.
The key to success in India has been listening to consumers in India and driving local innovations at our R&D centres in India. 
So we listened to consumers. Take for example a simple innovation in a washing machine, called ActivWash, where we attached a little tub on the top so that collars and cuffs can be scrubbed before being into the machine. The insight behind this need was picked up from consumers.
We have microwave ovens in which Indian consumers can make roti and naan or create masalas, tadka and even sun-dry fruits and vegetables.
Our Curd Maestro refrigerators are the world's first refrigerators that can make fresh curd, solving a big pain point for consumers.
The company now has a new vision statement.
Yes, we recently announced our new vision in India — Powering Digital India — that will be driven by a new citizenship programme aimed at students across the nation, a refreshed local R&D strategy with special focus on the local start-up community and new initiatives in manufacturing.
As part of the vision, we will launch a new youth-centric citizenship programme which will involve engineering students and academia from across the country and will help create a stronger innovation ecosystem in the country.
We also have a refreshed R&D strategy for the coming year under which our R&D centres in India will continue their cutting edge work in areas such as 5G, AI, IoT as well as on Cloud services.
Which was your first Samsung product?
It would be a refrigerator and a television, back in the late 90s. I remember them distinctly because these were the first products we bought for our home.
Interestingly, both these products have evolved a lot over the years. For example, we have the Family Hub refrigerators today that are connected devices with screens on them. The entire family can make notes on it, listen to music, watch TV, and even check out recipes, and it becomes the hub for your connected home.