Canon has been transforming photography for decades
'Treasure every moment in life… that has always been our goal' — Manabu Yamazaki, Canon's India CEO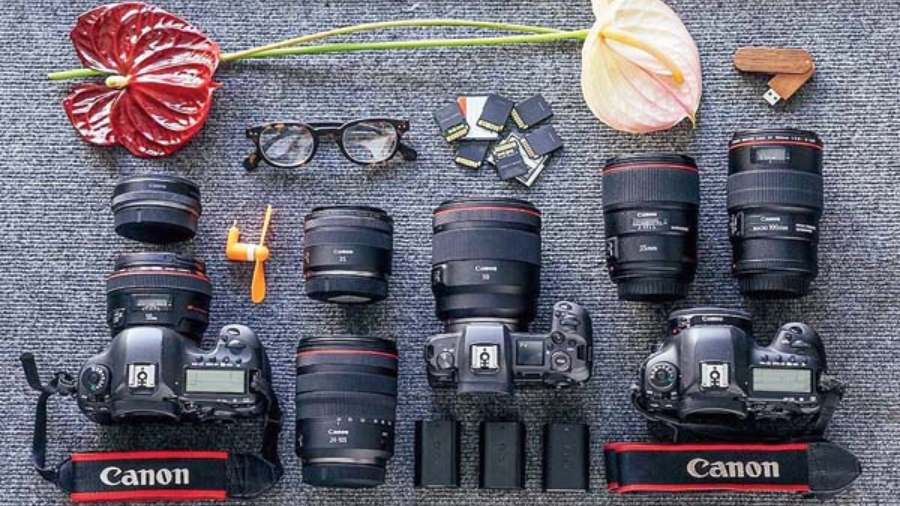 Canon's full-frame cameras are built to deliver professional results with every shot you take. Picture: Canon Europe
---
Published 07.04.22, 06:51 AM
---
Reuters photographer Brian Snyder was recently shooting on a Canon R5 mirrorless camera with a mechanical shutter, which can take up to 12 frames per second. The lens was the Canon EF 200-400mm f/4lL IS USM Extender 1.4x at 400mm. And Snyder was at a place everybody wants to be in — the Academy Awards. And what he registered was what people saw across the globe — all the big moments from the ceremony. For a lensman it's about being at the right place with the right gear. At the end of the day, it is about documenting a moment and doing so flawlessly.
Canon has been transforming photography for decades, giving photographers more power to capture moments of historic importance. When Canon works on a new technology, it tends to skyrocket.
The company has a huge presence in India and obviously a massive following, something Manabu Yamazaki, president and CEO of Canon India, has been discovering in the past year or so. He arrived in India at a strange time. His appointment came in April 2021 when one of the worst phases of the pandemic was upon us. He shouldered the situation with ease and continued to ensure that Canon retained its leadership position. Here's more from Yamazaki, about Canon and his love for photography. When you arrived in India, the pandemic had taken quite a bad turn.
When I first arrived in India, I had to close office a week into my role. I didn't know what to do in the beginning. But my colleagues in India were ready tackle the situation. Of course, not embrace the loss of lives as it was happening around us. We helped one another and as a result, we sailed through this and had the necessary infrastructure implemented to tackle the situation. And we stayed functional. I feel genuinely blessed to be here.
People rediscovered their love for photography during the pandemic. Do you think it will continue to remain that way?
It's like bouncing back and doing what you love so much. We have rediscovered the value and virtue of being alive. To really celebrate, people started taking up what they love, like photography and videography as tools to remember all of this. For all of us, 2021 and 2020 are a time we will never forget and what we have gone through. With the renewed value for family ties, I think everybody felt the need to register this and move on with something better. And they decided to use something more than what's handy and we have with us all the time; people decided to use something better… as an equipment to record everything they were going through. I have been using my camera more often than ever, partially because I am new to India and partially because I have also gone through this tough time. It's the same thing everywhere. All of this has led to the revival of photography and videography. Treasure every moment in life… that has always been our goal and it's something that's happening around us.
What are some of the trends you are witnessing?
There are several things we can see. We are actually seeing higher sales in premium products, mirrorless products. We have introduced the premium members of the R series in the last couple of years, like the R3 in 2021; we are receiving lots of orders. We really didn't expect this outburst of demand in such short notice. So, it was important to restart everything from the higher segment to the regular segment… people are churning out not just high-end still images but there is also videography. Some of the trends we see involves our set of products dealing with cinematography — the EOS C series — these were originally designed for cinematography; for the movie industry. You have the biggest movie industry in the world here. Some more trends: India has many religions; we see a lot of religious institutions asking for high-end videography devices to record their rituals and put it out virtually for people who can't come over physically because of the pandemic.
What about on the printer side?
Our printer sales is blowing out of proportion. The demand is very high. We are discreetly treating every customer in a fair manner. We are making our availabilities transparent. The demand is overwhelming. Earlier, people used to enjoy printers at office or school; now everyone wants it at home. At the same time, offices are opening up and they have started to repurchase. The demand is high. We have introduced new products recently. We are just continuously sending out messages about the benefits of these products.
How bad is the global chip shortage situation?
It has affected every sector. We had been unable to top up our capacity. We do see signs of recovery and scales of production. We do have to prioritise certain models over other. But things are looking better.
What are you enjoying about India?
In every city, the scenes are different. If you come from a country like Japan, people don't come across too differently across various regions. Here, things differ with the region. You kind of accept what's happening and ride with it. That's what I am trying to digest. Every moment is a moment of enjoyment. Every week I go to different places and I see different sights.
What was the first camera you bought?
I picked up one of the automatic cameras in the 1980s before I joined Canon. I have bought 10 cameras since, many of which I still have. Some of the cameras, I can't find film for them anymore. So I am strictly digitally these days. Current status in the camera segment
• It currently enjoys over 50 per cent market share in the overall DILC category (Digital Interchangeable Lens Camera).
• With good demand coming in from vloggers and content creators, the company will continue to focus on new emerging segments through marketing activations. The company is seeing double-digit growth in this segment.
• With the emergence of virtual classrooms, the company has seen positive demand for Canon PRO DV Models XA11 and X40.
• Substantial growth in OTT segment as well as the company's cinematography range of products including the latest EOS R5 C and EOS C70. Cannon is seeing double-digit growth in this segment.