Breathe easy
Doctors have realised that an easily-available machine could come to the rescue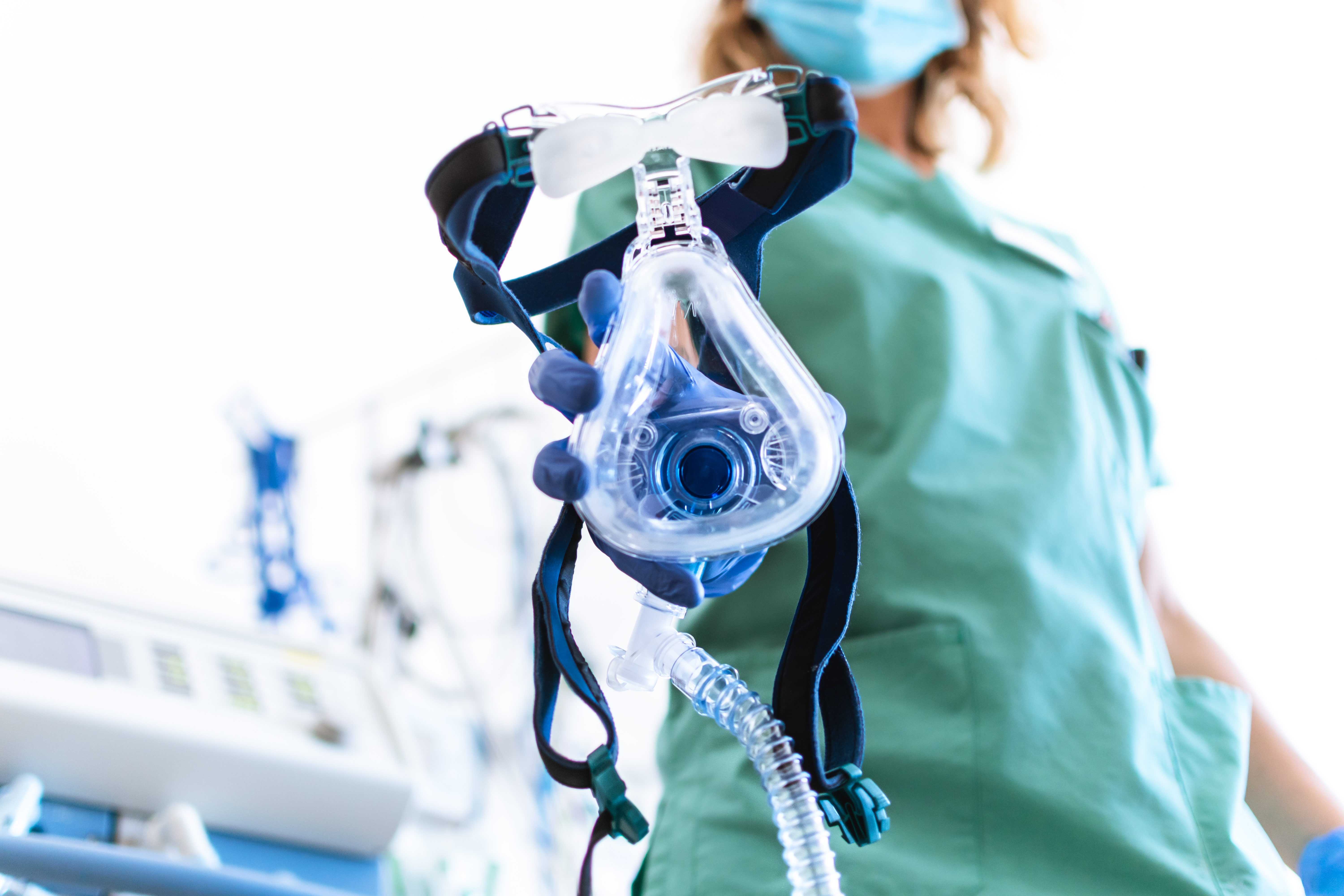 ---
---
A few days ago, one of my friends sent me a video of a man, around 40, sitting on a hospital bed. He was extolling the virtues of a corporate hospital in Calcutta to which he had been admitted a couple of weeks ago — with Covid-19, breathing trouble and little chance of survival. Fortunately, he had recovered completely and was on the brink of being released and he was thanking the staff for it. A rare event in these days when doctors are more likely to get beaten up for their trouble than praised.
I spoke to the consultant who treated the patient and learnt that he was admitted in a critical condition with an oxygen saturation of 70 per cent, where the normal is more than 95 per cent. Instead of being put on a ventilator — which is invasive, expensive, not easily available and needs to be fixed by an expert — he was advocated an easy-to-use, inexpensive and non-invasive bilevel positive airway pressure (BiPAP) machine. While a ventilator uses a tube down the throat, the BiPAP machine uses only a tightly fitting mask. And with support from it, oxygen and drugs, the patient gradually recovered. A BiPAP machine assists breathing by maintaining a positive pressure, thereby increasing oxygen level and reducing the work of breathing. This inexpensive machine is available in a large number of hospitals and nursing homes in India.
A Covid-19 patient requires a mechanical ventilator only if he has respiratory failure and has failed other measures of oxygenation, says Dr Jennifer Lighter, an epidemiologist and specialist in infectious diseases at the NYU School of Medicine, US. "Mechanical ventilation by a ventilator is an invasive mode of assisted breathing where a tube is inserted in a patient's windpipe and a preset amount of breath is delivered to the lungs," explains
Dr Ahsan Ahmed, chief critical care consultant at the KPC Medical College and Hospital in Calcutta.
In the initial stages of the pandemic, ventilator shortages were being touted as a crucial challenge to fight the outbreak. However, all Covid-19 patients, or even a quarter of them, do not need ventilation or even hospitalisation, doctors realised as the pandemic progressed. Says Dr Yatin Mehta, chairman of the Medanta Institute of Critical Care and Anaesthesiology, Medanta Hospital, Gurgaon, "About 80 per cent patients have mild disease while 5 per cent requires admission in the intensive care unit (ICU) and about half of them need invasive ventilation."
Other sources think that even fewer patients than that really need invasive ventilators though many more need oxygen support. According to government figures, only 1.15 per cent of hospitalised patients need breathing assistance by a ventilator. Says Dr Asis Manna, professor of microbiology and vice-principal of the Infectious Diseases and Beliaghata General Hospital in Calcutta, "Ours is a Covid-19 hospital. More than half, or even 70 per cent, of admitted patients have Covid-19. Approximately 2 to 3 per cent of these patients require ventilator support and nearly 10 per cent require oxygen."
According to an April 20, 2020, estimate by researchers from the US-based Center for Disease Dynamics, Economics and Policy and Princeton University, India has 19,00,000 hospital beds, 95,000 ICU beds, and 48,000 ventilators. In comparison, the US has about 1,60,000 ventilators, says another estimate.
In a country such as India, where ventilators are beyond the reach of most either because of availability or cost, inexpensive gadgets and machines such as BiPAP and pulse-oxymeter — along with oxygen and recommended drugs — often work wonders in dealing with Covid-19.
The pulse-oxymeter is an inexpensive and handy device used to measure the level of oxygen in the blood and, therefore, the severity of the disease. "Detection of a below-95 per cent oxygen saturation during room air breathing indicates moderate to severe Covid-19," says Dr Ahmed. Apart from a mechanical ventilator, treatment for a Covid-19 patient with low oxygen saturation includes proning, blow-by oxygen or non-invasive ventilation by BiPAP, points out Dr Lighter.
Dr Sushmita Roy Chowdhury, consultant pulmonologist and Covid care specialist at the Apollo Gleneagles Hospitals, Calcutta, points out that many Covid-19 patients with mild to moderate respiratory failure can be treated by non-invasive ventilation and a technique called awake proning. In awake proning, a patient has to lie on his stomach. This helps in oxygenation by recruiting the lungs' posterior portions.
However, "If a Covid-19 patient is drowsy, suffering from severe acute respiratory distress syndrome, has sepsis with shock, and is unable have a stable blood pressure or is in multi-organ failure, mechanical ventilation is the only avenue and needs to be initiated promptly," says Dr Roy Chowdhury.
The mechanical ventilator is no magic pill. Putting critically ill Covid-19 patients on ventilation did not always yield impressive results in the US, China and the UK. According to a recent Lancet study from New York's Columbia University Irving Medical Center, US, of 203 critically ill Covid-19 patients who were put on invasive ventilators for 9-28 days, 101 (or 39 per cent) died while 94 (37 per cent) remained hospitalised for nearly a month. A study led by Pavan Bhatraju of the University of Washington and published in the New England Journal of Medicine found that among 18 Covid-19 patients on mechanical ventilation in America's Seattle area, 12 died. Research reports from China and the UK also revealed that 80 per cent and 66 per cent, respectively, of Covid-19 patients on mechanical ventilation did not survive.
So while lack of ventilators cannot be blamed for the Covid-19 deaths in India, it is reassuring to know that there are less expensive ways of providing support to patients struggling for breath.
The writer is a physician who writes for several international medical journals