Bob Dylan's indifferent-dislike-hate ties with technology
His major themes are time passes and love fades, notes Watson, IBM's artificial intelligence software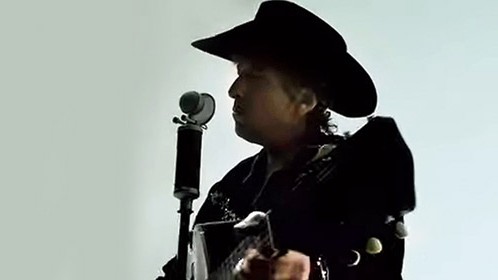 Bob Dylan in an iPod ad for Apple.
Picture: Apple
---
Published 26.05.21, 03:20 AM
|
---
It was July 25, 1965. Bob Dylan took the stage at the Newport Folk Festival sporting black jeans, black boots, a black leather jacket and, very importantly, carrying a Fender Stratocaster instead of an acoustic guitar. He plugged in his guitar and the crowd pulverised him for going electric. It's said that Pete Seeger went to the extent of trying to cut the sound cables with an axe. Maybe the last bit involves adding some colour to the black-and-white wardrobe of Dylan. Nonetheless, he did go electric and his music changed.
Beyond that, the bard of our times, who turned 80 on Monday, shares an indifferent-dislike-hate relationship with technology. The person who almost won Dylan over was the late Steve Jobs, the co-founder of Apple. Jobs had immense respect for Dylan's music to which he was introduced at the age of 13 or 14 by his friend Steve Wozniak.
"He was a very clear thinker, and he was a poet. I think he wrote about what he saw and thought. The early stuff is very precise. But, as he matured, you know, you had to unravel it a little bit. But once you did, it was just as clear as a bell," Jobs said in a 2003 interview with The Rolling Stone.
Jobs managed to meet his childhood hero when the singer was playing near Palo Alto in October 2004. "We sat on the patio outside his room and talked for two hours. I was really nervous, because he was one of my heroes. And I was also afraid that he wouldn't be really smart anymore, that he'd be a caricature of himself, like happens to a lot of people. But I was delighted. He was as sharp as a tack. He was everything I'd hoped," the tech guru is quoted in Walter Isaacson's biography of Steve Jobs.
Dylan ended up in an iPod advertisement, strumming Someday Baby, while a silhouetted dancer, sporting her iPod, danced across the screen. Unlike previous iPod ads, this one had shades of black and white. And he has even come close to considering writing a song "with" a computer. In 2015, he featured in an IBM commercial for the company's artificial intelligence software, Watson. "I can read 800 million pages per second. My analysis shows your major themes are time passes and love fades," Watson tells Dylan.
Overall, the singer doesn't have any love for phones. His aversion for it is well-known and at a show in Vienna in 2019, he stopped playing after he noticed a fan taking pictures. It's a no-photos policy at his gig. Only a verse into Blowin' in the Wind, he had paused to say: "Take pictures or don't take pictures. We can either play or we can pose. Okay?"
Yet, he knows that not everyone hates smartphones. "There's definitely a lot more anxiety and nervousness around now than there used to be…. We have a tendency to live in the past, but that's only us. Youngsters don't have that tendency. They have no past, so all they know is what they see and hear, and they'll believe anything. In 20 or 30 years from now, they'll be at the forefront. When you see somebody that is 10 years old, he's going to be in control in 20 or 30 years, and he won't have a clue about the world we knew... Telecommunications and advanced technology is the world they were born into. Our world is already obsolete," he told The New York Times in a rare interview in 2019.
By the way, he also hates CDs. "Even these songs probably sounded 10 times better in the studio when we recorded 'em. CDs are small. There's no stature to it," he had told The Rolling Stone in 2006.
Going by his train of thoughts, he doesn't use a smartphone. You can well imagine the man speaking into a rotary-dial telephone while having a glass of whisky.