Ben Grosser's 'Order of Magnitude' cuts Zuckerberg to size
'More' and 'bigger' are words favoured by Mark, showcases the film made by the The digital artist and professor of new media at the University of Illinois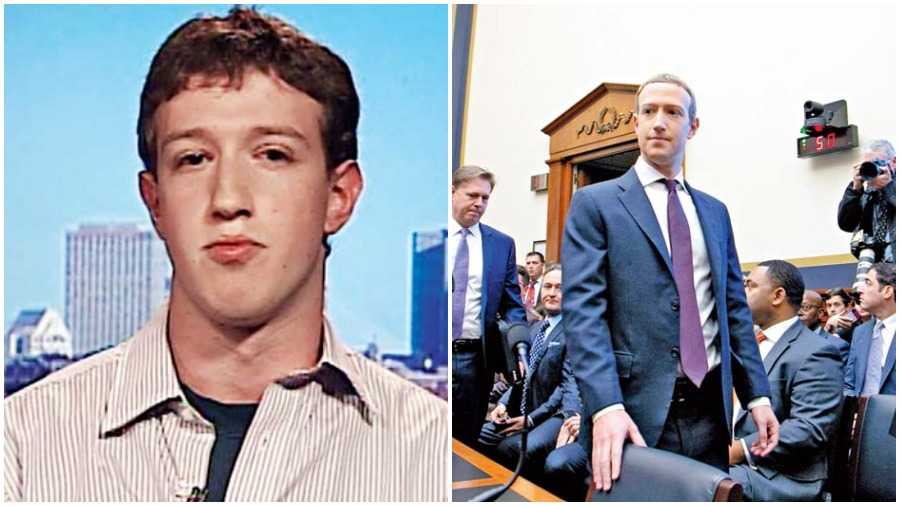 The growth of Mark Zuckerberg from 2004 (left) to 2021 has been phenomenal
Sourced by the correspondent
---
Published 17.08.21, 11:37 PM
|
---
Among MBA students, the word "more" at times verge on the word "greed". Getting more and more… and more has been an integral part of capitalism. And tuning into every interview/interaction with Mark Zuckerberg, two words stand out — "more" and "bigger" while "thousands" gave way to "millions" and then to "billions" over the years, something that's evident in Ben Grosser's film Order of Magnitude.
The digital artist and professor of new media at the University of Illinois has come up with a 47-mintue video that shows the man at the helm of Facebook using the words "more" and "bigger". Zuckerberg's influence can't be underestimated. He now controls three important communications platforms — Facebook, Instagram and WhatsApp which billions of people use every day.
"Covering the earliest days of Facebook in 2004 up through Zuckerberg's compelled appearances before the US Congress in 2018, these recordings reveal what's changed and what hasn't changed about the way he speaks and what he says," writes Grosser about the film.
To come up with Order of Magnitude, he viewed every recording and used them "to build a supercut drawn from three of Mark's most favored words: 'more', 'grow', and his every utterance of a metric such as 'two million' or 'one billion'". All this "reveals primary topics of focus for the tech CEO, acting as a lens on what he cares about, how he thinks, and what he hopes to attain". The film, which premiered as part of Arebyte On Screen, can be viewed on Grosser's website.
The artist is also behind something called Facebook Demetricator, which according to The Guardian, is "an app that any user can employ to strip away all the addictive metrics from the platform, blocking those micro-dopamine hits of likes and friendship". "For example, if the text under someone's photo says 'You and 4 other people like this' Demetricator will change it to 'You and other people like this'," said Grosser.