Asus ROG Phone 5 is the wild, power-packed gaming phone of the year
There is nothing usual about the design — lines running across, bold lettering, a big camera module, a dash of colour here and there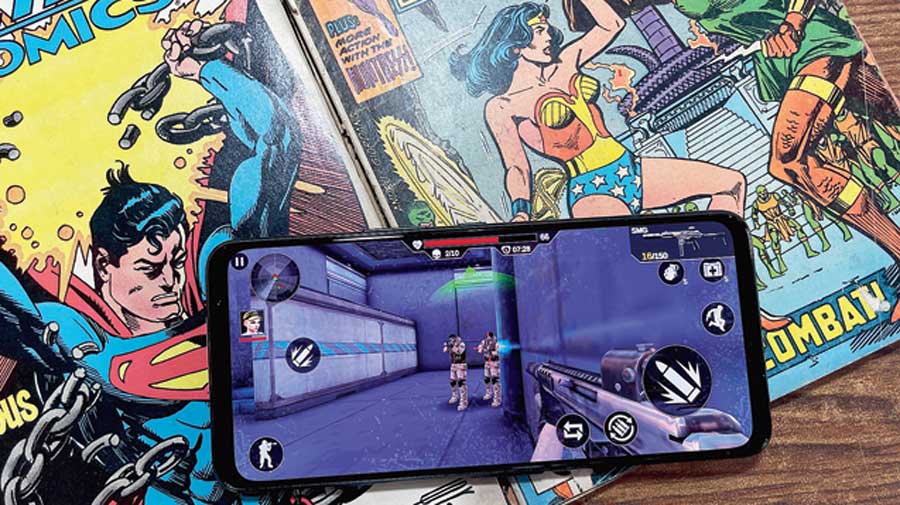 There's nothing ordinary about Asus ROG Phone 5, be it in way of design or performance.
The Telegraph
---
Calcutta
|
Published 17.04.21, 12:18 AM
|
---
Imagine driving a sports car to office. Asus ROG Phone 5 gives you that feeling. Yes, it's a gaming phone but at the same time, it does surprisingly well when it comes to "other" activities, like photography. If gaming is your passion, then there is no reason to refrain yourself from buying this phone.'

There's plenty for gamers
As far as gaming phones go, the ridiculous phone aesthetics are all in place. There is nothing usual about the design — lines running across, bold lettering, a big camera module, a dash of colour here and there…. It's a striking design which we have come to associate with ROG phones.
As far as the big number fundamentals are concerned, it's also there — Qualcomm Snapdragon 888 processor, 12gigs of RAM, 256GB storage (there is a base model with 8GB RAM and 128GB storage), stereo speakers and, of course, a ridiculously big, gorgeous display — 6.78-inch customised Samsung AMOLED, HDR 10+, panel with Corning Gorilla Glass Victus protection. There is 144Hz display refresh rate while touch sampling rate is 300Hz with an ultra-low 24.3 ms touch latency. Throw in a monster 6,000mAh battery.
If the question is whether you will be able to play bang-bang games better, the answer is a big 'yes' and also, you will have a lot of bragging rights as the owner of the phone. Though I am not a big gamer on the mobile front (a gaming rig is my choice), the phone basically spoils you.
The biggest upgrade for someone who hasn't used a gaming phone before is moving from two-finger to four-finger gaming, which is achieved with the air buttons on the side or rather the top when you hold the phone horizontally. A game like Call of Duty becomes a completely different experience. The AirTrigger five-control system has 10 motion-control input gestures, which is helpful.
The high touch sampling rate combined with the large display allows the user to pick enemies faster while in-game sounds are crystal clear than what you will get on the best flagship phones in the market. The stereo speakers can get really loud to drown out everything around you even if you are not sporting headphones. The front-facing speakers have been tuned by Dirac and there are a lot of controls you can play around with. Plus, ROG Phone 5 has brought back the 3.5mm audio jack, which is a big win for gamers and the system offers immersive sound, thanks to ESS Sabre DAC. By the way, you will also find a quad mic set up which is helpful.
While gaming we didn't notice any substantial amount of heating. Battery life on this phone is also amazingly good, lasting a day and a half on a single charge. There are two 3,000mAh cells, delivering a total 6000mAh capacity. So the two cells charge simultaneously to fuel up in no time. And for non-gamers…
Gaming phones have never been a great choice when it comes to cameras. On ROG Phone 5 things are slightly different. On the back the main snapper is 64MP (Sony IMX686 sensor) while the ultra-wide is 13MP and the macro sensor is 5MP. The front camera can shoot at 24MP. Pictures taken using the main shooter is surprisingly good, with a good amount of depth and contrast. The main camera also does a good job at night but pictures from the ultra-wide camera has a washed-out feel while the macro camera is simply meh. But who cares about cameras on a gaming phone?!
If you want to stream films, things can get bright, loud and wonderful. It's an excellent screen paired with an equally exceptional audio experience. Should you buy it?
If you are seriously into mobile phone gaming, look no further. Once you begin to play around with the phone, you will roll into the wild, wild world of gaming. The air buttons quickly become a habit you can't live without. Asus ROG Phone 5 is in a class by itself — exciting, wild and fast. Device: Asus ROG Phone 5
Price: Rs 49,999 for 8GB/128GB and Rs 57,999 for 12GB/256GB
High points
Big 6.78-inch customised Samsung AMOLED display with 144Hz refresh rate
300Hz touch sampling rate, 24.3ms touch latency
Stereo sound and the 3.5mm headphone jack has returned
Quad mics
Excellent cooling system
Muffled notes
The ultra-wide camera doesn't perform very well
No wireless charging