Pulling faces work particularly well on social media. The last few days have seen a surge in AI-driven videos that build on still photographs but – in the larger scheme of things — shows the power of deepfakes.
First appeared Deep Nostalgia, offered by online genealogy company MyHeritage (visit the website to find out more). Though slightly creepy, it's a good idea. The service uses AI technology, licensed from D-ID, to create an effect that a still photo is moving.
Users can run old photos of their loved ones or of themselves through the programme, which uses deep learning to put into use predetermined movements to facial features. A still photo is obviously static. The technology analyses facial structure and then makes up moments, like the reveal of teeth or the side of a head.
'An opportunity to do something cool'
The second programme is the app Wombo, which has an element of fun. The app arrived on the App Store and Google Play towards the end of February and has already been downloaded millions of times. These are the days of breakout apps like Clubhouse and Dispo.
Here too, the programme uses an algorithm to transform pictures of individuals into videos of them singing and dancing to tracks like Tunak tunak tun, What Is Love, Never Gonna Give you Up, I Will Survive and Don't Cha.
There's no sign-up necessary on this (not so!) simple app. Take a selfie using the built-in camera function or import a picture from the gallery on a device. Or you can opt to take a picture of a person using the rear-facing camera on a phone. In a few minutes, a video will be generated that's at once weird and surprising. You can always save the video to your film roll and share it on any messaging or social media platform.
Wombo CEO Ben-Zion Benkhin has told Insider that his team filmed a performer singing each song and then executed specific eye, facial and lip movements. These are used as background videos, which help the AI animate any uploaded image. "I've been following the AI space, following the meme space, following the deepfake space, and just saw the opportunity to do something cool," Benkhin said.
All these applications point to deepfakes or videos that have the likeness of someone, which obviously raises some concern about the end use. Wombo plays it safe because the videos look entertaining and has a Photoshop quality to it, which obviously saves the company from damaging criticism.
Using Wombo, we have seen an animated Kim Jong-un singing Gloria Gaynor's I Will Survive and Chinese president Xi Jinping has also been shown grooving to Rick Astley's Never Gonna Give You Up. US president Joe Biden got the Ding Dong Song treatment.
Wombo and Deep Nostalgia are quite different, with the latter being more realistic. Deep Nostalgia is somewhat like a feature on iOS Live Photos, which adds a few seconds of video to help smartphone photographers find the best shot.
However much fun, it's best to be careful while using machine learning programmes. As the name suggests, the more data we give, more the technology can comb through data to find patterns. These are programmes that may get better with more input.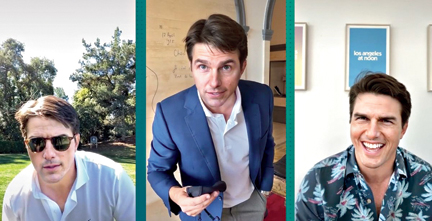 A Tom Cruise deepfake that recently made its way to TikTok. Picture: CNN
Cruise mode
Recently, many thought that Tom Cruise had joined TikTok, which is currently banned in India. A few videos were uploaded to the account @deeptomcruise, showing the 58-year-old practising his golf swing, falling over in a store, telling an anecdote about Mikhail Gorbachev and performing a magic trick with a coin. The account quickly picked up 1.1 million likes but later, the people behind the videos explained what was happening.
Then a few months ago, South Korean TV viewers were introduced to news anchor Kim Joo-Ha, a deepfake that went through the day's headlines. To be fair, viewers were told in advance.
According to the BBC, one of the early commercial adopters of the technology has been Synthesia, a London-based firm that creates AI-powered corporate training videos for global firms and business consultancies. The report said that to make an AI-generated video using Synthesia's system you simply pick from a number of avatars, type in the word you wish for them to say, and that's all.
Phew, time for some old-fashioned Rickrolling!