Apple's real game changer is coming to India soon...
...Apple One, a bundle pack for you and the family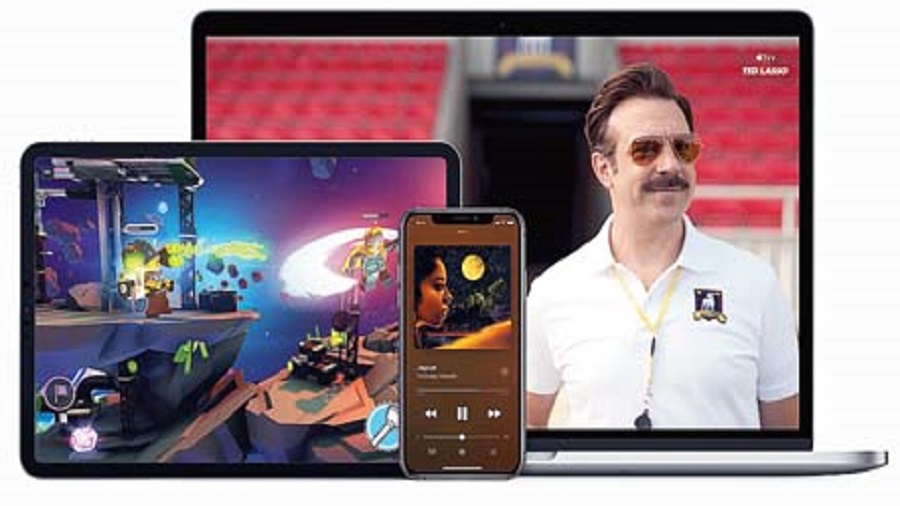 ---
---
When Apple decided to hold back — at least for the time being — from announcing new iPhones at its annual show, the company displayed a bold move, allowing the spotlight to be taken by things that often become the "other" launches — a new iPad Air, which features Apple's latest A14 Bionic chipset, and an outstanding set of Apple Watches. But the more intriguing launch involved Apple One, which is a service consumers and Wall Street investors have been demanding for long.
Apple One basically offers customers Apple Music, Apple TV+, Apple Arcade, iCloud, and more services in one simple plan. There are two ways to look at the new Apple One service — moving users from competitive music, video or gaming services to the Apple universe, and promote certain services — namely Apple Music and Apple TV+ — more aggressively outside the US.

How does Apple One help you?
In recent years, Apple has invested a lot on its services to complement its hardware ecosystem. First we had Apple Music and then came Apple TV+, two platforms with sizeable investments. Apple TV+ has had a good run so far and the shows are getting better. Instead of depending on shows from other companies, Apple is producing a stream of original shows. For example, Ghostwriter has collected two
Daytime Emmy awards. On Apple TV+ we got to see Tom Hanks's latest film Greyhound. Coming up is On the Rocks, a comedy drama starring Bill Murray and Rashida Jones, and plenty more. These are great shows that can be enjoyed on any device but what if you start enjoying them on Apple products?
Similarly, Apple Music has made some bold moves in the recent months to bring in more listeners and give Spotify stiff competition.
Besides a strong music library, there is Apple Radio which is improving in leaps and bounds. And podcasts have always been a strength for Apple.
Apple Arcade is where you can play some cool indie games without having to worry about paying for each game separately.
But the biggest part of Apple One is the iCloud storage offering. The 'Individual' plan in India offers 50GB of iCloud storage and the 'Family' plan offers 200GB of iCloud storage. There are people who even pay for 1TB storage. Once you have your photos, your documents, your important videos stored on the iCloud — which is secure and high on privacy — there is no way you would like to switch to a competing brand.

Is it wrong to bundle?
Audio streaming competitor Spotify has complained about Apple One, which includes Apple Music in every tier of its bundle. Soon after Apple's "Time Flies" event earlier this month, Spotify sent out a strong message: "Once again, Apple is using its dominant position and unfair practices to disadvantage competitors and deprive consumers by favoring its own services."
Having said that, Spotify is bundled with Hulu, with AT&T cellular service, and with some Samsung phones, observes The Verge. Last June, Apple announced that Apple Music has 60 million subscribers but that's not near to Spotify's 138 million subscribers (till June this year).

On the cards for long
In 2016, billionaire investor Carl Icahn sold his entire stake in Apple and said in an open letter to Apple CEO Tim Cook that the company's ecosystem was undervalued. The suggestion was for a "skinny bundle" or scaled-down versions of traditional cable packages delivered over the Internet at affordable prices. The "skinny bundle" never came but Apple TV+ did with Apple-funded TV shows, movies and documentaries. Goldman Sachs analyst Simona Jankowski suggested in 2016 that if Apple were to own its own content, it could bundle that with Apple Music and hardware like an Apple TV set-top box and iPhone for $50 per month.
Here we have Apple One. Apple can pre-install its services on its devices and, at the same time, offer services at compelling prices. In the premier package is also Apple Fitness+, something that will not launch in India at the moment. It's an app that incorporates metrics from Apple Watch for users to visualise right on their iPhone, iPad, or Apple TV, offering a first-of-its-kind personalised workout experience.
To make the proposition even better, Apple has announced Apple Store Online in India, which will go live on September 23, making it easier to buy Apple products without having to hear the out-of-stock excuse most of the time. Given time, there will be a sizeable base of users would like to watch new shows on Apple TV+, play games on Apple Arcade and listen to music on Apple Music. Plus, more iCloud space. Apple One will make it easy for everyone to enjoy Apple services.
How much do you have to pay?
Individual plan: Includes Apple Music, Apple TV+, Apple Arcade, and 50GB of iCloud storage for Rs 195 per month.
Family plan: Includes Apple Music, Apple TV+, Apple Arcade, and 200GB of iCloud storage for Rs 365 per month, and can be shared among up to six family members.
Premier plan is not coming to India at the moment.