We speak to three Indian app developers about why Apple's annual Worldwide Developers' Conference (WWDC) is a catalyst for creativity.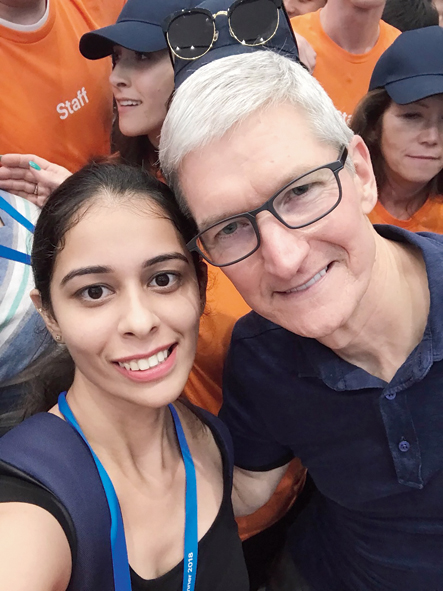 Aashna Narula is 26 and the motivation to develop her app using Swift Playground was her five-year-old nephew. Apple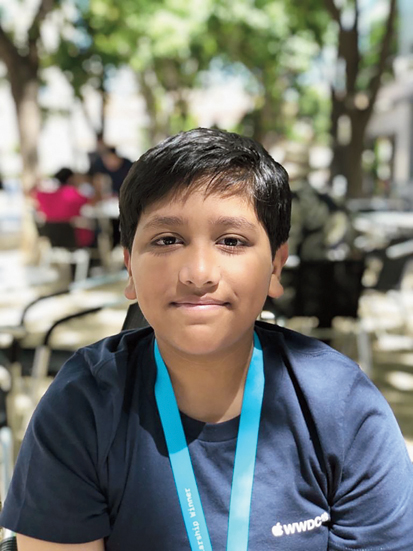 Ashwath Prasanna currently has five apps in the App Store Apple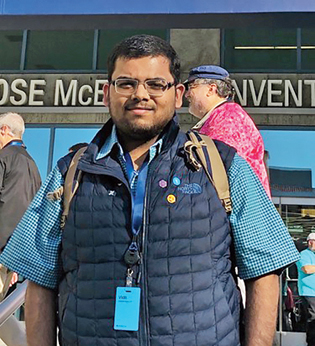 Vidit Bhargava is a 2016 WWDC Scholar Apple
Aashna Narula
Aashna Narula is 26 and the motivation to develop her app using Swift Playground was her five-year-old nephew. Like many other kids, he suffers from a problem of not being able to differentiate between same and different. The result? Let's Shapify.
What it is to receive a WWDC scholarship and how has it changed your life?

It was two years back when around this time, I got a mail from Apple with the subject: "You've won a WWDC18 Scholarship." I was ecstatic to read the mail because it was my first attempt and I got selected for one of the biggest events of Apple. Little did I know, this experience of seven days was going to change my life forever. I got a chance to not only witness the event live but meet Tim Cook (in picture left) in person. It was like a dream come true. I remember how nervous I was when I saw him standing near me and talking to me about my submission. I also met so many Apple engineers and one of my favorites, Esther Hare. One of the most amazing sessions that I attended during that week was my morning session with all the women developers, Women@WWDC. The stories that all the women shared were so inspiring that I was amazed to see how women have led their footprints in tech today.
Undoubtedly, receiving a WWDC scholarship has paved the way for me to finally be able to better myself, have a career that I am proud of, and inspire many other students to participate in the scholarship. It feels great when students message me on LinkedIn, telling me that I am their inspiration for why they chose to participate in the scholarship.
Let's Shapify is a very constructive app for children. Do you have a focus area when it comes to app categories?
Let's Shapify will always be close to my heart for it was primarily built for my nephew, Kartik, and then brought myriad of laurels to me. Like many other kids, Kartik suffered from a problem of not being able to differentiate between the same and different. He had a tough time dealing with shapes, colours, letters and numbers at his pre-school. But, after constantly playing the game Let's Shapify, we could notice a significant change in Kartik's observational and categorisation skills. Not only could he judge the shapes and colours well but he enjoyed the sounds the shapes produced every time he won. Seeing that big smile on his face proved to be a cherry on the cake.
I am very much attached to children and the way technology is making progress today. I believe we need to bring more such applications wherein the kids can enjoy their leisure time and learn from them, too, because what real-life experiences and visuals can teach you, books cannot. I am more focused on using my knowledge to bring a remarkable change in the way children see and experience tech.
How has life been since your Delhi University days?
I have pursued my graduation and post-graduation in computer science from Delhi University, one of the finest universities in India. My college life was not just academically enriching but was also great in the extracurricular sense. Participating in tech-oriented festivals and learning from them was an experience to watch out for. During post-graduation, my head of the department, Dr Vasudha Bhatnagar, gave us ample opportunities to explore our talent. I will always be indebted to what my college life has given me, for it is the reason for who I am today.
What are you presently working on?
Presently, I am working with the e-commerce payment system Paytm as an iOS developer. The opportunities at Paytm give me a chance to keep expanding my area of knowledge and develop new features for the app.
Also, out of passion, I am working with one of my post-graduation friends, Lakshya, on developing mini-apps. Learning together is fun. We get to share our knowledge and come up with new ideas and insights that can be extremely rewarding.
Vidit Bhargava
Vidit Bhargava is a 2016 WWDC Scholar. His app LookUp is an easy-to-use English dictionary and a great reading companion for readers. He has denied engineering jobs and taken up app development full-time and is now an app-preneur.
How did the WWDC scholarship in 2016 change you?

WWDC 2016 is what introduced me to an entire community of app developers who were just as passionate about apps and technology as I am. Interacting with them helped me improve my rather nascent app development skills. Conversations and discussions I had with app developers and Apple engineers in the technology space were extremely valuable and helpful; an experience that's just unique to attending WWDC. It also helped me build the apps I built in the months after that.
What motivated you to come up with LookUp and while developing the app, what are some of the things you learnt about the Apple ecosystem?
While I was in my final years at school a few years ago, my brother and I would share an iPod Touch together. With the final exams coming up, I would often require a dictionary app to look up words, but most dictionaries would end up taking a lot of space on our iPod Touch. That's where the idea for LookUp originated. A simple app that just helps you learn new words. Eventually, I realised how the app could be of help to more people like me, who're learning English as a secondary language, and have kept improving the app keeping that in mind.
Over the years, I've learnt a lot about Apple's ecosystem while developing LookUp. It's one of the rare platforms where the users really appreciate apps to be in lockstep with the latest features. They want the latest and greatest from iOS in all their apps. More importantly, the community of developers working on the ecosystem is extremely helpful and just as passionate about it.
We tend to use iPhones differently from iPads or, say, the Mac. Does that make your task as a developer difficult?
I'd say it makes it all the more exciting. LookUp recently came out on the Mac and had the complete functionality of the iOS app but it looked nothing like what it does on the phone. I was able to translate my understanding of how users use a Mac, into the app's interface and that was rewarding for the user. For me, it was a great exercise in the intricacies of macOS design. It's a mature operating system with so much to learn from, I had great fun adapting to how a Mac is used.
You chose to be an app-preneur rather than taking up a full-time engineering job. What prompted you to do so and any regrets?
While I was in college, my app LookUp showed a lot of promise in terms of the number of downloads I was getting. It was clear that people wanted to see more from the app and I was enjoying working on it too. I didn't want to take up a job and dilute the time I spent working on LookUp, so I decided to work full-time on that, and it's been pretty rewarding ever since.
I wouldn't say I have any regrets about taking an app development role at a bigger corporation. When you make your own product, you understand more than just one facet of development. App development is not just about programming, it's also about design, marketing, communications and tech support. As an indie developer, you learn all that too. I'd have missed out on this experience had I taken an engineering role elsewhere.
This year WWDC has gone online because of the global pandemic. Do you remain optimistic about the event, which developers always look forward to?
I am extremely optimistic about it. It's a new way of attending a conference and there are still a lot of unknowns but Apple's had a stellar record with their online streams of keynotes and sessions from the previous developer conferences. So, I am positive it should work out without a problem.
Ashwath Prasanna
Ashwath Prasanna currently has five apps in the App Store. The 14-year-old runs workshops to get his peers interested in coding, create awareness in the school about e-safety and collaborate with teachers on how new apps can be used in teaching. He has been mentored by the App Accelerator in Bangalore.
How did WWDC19 inspire you?

WWDC19 was an unforgettable experience and was truly wonderful. I learnt a lot there about frameworks, such as ARKit, CoreML and so much more. It was fun and I got the opportunity to get feedback on my apps from developers.
You are keen on Swift. What got you hooked to the programming language and what have you been able to achieve so far?
I have been interested in science and maths since I was young. In my third grade I received a MacBook as a gift for having my science book published (Journey Through Space-time). It was then that I got introduced to the magic you can do with programming. I learnt Swift through YouTube tutorials and started making small apps. The Apple Accelerator team helped me learn to structure and debug my code. Swift is a very intuitive language and is fun to program with. Now that I also dabble with Python and C++, I see how powerful Swift is. I have six apps on the App Store, all of which have been coded with swift.
Class Topper 1 & 2 (Link1, Link2): Aimed at developing the user's arithmetic skills through quizzes.
Quickvert: A handy tool to convert scientific units from imperial to metric and vice versa.
Tag AR: This is an AR app that offers a three-dimensional take on conventional games, such as stacking and tic-tac-toe. The app is also designed to act as a handy tool with real-world applications in home improvement planning by letting the user mark defects in real-time and share specifics through snapshots.
Beacon: This is a simple offline map meant for the elderly or children who would rather not have complex navigational app.
Fire and Ice: This is my latest app and makes for a relaxing play.
Once school is over, what do you want to focus on?
I hope to one day lead the technology division of a futuristic tech giant like Apple. Technology is clearly the future and a lot of good can be done when technology is used right. Having won the WWDC19 scholarship has helped me get n touch with the right network of mentors and help me further my knowledge.