Apple Podcasts Subscriptions is set to give more power to podcasters
There are over two million shows available on the platform but earlier neither did the company offer paid access nor did it earn a commission from ads that appear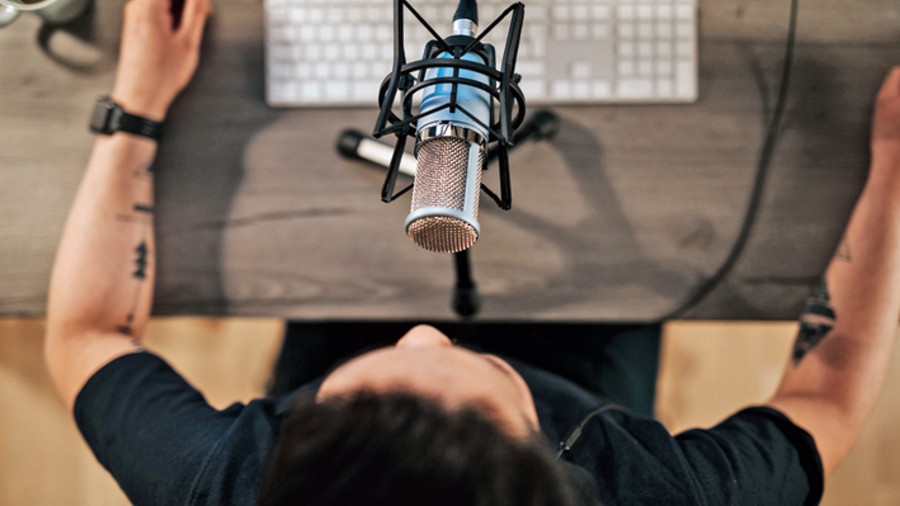 Podcasting has become a battleground for Apple and Spotify. File picture
File Picture
---
Published 26.04.21, 04:43 AM
|
---
Among the most significant announcements since podcasts took off has come in the way of Apple Podcasts Subscriptions, which will be available next month. On the one hand, it will guide users to podcasts they will enjoy — rather than running around clueless — and on the other, creators will finally be able to monetise better. Here's a ready reckoner of what's on offer and how it will shake up the podcast industry.
Big opportunity for podcasters
A little over 15 years ago after adding podcasts to its iTunes software, Apple has given podcasters on its platform the option to sell subscriptions. There are over two million shows available on the platform but earlier neither did the company offer paid access to podcasts nor did it earn a commission from ads that appear.
From May, listeners in 170-plus countries can sign up for premium subscriptions that come with plenty of benefits. In fact, there are two models. One is paid subscriptions and the other is freemium content. Basically, bonus and special episodes can be a part of a premium package while there can also be free podcasts and then something more. On top of this, podcasters have the option to offer free trials to users, which means you can try podcasts from a publisher for a short period of time and then arrive at a decision.
Presently, podcasters are spending a lot of their time and money coming up with episodes, most of which are worth listening to. Users are not necessarily paying for extra content… they are paying for access to a platform. Apple, so far, has offered millions of podcasts for free through its Podcasts app but with the new move, creators can charge fans for access to their shows.
One may say that monetising a podcast is not exactly new. There is Patreon where fans can access premium content. Libsyn is there. But all of these options require listeners to download another app and carry on with a few compromises. This is different and there are advantages (also a couple of drawbacks, which we will come to later). On the iPhone, you have the company's Apple Podcasts app, which is hugely popular among all users of the device. Second, while using an Apple device, chances are that you have provided your billing details, so paying for a new service from the company is that much easier. Third, while accessing premium content you don't need to leave the app. Fourth, Apple has an enormous number of active iPhones — more than a billion — out there (1.65 billion Apple devices in active use overall), so plenty of opportunities there.
With iOS 14.5, listeners will have access to a redesigned Apple Podcasts app, making searches easy and more in-depth with quick access to Top Charts and categories. Apple Podcasts will now have beautiful new pages for every show and episode to make it easier to follow, listen and share. Listeners will be able to automatically start episodic shows from the latest episode and serialised shows from the beginning of each series. To help podcasters, they can create channels where they can group and curate shows.
Once Apple Podcasts Subscriptions comes into play, podcast creators can set the pricing, reportedly receiving 70 per cent of the subscription revenue each billing cycle in its first year and 85 per cent after that.
But there also seems to be a couple of drawbacks for creators. Though good for listeners, Apple won't give podcasters listeners' emails, names, phone numbers or any personal information. What podcasters will have is aggregated, anonymised analytics about their listeners, for example, where they're based. Second, what happens to indie podcasters with small audiences? If they start charging, their audience may move to more popular shows because if Person X wants to pay then he or she will think twice about whom to pay.
Overall, the feeling is that subscriptions will lead to better shows. In a statement, Dennis Kooker, president of global digital business and US sales at Sony Music Entertainment, has said: "Offering subscriptions provides new flexibility and options for consumers, and is an important addition to helping creators better monetize their works. All of this will lead to more investment and even better shows for podcast fans." What about rivals?
Apple's biggest rival is Spotify, which in February said it had tripled the number of podcasts on its platform, year over year, to 2.2 million. The Swedish streaming service has exclusive deals with big-ticket names like Kim Kardashian, Michelle Obama and The Duke and Duchess of Sussex. Also, it has, over the years, acquired podcast startups, ad tech and studios. Meanwhile, Facebook, which is exploring the audio space in a big way, has a partnership with Spotify to bring the company's audio player to Facebook's app as well, allowing users to listen to both music and podcasts.
On the back of this, a report in the The Wall Street Journal states that Spotify may announce this week its own offering in which it will not charge podcasters nor take a cut from their subscriptions, and will allow them to set their own pricing.
However the situation turns out, Apple and Spotify both need to be aware that listeners are already paying for other services, like Netflix or PlayStation Plus. So, we are paying for entertainment more than ever before. Every rupee we spend needs to be worth something.
Having said that all, Apple is clearly ahead of the game because its hardware user base. Apple has been growing the number of services it sells to enrich its hardware offering. That's why we have services like Apple TV+, music streaming service Apple Music and fitness programme Apple Fitness+ (yet to arrive in India). Slowly, Apple TV+ has managed to push programmes that are top of the line and worth the monthly payment. Let's see if Apple Podcasts Subscriptions can do the same.
Pricing and availability
• Apple Podcasts Subscriptions will be available to listeners in over 170 countries and regions in May.
• Pricing for each subscription is set by creators and billed monthly by default. Creators can additionally offer annual billing, which subscribers can manage from their Apple ID account settings. Listeners will also be able to access free trials and sample episodes offered by creators.
• Through Family Sharing, up to six family members can share a subscription.
• The Apple Podcasters programme, which includes all of the tools needed to offer premium subscriptions on Apple Podcasts, is available to creators in over 170 countries and regions for Rs 1,799 per year. Creators can enroll through Apple Podcasts Connect.
The opportunity
Podcasting is set to bring in more than $1 billion in revenue this year from advertising in the US for the first time, according to The Wall Street Journal. An estimated 116 million Americans, or 41 per cent of the US population over the age of 12, are now monthly podcast listeners, an 11 per cent increase over 2020, according to Edison Research and Triton Digital.
Talking heads Martina Abrahams Ilunga, CEO and chief editor of You Had Me at Black: "More stories and more episodes — sooner. Apple Podcasts Subscriptions empowers us to deliver that. With our subscription, listeners can hear new seasons and episodes first, before anyone else, while also supporting our growth and sustainability." Alex Mather, founder and CEO of The Athletic: "We know true sports fans are always looking for stories about their clubs and teams told through a new lens, and with Apple Podcasts Subscriptions, we can deliver even more great stories in an all-new way, ad free, directly through Apple Podcasts." Maggie McGuire, CEO of Pinna, an on-demand audio entertainment service for kids: "Our ad-free subscriptions will feature a collection of award-winning original series, including action adventures, mysteries, comedies, game shows, musicals, and much more. We couldn't be more excited to connect kids around the globe with their next favourite podcast."