Apple Music streaming is diving deep into India
With localised content as well as offering support for artistes it is reaching out to listeners like no other service provider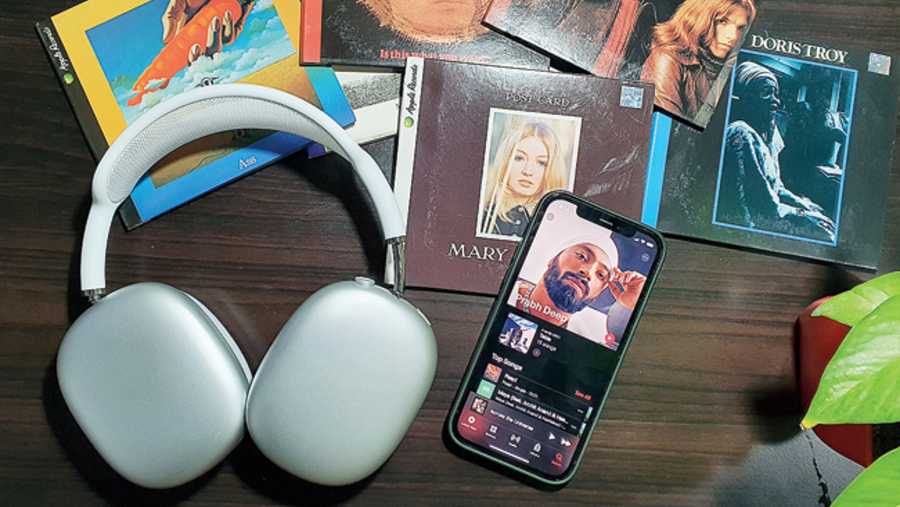 Apple Music has offerings such as City Charts and as well as playlists that are being curated in India across eight languages.
Picture: The Telegraph
---
Published 04.08.21, 12:38 AM
|
---
Music streaming has a problem and one service is trying to iron it out. Consider Netflix or Disney, they both have plenty of original content to attract new users every day. There is a chance viewers will subscribe to either or both platforms while not much of the content overlaps. That's where music streaming differs. If everyone offers the same catalogue of music, what will make listeners choose one over the other, besides pricing? Content curation, streaming options, personalised content… and that's where Apple Music comes in, despite arriving late to the music streaming scene but it's got the strategy right.
Deep dive into local markets
Human curation. That's what Apple Music is doing, which is unlike the other services we come across. There are Apple Music editors around the world, curating over 30,000 playlists, across genres, activities and moods. These are the playlists through which users discover new music. This is an insane number. Last year we had asked a rival streaming representative about the number of playlists being curated and were told that for them there were more than "4,500 editorial playlists globally".
But playlists alone cannot win audiences over. For a music streaming to succeed there is a need to delve deeper into localised content. Apple Music is reaching out to large number of users through flagship playlists that are being created in India across eight languages (at the moment) — Punjabi, Tamil, Telugu, Malayalam, Kannada, Bengali, Marathi and Hindi.
That's not all. The streaming platform is collating music that's winning hearts in over 100 cities globally through City Charts, which combine plays and additional signs of local popularity to rank the top 25 songs vibing with listeners locally. At the moment, there are exclusive charts for Delhi, Mumbai and Bangalore, showcasing a diverse listening pattern. What works in Delhi may not work in Bangalore. Earlier this week, Delhi was jamming to Insane (AP Dhillon, Gurinder Gill and Shinda Kahlon) while the vibe in Bangalore stuck to Stay (The Kid Laroi and Justin Bieber) and in Mumbai it was Tu Aake Dekhle (King).
Global-local talent
Keeping ears open to what our sound cans are playing is a part of the battle won; equally important is the aspect of winning over local artistes. This is happening in two ways — Up Next Local Artiste Programme and Hear It Here.
Up Next Global Programme is a monthly initiative geared towards identifying, showcasing and elevating rising star talent and also being built to complement it is the Up Next Local Artiste Programm.
When it comes to the global scene, the Up Next roster of past talent already includes H.E.R., Khalid, Billie Eilish, Bad Bunny, Megan Thee Stallion and so many more. In India, KRSNA, Mali, Prabh Deep are amongst a growing list of artistes.
Rapper Prabh Deep says, "Being a part of campaigns like Up Next Local puts us on the same footing as some of the biggest artistes in the world. It has allowed me to expand my creative network as well my audience and has helped me evolve as an artiste. When you're an artiste that's going against the grain — it's important for platforms such as Apple Music to provide avenues of support so that we keep pushing boundaries."
Also needs to be seen in tandem with the Up Next is Hear It Here, an editorial programme where artistes release their music exclusively with Apple Music giving them a platform and the means to reach their audiences more effectively. Since October 2017, the service has had over 85 such releases from artistes like Manas Jha, Dhyani, Sundog Project, Nigavithran and FuzzCulture.
A couple of years ago, rapper Divine was interviewed by Ebro Darden (global head of hip-hop on Beats 1 Radio), reaching audiences in over 110 countries while rap artiste Raja Kumari hosted a special radio show, The New India, featuring the best of Indian hip-hop and interviewed two artistes we can't get enough of — Nucleya and Raftaar. For Divine, the Beats 1 Radio experience has been a memorable one. He says, "From being the first Indian artiste to shoot a music video on an iPhone to being flown to Beats 1 Studios in LA to be interviewed by Ebro Darden himself, Apple has supported me and my music a lot."
He is also among the first few artistes to share music in Spatial Audio format on the platform. "To be able to present my music in outstanding sound and clarity and with an immersive experience to my fans is an important milestone for me."
And the best part is, Apple Music obviously streams on iPhone, iPad, iPod, Apple Watch, Apple TV, Mac and HomePod, plus it is available on Android and Windows devices.