Apple introduces its own chip in Macs
Like the A-series chips on the iPad and iPhone, the new M1 will allow the MacBook Air and MacBook Pro to wake instantly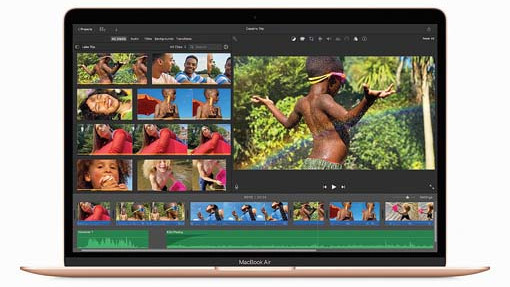 The new MacBook Air, 13-inch MacBook Pro, and Mac mini are now powered by M1, Apple's own chip.
Apple
---
Published 12.11.20, 03:22 AM
|
---
Some marriages can't be saved, even in the tech world. Apple co-founder Steve Jobs took the help of the folks at Intel in 2005 to improve performance in Apple computers. What seemed like an ideal marriage has ended with Apple introducing its M1 chips, which will deliver better computing power and battery life for Macs. But Apple CEO Tim Cook's move stems from Jobs's philosophy of owning core technologies, which can make a difference in the long run. Though Intel only stands to lose a small share of its business, the move may inspire major computer makers to design its chips or turn to other suppliers.
It's a big leap forward
Looking at the legacy of Steve Jobs, the man ushered in almost everything we have come to cherish about Apple — the iPod to the iPhone to the Mac… Since he passed away, the biggest introduction has been the Apple Watch and to a lesser degree, AirPods. What next? By having at the heart of all Apple devices its own chips, there will be a better experience across the board, helping app developers to come up with solutions applicable to all devices (except for input type). Beyond it, Apple will be in a better position in way of revenue because less has to be shared, besides bringing the entire chain — R&D to production, supply to distribution — under close supervision.
Apple's divorce from Intel will take two years to complete, giving Tim Cook and his team to iron out all kinds of issues. The company's chips are based on Arm Holdings technology and are meant to improve not just battery life and speed but also security, which is something at the heart of the brand.
What remains to be seen is whether cost that is being cut will be diverted towards funding new features or amping up profitability.
Tighter integration
The development will allow Apple a high level of integration, something that we have on iOS and iPadOS. Since the machines now have the same basic architecture as the iPhone and iPad, users will be able to run those apps to an extent. Of course, there will be a redesign of the interface, allowing the apps to work without a touchscreen. As for apps that were written for Intel, these will now depend on the Rosetta 2 emulator (as the processor architecture is different), which will translate the apps on the fly.
Apple has optimised all its apps for M1 with the list including Pages, Keynote, GarageBand, iMovie, Numbers, LogicPro, and Final Cut Pro.
In terms of pace, users of Final Cut Pro can render a timeline up to six times faster while Logic Pro can play three times as many instruments and plug-ins. Meanwhile, Adobe will release its first Apple Silicon app, Lightroom, next month while Photoshop and its other big apps will come early next year.
Revamped lineup
There are three M1-powered computers to keep an eye on. The 13-inch MacBook Air (the world's best-selling 13-inch notebook) no longer requires a fan to keep its processor cool while the new MacBook Pro can now play video for 20 hours on a single battery charge (or twice as long as before) but it will retain the fan. The third is the Mac Mini, which packs in 8GB of RAM (configurable up to 16GB) and the SSD starts at 256GB. It also has a built-in speaker and 3.5mm headphone jack.
Like the A-series chips on the iPad and iPhone, the new M1 will allow the MacBook Air and MacBook Pro to wake instantly. Together with macOS Big Sur, M1 delivers up to 3.5x faster CPU, up to 6x faster GPU, up to 15x faster machine learning (ML) capabilities, and battery life up to 2x longer than before. FIGURE THIS OUT
New MacBook Air compared to the previous generation…
Export a project for the web with iMovie up to 3x faster.
Integrate 3D effects into video in Final Cut Pro up to 5x faster.
For the first time, play back and edit multiple streams of full-quality, 4K ProRes video in Final Cut Pro without dropping a frame.
Export photos from Lightroom up to twice as fast.
Watch more movies and TV shows with up to 18 hours of battery life, the longest ever on MacBook Air
New 13-inch MacBook Pro when compared to the previous generation
Build code in Xcode up to 2.8x faster.
Render a complex 3D title in Final Cut Pro up to 5.9x faster.
Perform ML tasks in Create ML up to 11x faster.
Play back full-quality, 8K ProRes video in DaVinci Resolve without dropping a single frame.