Amazon Prime Day on July 15: Get, set, buy
Prime Day starts midnight on Monday, July 15 and — for the first time ever — runs for 48 hours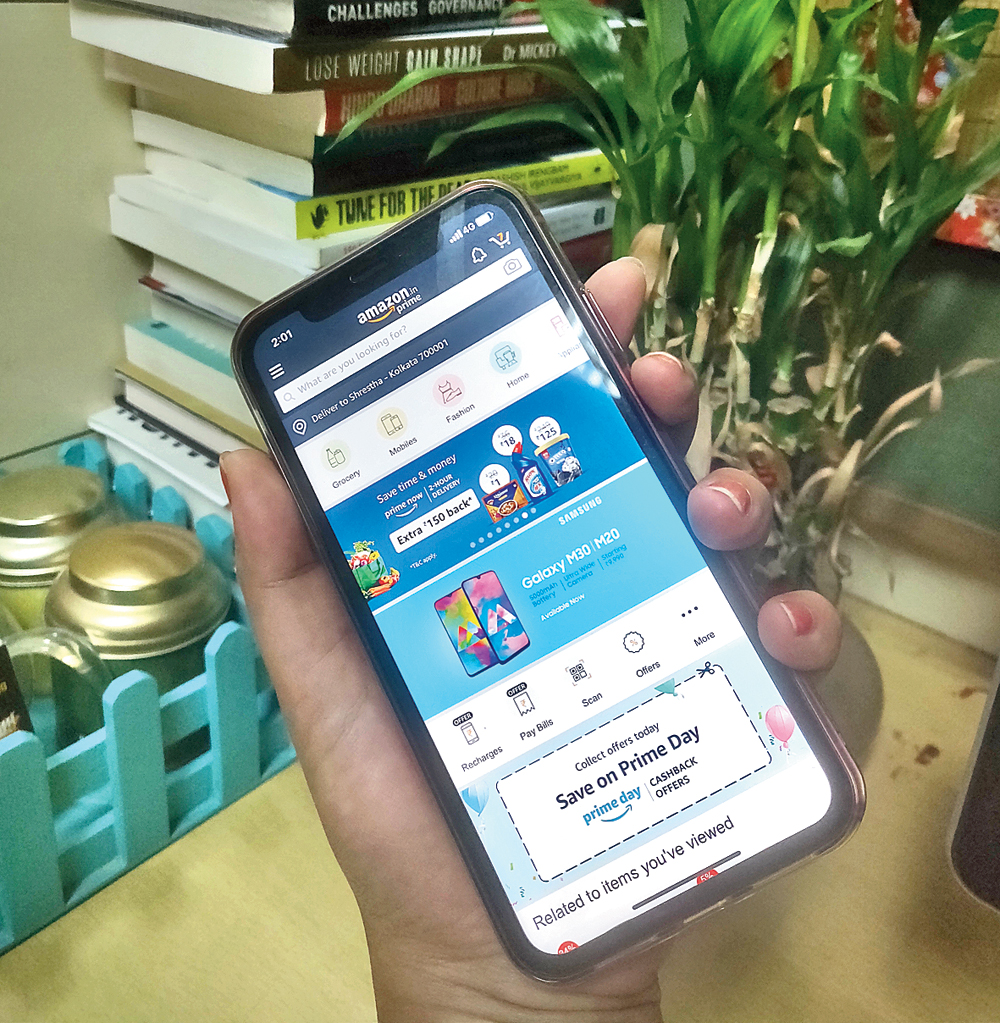 We know you are excited to jump in on some great deals, besides checking out 1,000-plus new product launches
A Telegraph picture
---
Published 12.07.19, 02:15 PM
|
---
It's that time of the year again — Amazon's Prime Day, which allows Prime users to get great deals. Now in its third year in India, Prime Day starts midnight on Monday, July 15 and — for the first time ever — runs for 48 hours. We know you are excited to jump in on some great deals, besides checking out 1,000-plus new product launches. But behind these products are plenty of sellers. Batting on their behalf is Gopal Pillai (VP seller services, Amazon India), whom we recently caught up with.
How does Amazon make a seller's life easier?
We started in June 2013 with 100 sellers and just seven million in selection. While we have a huge advantage of leveraging the global systems and tools, we also Indianised as many things as possible so that Indian sellers are successful in addressing customer needs. For example, awareness. A lot of people thought selling online would be difficult, expensive and it takes time. So we created something called Amazon Tatkal. We take Tatkal vans to seller-dense locations and within an hour they go live. That became very successful. And now it has become even easier.
Then we created a marketplace of service providers and sellers to connect because sellers may not have the infrastructure to do imaging, cataloguing and so on. That has worked amazingly well.
Mobile app is a huge driver in India. Worldwide, mobile app is a secondary screen for businesses whereas in India it is the only screen for many. We tweaked the mobile app and launched the concept of registration workflow from the mobile from India for the world. Now more than one-third of our registrations come from mobiles.
Then we heard about working capital issues. We created a lending network, which is again a marketplace where lenders and sellers can connect. They are able to provide different kinds of loans — overdraft, term loans and the numbers go anywhere from two lakhs to five crores.
Then we realised while entering India that logistics and fulfilment framework can be difficult. So we created Easy Ship in which we go and pick up products from sellers.
What about women entrepreneurs and local artisans?
Amazon Saheli was born with two NGOs and 10,000 women entrepreneurs. Now we have 17 NGOs and over 130,000 entrepreneurs. Through another programme of ours — Kala Haat — 750,000 artisans across India are being benefited.
From 100 sellers to over 450,000 sellers today, from seven million selection to over 170 million selections... there are around 3,500 crorepatis from the marketplace as well as hundreds and thousands who are making Rs 20,000 a month. These are people who depend on Amazon for their daily living. It has been an amazing journey.
How has it worked out for Indian sellers in the international space?
From an international perspective, we started four years ago with a few hundred sellers and today there are more than 50,000 sellers who are selling anywhere — Amazon.com, UK, Germany... We recently launched in the UAE. I jokingly call the Emirates the 30th state of India because the demand patterns are similar. For example, within one week of launch, Hidesign became one of the top sellers.
One of our sellers — Vahdam — got into Oprah Winfrey's 2018 gift list. That seller is doing amazingly well. A lot of players from the Northeast are doing very well. This shows that with the right amount of infrastructure, the capability of Indian sellers can be unleashed.
Is Amazon founder Jeff Bezos happy with India?
He is super excited about India. He loves the way India operates and the innovations that come from here. Some years ago in his annual shareholders meeting he talked about Tatkal. He sees the long-term potential here. The excitement continues to grow. I don't see any reduction in the number of people joining our marketplace. The interest in our programmes continues to be fabulous.