What do the following have in common: accomplished singer Sandhya Mukherjee, danseuse Amala Shankar, poet Shankha Ghosh, comic artist Narayan Debnath, author Buddhadeb Guha and footballer Tulsidas Balaram? Apart from them being super achievers from Bengal, all are octogenarians and nonagenarians (Amala Shankar is a centurion). For all these young at heart, age is just a number.
Let me share with you a few thoughts about five other "young people" from Calcutta who I have the privilege of knowing.
Keshav Dutt will celebrate his 95th birthday this December. Following the death of Balbir Singh Sr recently, Keshav Dutt remains the only surviving member of Indian hockey's "dream team" that won the gold medal at the 1948 London Olympics. Sports historians consider that 1948 team to be the greatest ever. Keshav Dutt went on to win a second gold when India won again at the 1952 Helsinki Olympics. Legend has it that he was selected to play for the 1956 Melbourne Olympics as well, but sadly, his employers, a large tea company, did not grant him leave. What a reason to miss the Olympics!
I had the privilege of conducting my first interview as a rookie sports journalist, for the magazine Sportsworld (published by the ABP group), with Keshav Dutt. This was the early 1980s. I distinctly remember calling him up on his landline at home to fix the appointment. I was very surprised when he told me to meet him on a Sunday morning at the bar of the Calcutta Cricket and Football Club (CC&FC). Before we sat down for the interview he promptly offered 22 year-old me a bottle of Black Label beer.
Sister Cyril is somebody who deserves to be called the Mother Teresa of Education. She came to India, from Ireland, in 1956, and made this city her home. Her passion and her mission were for the care and the upliftment of street children. She spearheaded a revolutionary idea by involving her regular "more-privileged" students in community service of teaching the less fortunate. This "Each One Teach One" mission (since then replicated by many) led to the Rainbow Project, which began as a programme for homeless children in the Sealdah area. Her Shikshalaya Prakalpa project, seeking to give all of Kolkata's out-of-school children access to education, has been adopted by a number of governments. When I think of Sister Cyril, two images come to mind. One, of a robust-looking nun, wearing a full white habit, riding through the streets and lanes of Kolkata, on her Vespa scooter. Two, of a Mary Poppins-like figure sitting in the evening light among her Rainbow children.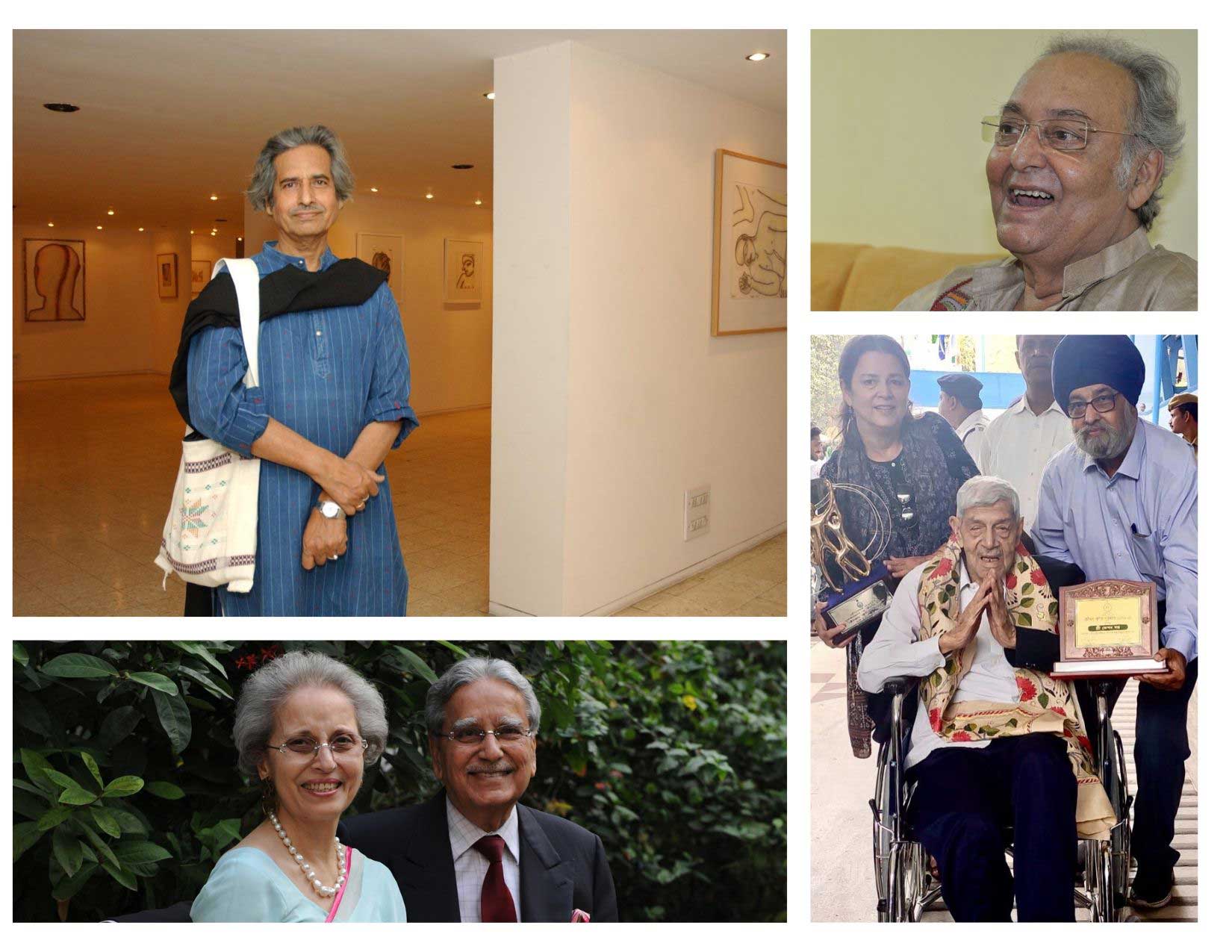 Jogen Chowdhury (clockwise), Soumitra Chatterjee, Keshav Dutt, Naresh and Sunita Kumar. Pictures: The Telegraph archives, writer's personal collection
Soumitra Chatterjee is one of Bengal's greatest thespians and actors. The word "legend" is used very loosely these days. However, he truly is one. My relationship with him is one of reflected glory. His son Sougata and I were in school together at St Xavier's. Sougata was one of the brightest boys in class. Usually, the brightest sparks are "goody-goody" and not too naughty. That was not the case with him. I have happy memories of Sougata mingling with us back-benchers and planning innocuous pranks. Schoolboy innocence ensured we never bothered or even asked each other about what our fathers or mothers did or had achieved. Nor, for that matter, what car they drove or the size of their house or how many autographs they signed. To us, Sougata was always Sougata – never the brilliant son of a famous father.
Naresh Kumar is one of India's tennis greats. This experienced Davis Cupper later became one of the most highly respected commentators in the sport. He is also Calcutta's original tennis desperado. Since 1949, barring two editions, he has spent every summer courtside at Wimbledon. Naresh Kumar and Sunita, his charming wife, were close confidants of Mother Teresa. Thirty years ago, when I was publishing a book of pictures on Mother Teresa (more correctly, now, Saint Teresa of Kolkata) shot by photographer Sunil K Dutt, I reached out to the Kumars. They have always been generous with their time and pure in their intent. In an act so Calcuttan, a Punjabi-Hindu couple was the bridge that took a Catholic boy across the city to meet the most famous nun on the planet. Mr and Mrs Kumar (even though they insist everyone calls them Naresh and Sunita) still host a cozy New Year's Eve party at their home every year. Incidentally, they both have an impeccable eye for art, and have a fabulous collection of MF Hussain paintings.
Jogen Chowdhury is one of three great Bengali modern masters – the other two being Ganesh Pyne and Bikash Bhattacharya. A truly skilled and gifted artist, he splits his time between Santiniketan and his apartment in South City. He is an international art brand who carries his brush with humility. Of all his different styles of painting, I love his crosshatch style, which is a technique of using closely spaced parallel lines as a shading effect. One had the privilege of being a colleague of Jogen Da in the Rajya Sabha. He rarely spoke in Parliament but is passionate about many issues, including human rights and the preservation of the arts and cultural institutions. Let me let out a secret: Jogen Da has done dozens of sketches of MPs across the political spectrum in Parliament. Hope he puts them all into a book and publishes it soon. (I volunteer to write the captions).
These are but just a few octogenarians and nonagenarians from Calcutta who I know. I am sure there are so many others whom you know at home - your grandparents, your neighbour, your friend's baba or ma. To them all, the young at heart, we say: stay safe, stay healthy. Forever.