Why foreign awards are like pick-up lines
Do all such awards truly recognize improved ties? As with any show of respect, timing is often the best clue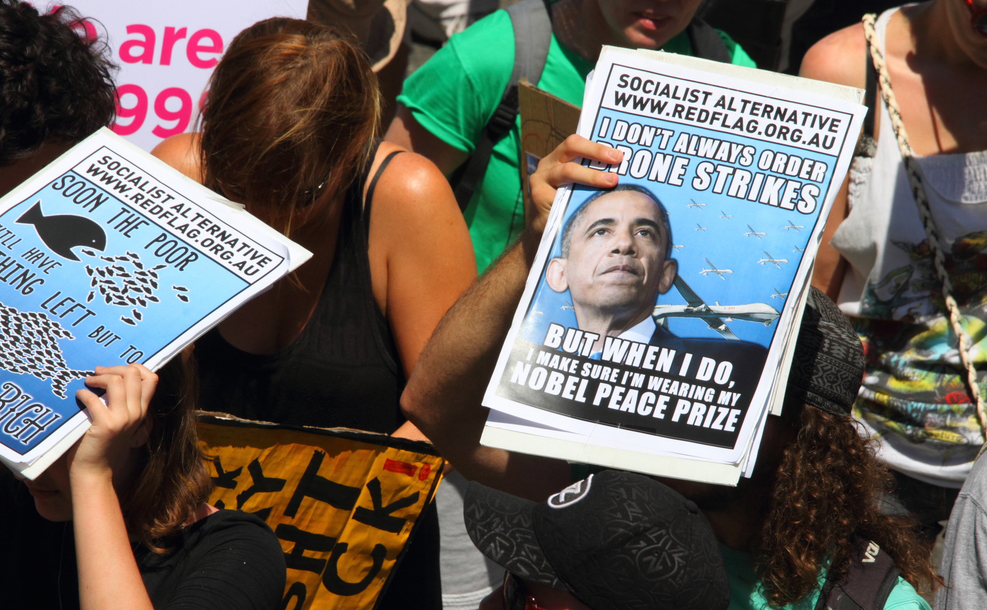 The Nobel Committee is still trying to live down criticism over its Peace Prize to former US president Barack Obama when he was in office, and before the drone attacks he ordered led to record deaths
(Shutterstock)
---
Published 24.04.19, 03:48 AM
|
---
When the Russian president, Vladimir Putin, announced on April 12 that he was awarding Prime Minister Narendra Modi his country's highest honour, the Order of St. Andrew, the Indian government was quick to claim the moment as a measure of its leader's diplomatic successes. "Pradhan Mantri ji — India is proud of you," tweeted the foreign minister, Sushma Swaraj.
And indeed, Modi can boast greater success on the international award-winning front than any of his predecessors. The Russian honour was Modi's seventh in his five years in power — with the United Arab Emirates, Saudi Arabia, the Palestinian Authority, Afghanistan, South Korea and the United Nations being the others to award him. But are all such awards truly the recognition of improved ties? As with any show of respect, timing is often the best giveaway.
Each of these awards has come when Modi is entrenched in power, looking poised for a second term, and with the authority to influence relations with the countries bestowing these honours. Make no mistake, there's certainly respect for India, its economy and growing strategic stature implicit in these awards. But awarding someone for improving relations when they're in a position to bolster or hurt those ties is akin to students telling their teacher she's the best when she's yet to grade them.
Such awards are also risky. The Nobel Committee is still trying to live down criticism over its Peace Prize to Barack Obama when he was in office, and before the drone attacks he ordered led to record deaths.
Contrast these honours with the solitary international award Modi's predecessor, Manmohan Singh, received for his role as an Indian leader. Japan bestowed the Grand Cordon of the Order of the Paulownia Flowers on Singh for improving bilateral ties in November 2014, six months after he had lost power. Far from hoping to influence policy in its favour, Japan was risking the displeasure of the Modi government that had declared all previous administrations to be failures (Modi did congratulate Singh). The Japanese were effectively acknowledging that Singh's contributions — over a quarter of a century, starting with his stint as finance minister in the 1990s — were central to the robust relationship between the two countries.
That's not to belittle the foreign policy accomplishments over the past five years for which Modi can take credit. Especially in West Asia, Modi has largely managed to dance simultaneously with countries — Saudi Arabia, Iran and Israel — that treat each other as enemies. The already difficult dynamics were further complicated with the rupture in ties between Saudi Arabia and Qatar; yet India has managed to draw investments from both.
In Afghanistan, India has expanded its development footprint — albeit under pressure from the Donald Trump administration — and remains a rare neighbour Afghans trust. The current Indian government has focused on Africa more than any preceding administration. Despite a series of setbacks, it has managed relations with the United States of America better than most other major nations have in the Trump era.
But several — though not all — of the awards Modi has received from foreign governments are also testament to thorny challenges the next Indian government — whoever leads it — will need to confront. India's commitment towards a separate Palestinian state has never stood weaker. Earlier this month, Modi was quick to congratulate "my dear friend Bibi" after Israel's prime minister, Benjamin Netanyahu, appeared set to form the country's next government — never mind that he had threatened to annex the West Bank only days earlier. Yet the Palestinian Authority conferred the Grand Collar of the State of Palestine on Modi in February 2018. Cash-strapped, it can ill afford to lose what little aid it still receives from India. But what posture will India adopt if Netanyahu is true to his threat?
Saudi Arabia honoured Modi with the Sash of King Abdulaziz in April 2016 at a time it was feverishly wooing India away from Iran, a month before the prime minister visited Tehran. The UAE, which awarded Modi the Zayed Medal — its highest civilian honour — just this month is competing with Saudi Arabia and others for a larger share of the Indian oil market. India has stopped oil imports from Venezuela under US pressure. It was negotiating with Washington to limit cuts on crude intake from Iran without attracting sanctions from the US. The US has decided not to extend the waivers after May 2. India will need to make up for those import cuts from other sources.
And the Amir Amanullah Khan Award, bestowed on Modi by Afghanistan in 2016, is a poignant reminder of just how little India's voice matters in that country's future despite it enjoying popular support there. The Trump administration continues to ignore India's repeated pleas to include Afghanistan's elected government in peace negotiations with the Taliban.
It's of course possible that several nations genuinely conclude that Modi has helped elevate ties. But as with Singh, we'll only know that once Indian voters have opted to remove him from power. Until then, these awards are little more than pick-up lines in a bar: good to hear, but silly to believe in.