What lies behind the Gaza ceasefire
Joe Biden's eventual intervention ultimately led to the de-escalation; for Narendra Modi and his team, that's not good news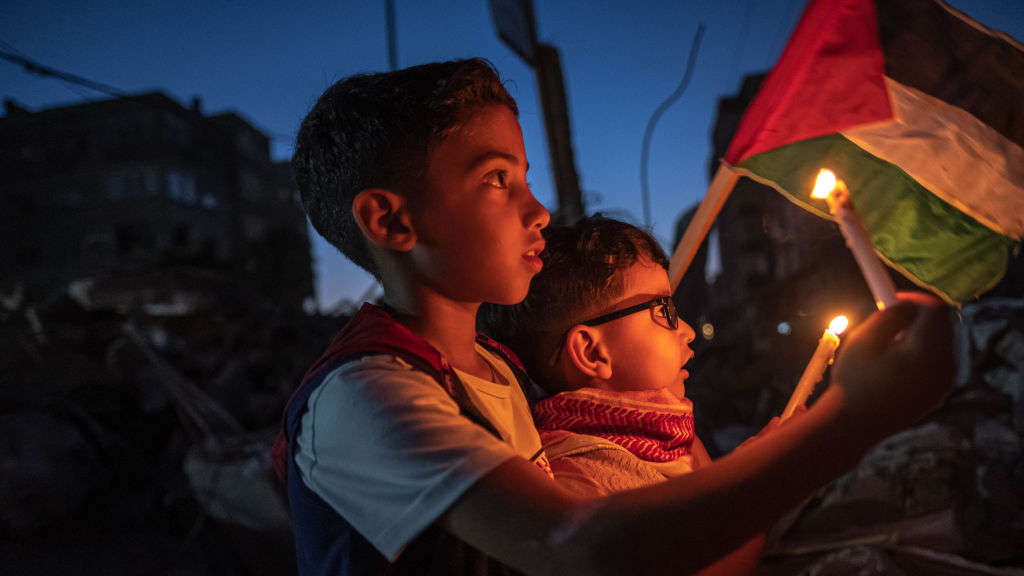 Palestinian children hold candles during a rally amid the ruins of houses destroyed by Israeli strikes, in Beit Lahia Northern Gaza Strip on May 25, 2021 in Gaza City, Gaza.
Fatima Shbair/Getty Images
---
Published 26.05.21, 03:26 AM
|
---
The directive was to Israel's prime minister. But the echoes would have reached the corridors of the Prime Minister's Office in South Block, New Delhi.
For days, as Israel pounded Gaza with airstrikes that left more than 200 Palestinians dead, the US president, Joe Biden, refused to criticize the world's only Jewish State, publicly defending its right to self-defence. The militant group, Hamas, which runs the administration in Gaza, had been indiscriminately firing rockets into Israeli civilian areas, killing at least 12 people. Then, as the pressure mounted from the Democratic Party's increasingly vocal left wing, Biden buckled. Hours after Rashida Tlaib, the only Palestinian American in the US Congress, accosted Biden on the Detroit airport tarmac and communicated her unhappiness with his ambivalence over the Middle East crisis, Biden picked up the phone and told Israel's prime minister, Benjamin Netanyahu, that he expected a significant de-escalation within a day toward a ceasefire. A day later, Israel and Hamas had agreed to a tenuous, Egypt-mediated ceasefire.
Both Israel and Hamas have claimed victory. But as the smoke clears over Gaza, the only clear winner is the progressive left in the US that played a critical role in bringing Biden to power and has now demonstrated it can bend him to its pressures on foreign policy.
For Narendra Modi and his team, that's not good news.
The same cast of characters that led the pressure on Biden to get tough with Netanyahu has been vocal about human rights abuses, the crackdown in Kashmir, and discrimination against religious minorities under Modi. In November 2019, Tlaib introduced a resolution in the Congress, criticizing the Modi government over its revocation of Article 370 and the suspension of several civil liberties in Kashmir at the time. Representatives Alexandria Ocasio Cortez, Ilhan Omar and Pramila Jayapal and Senator Bernie Sanders, all critics of Israel's treatment of Palestinians, have also questioned the Modi government publicly over its actions in Kashmir and the Citizenship (Amendment) Act that discriminates against Muslim immigrants. In March 2020, when the US under the then president, Donald Trump, inked a defence deal with India, AOC, as Cortez is popularly known, was blunt in her critique: "President Trump is signing arms deals with Modi while his administration is ethnically cleansing the country's religious minorities," she tweeted.
As Biden seeks to bolster ties with Modi, will he be able to resist pressure from this influential segment within the Democratic Party? Biden knows that any public criticism — even if it is veiled — of India's elected leader is sure to sour relations with a country that is central to his plans to focus his foreign policy energies on China. India is a central member of the Quad, a grouping that also includes the US, Japan and Australia, that is aimed at presenting the Indo-Pacific region with a democratic leadership as an alternative to China. Only India in the region has the military heft to stand toe-to-toe with China.  
All of which is why until now Biden — like previous US presidents — was widely expected to largely ignore any pressure from the left in the Democratic Party in his engagements with India. After all, that's what the former president, Barack Obama, did when dealing with Modi, paying generic homilies to democracy and diversity without directly criticizing India's leader. Biden, a political veteran of more than four decades, is instinctively the archetypical moderate. He, too, knows Modi well and has worked with him under Obama.
But Biden's strict missive to Netanyahu shows that the clout of the left within his party extends beyond anything that Obama had to deal with. Indeed, the political landscape of the US today is significantly different from four years ago. If conspiracy-trusting Trump supporters bring the energy and passion to the Republican Party, making its leaders kowtow to the former president's falsehoods, it's the youthful left that's the fuel lifting Biden.
Realpolitik would suggest that Biden needs to keep pressure from the left at an arm's distance when building vital relationships such as those with India and Brazil, another country whose controversial president, Jair Bolsonaro, has been in the crosshairs of American progressives. That's true not just because American businesses cannot afford to risk ease of access to India's giant market or because Washington needs New Delhi to counter Beijing's rise. Big countries like India — whoever might be in power — simply do not take instructions from a foreign power in public. If Biden were to tell Modi what he 'expects' and the White House were to then release a statement detailing those expectations, you can be rest assured that New Delhi will make it a point to not comply. America would receive nothing but a snub for its efforts.  
Although none of this is unknown to Biden and his experienced foreign policy team, they also can't afford to ignore the sentiments of a growing segment within the Democratic Party. That's especially so given how much Biden will need young, progressive voters and their icons ahead of mid-term elections in 2022, when he could otherwise lose control of the House of Representatives. Biden might still find a way to insulate the India relationship from the Democratic left if Modi steers clear of controversial steps of the scale of the CAA and the Kashmir crackdown.
But that won't be easy for Modi, given his penchant to dial up the temperature on religious tensions when that's conducive for his domestic politics. When he does, pressure will mount on the Biden administration to respond firmly. Israel was just the first salvo.