Two Bengals, two economies
Bangladesh and West Bengal have much in common, including language, fertile land, abundant rainfall and warm year-round temperatures and a dense population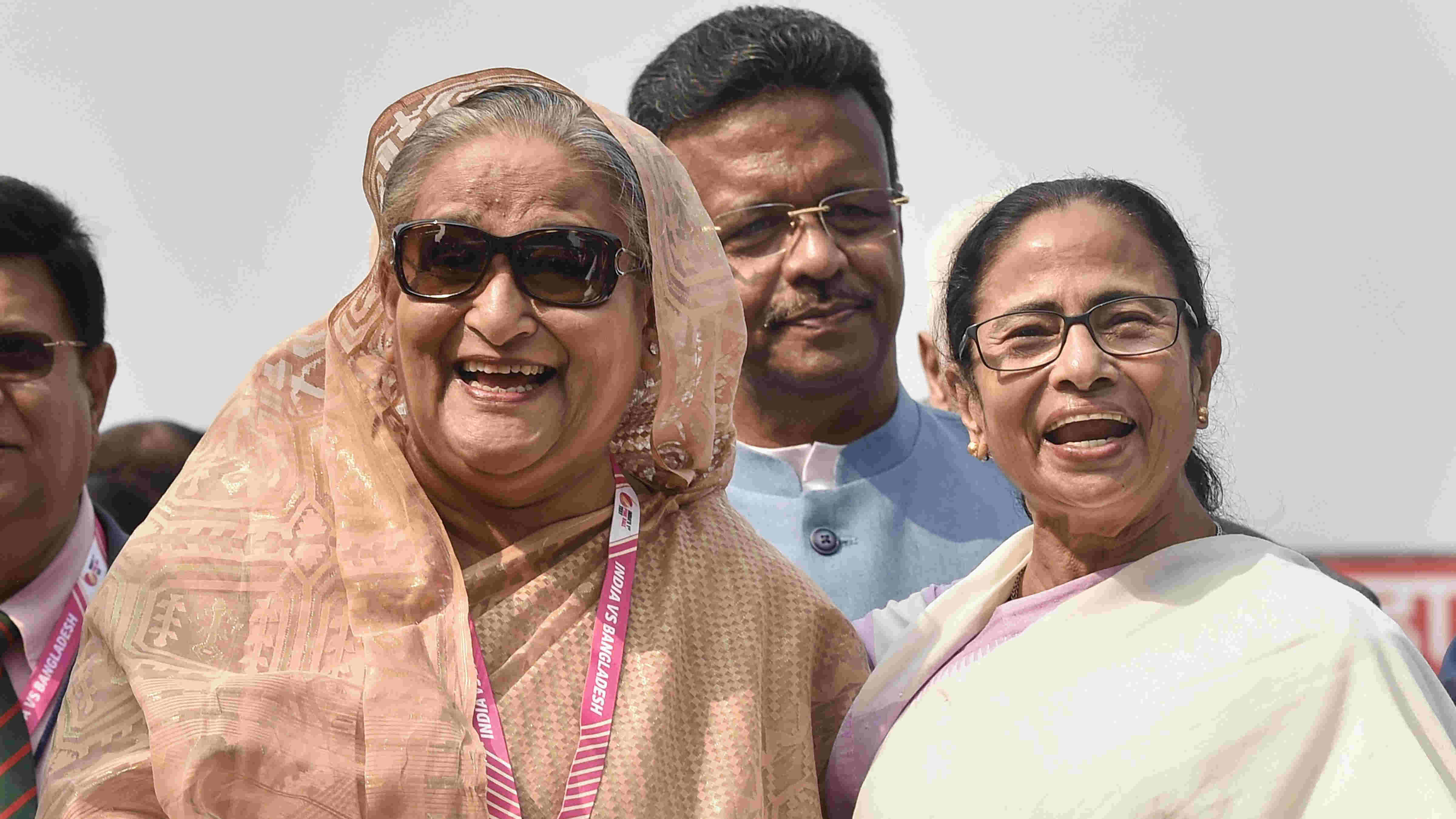 Bangladesh Prime Minister Sheikh Hasina and West Bengal Chief Minister Mamata Banerjee during the historic pink-ball day/night cricket test match between India and Bangladesh, at the Eden Gardens in Kolkata, on Friday, Nov. 22, 2019.
PTI file photo
---
Published 02.11.20, 02:08 AM
|
---
According to the International Monetary Fund's World Economic Outlook report, Bangladesh has eclipsed India in terms of per capita income. Bangladesh is expected to grow its per capita income by 4 per cent in 2020 to US$1,888. India's per capita GDP is expected to contract by 10.5 percent to $1,877. 
Bangladesh and West Bengal have much in common, including language, fertile land, abundant rainfall and warm year-round temperatures and a dense population. Some critics were not sure about Bangladesh's sustainability as an independent nation. The country faced severe disruptions after its liberation in 1971, such as famine, natural calamities, military coups and fanaticism. West Bengal, too, has been marked by migration from East Pakistan, a strained relationship with the Centre, archaic leftist politics, natural calamities as well as a rudderless development policy. 
In spite of the challenges, Bangladesh's performance based on select socio-economic parameters has been better than that of West Bengal. According to the IMF, the country grew by 5.24 per cent during the financial year, 2019-20, raising its per capita income by $155 to $1,888. The average per capita income of West Bengal was reported to be $1,500 during the same period. 
When it comes to sector-wise contributions, the services sector was the largest in the two Bengals, contributing 59 per cent in West Bengal and 52 per cent in Bangladesh. The manufacturing sector comes second, generating 34 per cent of Bangladesh's GDP. In West Bengal, the share of agriculture was 21 per cent, followed by manufacturing at 20 per cent. Agriculture, however, was at the third spot in Bangladesh, contributing only 14 per cent. In 2019, about 38 per cent of the total labour force was active in the agricultural sector in Bangladesh. In contrast, the figure is as high as 43 per cent in West Bengal.
The manufacturing industry, especially ready-made garments, has become a major contributor — 84 per cent — to Bangladesh's total exports ($45.13 billion in June 2020) and engages four million people. Significantly, it contributes 11 per cent to the total GDP. Bangladesh's garments sector has also benefited from countries such as China because a number of sunset firms have moved there on account of increasing labour costs. West Bengal could have become a strong garment hub in India if only successive state governments and policymakers had the vision and strategies in place to recognize the state's potential. Currently, the textile and apparel sector in West Bengal accounts for about 9 per cent of the state domestic product and employs around two million people.
Bengalis in Bangladesh have also outperformed Bengalis of West Bengal on most social indicators. Bengalis residing in the east can expect to live three years longer than their counterparts in the west. Bangladesh has achieved some of the largest reductions in the early death of infants; it has more females than males, and the status of women within the household has improved considerably. Eighty per cent of the workers in the ready-made garments sector are women. They are now the decision-makers at the household level, having a say on such critical issues as family health, education and nutrition. 
Bangladesh has decided to follow the best practices of development without any political bias. This, then, brings us to the following question: is economic growth a necessary condition for social progress? The story of Bangladesh imparts some telling lessons. 
West Bengal, on the other hand, became a crucible for experimental adventurism in its development model and suffered at the hands of errant policymakers and myopic politicians. Consequently, Bengalis in this part of Bengal are still struggling to find what would change their lives for the better.