Weak hand: Congress's time for introspection
In a vast, diverse and complex polity like India, electoral outcomes are decided by multiple factors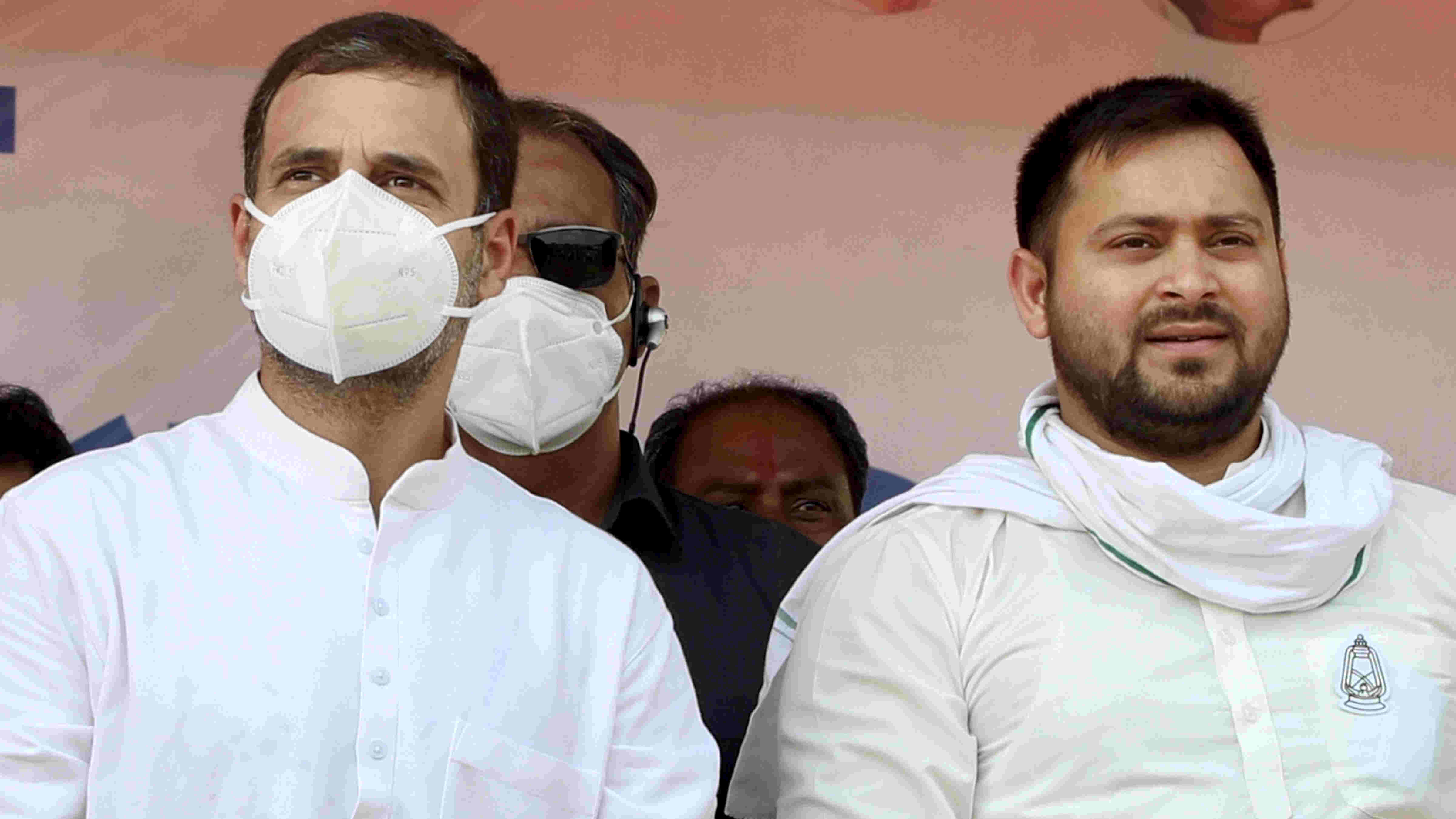 In this Friday, Oct. 23, 2020 file photo, Congress leader Rahul Gandhi along with RJD leader Tejashwi Yadav during an election meeting, at Hisua in Nawada district.
PTI
---
Published 12.11.20, 03:57 AM
|
---
It is time, yet again, for a chintan baithak at 24 Akbar Road. The results of the Bihar assembly election as well as those of the by-elections in different parts of India should deepen the gloom at the Congress headquarters. In Madhya Pradesh, where the Bharatiya Janata Party had removed the rug from under the Congress's feet by engineering defections in the latter's rank and file, the Congress had banked on the conscience of the voter to avenge the loss of power. The people have spoken — but against the Congress. In Uttar Pradesh, where Priyanka Gandhi Vadra is said to be toiling to breathe life into a moribund Congress, the party lay at the bottom of the pile with only 7.5 per cent of the votes. This does not augur well for the Congress's dreams — pipedreams? — of resurrection two years later. In Gujarat, the difference in vote share between the Congress and the BJP was 20 per cent: here too, the BJP triumphed in all eight seats. Two seats in Karnataka, where the Congress-Janata Dal (Secular) government was toppled unethically, were pocketed by the BJP. Only Jharkhand, Chhattisgarh and Haryana offered some solace to the party.
In a vast, diverse and complex polity like India, electoral outcomes are decided by multiple factors. History has also shown that by-elections or assembly polls may not always be a reliable indicator of the national mood. But such inferences are not enough to conceal the Congress's problems. India's Grand Old Party resembles a rudderless ship on decidedly choppy political waters. The absence of a party president — Rahul Gandhi calls the shots but not officially — has introduced a dangerous rift, a point that had been raised by the 'dissenters' in their letter to the interim president. The vacuum at the top is matched by the dishevelled nature of the party organization. Bihar, where preparations for the elections started months before the polls, is a case in point. Compounding these limitations is an ideological affliction: amoral Congressmen think nothing of changing their stripes. Worse, there seems to be a perpetual sense of denial about these infirmities. The Congress remains frozen in inertia and, worryingly, in its sense of entitlement. The party seems to have forgotten one of the elementary lessons of democratic politics: power needs to be earned through energetic campaigns and imaginative policy that strikes a chord with the masses. The Congress's irrelevance is likely to strengthen the BJP's hegemonic grip. This could be ominous for the fate of democracy in India.