Was that the worst dropped catch in Test?
EYE ON ENGLAND: Joe Denly has competition from Kiran More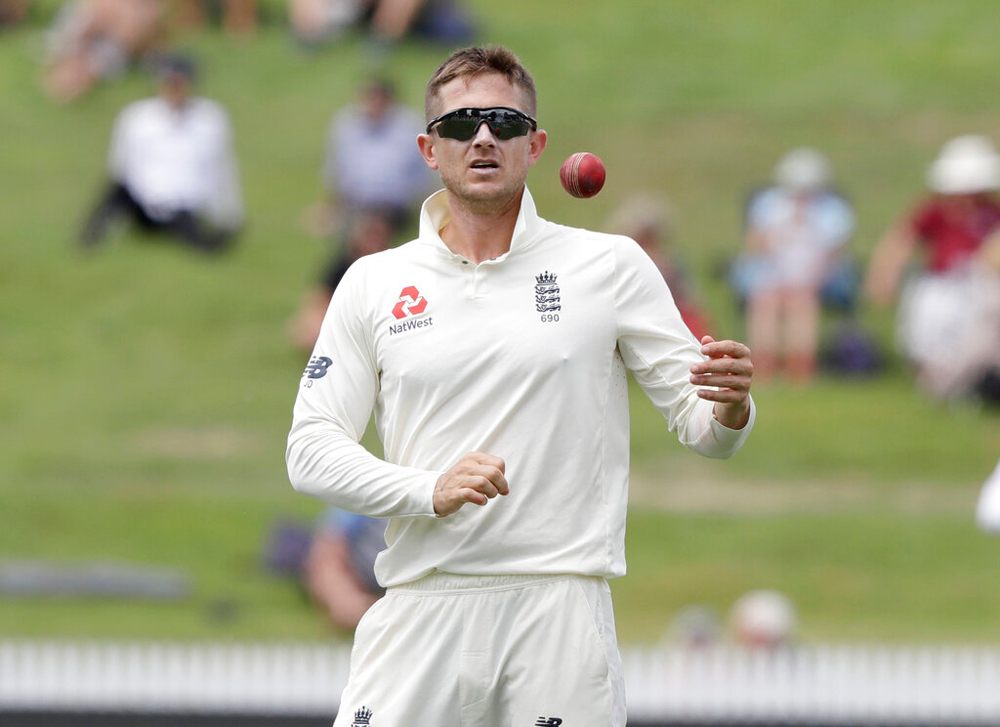 ---
---
English cricket correspondents are generally very loyal to Joe Root's team, but they can turn vicious when they feel someone has let down the side. Spare a thought then for the poor Joe Denly, who dropped Kane Williamson off the bowling of Jofra Archer when the New Zealand captain was on 62 runs in the second Test match at Hamilton. Williamson went on to score an unbeaten 104, thereby saving the match and winning the series for his team 1-0.
The BBC cricket correspondent, Jonathan Agnew, described missing the "absolute sitter" as possibly the worst drop he had seen in Test cricket. "Even if you took your 95-year-old grandma out in the garden now, in the dark, and threw her a tennis ball from five yards, she'd catch that."
Other England fans chimed in while Denly was down: "Was that the worst dropped catch in Test cricket history?"; "Surely he has to go back to playing village cricket where he belongs"; "For any kids watching... this is NOT how to catch a cricket ball, it's how to squeeze toothpaste out of a tube; "To be completely fair to Joe Denly... the earth was spinning quite fast at the time"; "Still, at least he can say he has left his own sporting legacy..."; and so on.
Someone compiled a list of other bad drops, which makes it clear that perhaps the distinction for the most expensive mistake goes to Kiran More on the opening day of the India-England Test match at Lord's in July 1990: "Graham Gooch's 333 remains one of the great English innings, but would never have happened had More held firm behind the stumps. Sanjeev Sharma drew an edge with Gooch on 36, only for India's wicketkeeper to fumble a regulation hold."
Incidentally, Gooch scored 123 in the second innings of the Test, which India lost by 247 runs.
Forging bonds
Iranians, like Indians, also cannot do without onions. I have found my notes on a story told to me by Srichand Hinduja, the head of the Hinduja business empire. To sum it up, when Iran faced a critical shortage of onions and potatoes, the Shah turned to the Hindujas, who had an office in Tehran. The Hindujas procured 2,00,000 tonnes of onions and 2,00,000 tonnes of potatoes in India, which was then enjoying a surplus, but had to hire a jumbo jet and a fleet of air-conditioned trucks. Nevertheless, the trans-Pakistan journey was managed and the delivery was made as required.
The Hindujas turned down an extra bonus offered by a grateful Shah: "Will you thank His Majesty for his generosity? He should not misunderstand us but we cannot accept. We have performed our duty."After that, the Shah conducted much of Iran's import business through the Hindujas.

Music heals
The Oscar-winning director, Asif Kapadia, was recently the guest on BBC Radio 4's long-running programme, Desert Island Discs. He selected his eight favourite pieces of music. Asif's parents emigrated from Gujarat to London, where he was born. He grew up in Hackney with his four older siblings. He is famed for documentaries like Diego Maradona, Senna and Amy; the last won him an Oscar in 2016.
Asif spoke in poignant terms about how his mother, who suffered from schizophrenia, was admitted to a psychiatric hospital for electric shock treatment while he was a teenager. But he also recalled fondly: "This is one of the songs my mother used to listen to — she was a machinist. She worked really hard all hours of the day. She loved music, she loved Mukesh and Lata Mangeshkar, and when she was in the cellar she would be singing along and I could hear her. I would often fall asleep — I would hear the machine... and I would hear her sing. So this is 'Kabhi Kabhi'." It was wonderful hearing "Kabhi kabhi mere dil mein", sung by Lata Mangeshkar and Mukesh, from the film, Kabhi Kabhie.
Hidden tongue
English is now an Indian language. But we often forget that quite a few Indians have written in French as well. I mention this because the subject came up for discussion a few days ago at Exeter College, Oxford, where there was a seminar, "Multilingual Identities in Francophone Indian Literature: Ari Gautier in Conversation". The novelist discussed his work which "creatively intersperse[s] Tamil, Hindi, Créole and English with French".
I read an essay by an authority on the subject, Professor Blake Smith, of Chicago University, who argued: "French is an Indian language. In France's former colonies such as Pondicherry, there are still echoes of what for three centuries was the voice of official power... Indian writing in French, however, is almost entirely unknown — ignored in India, in France, and everywhere else. Almost none of it has been translated into English, let alone into other languages, and much of it remains in manuscript, unpublished and unread." A friend who went to the Oxford meeting showed me writings in French by Toru Dutt and even a poem by Aurobindo Ghose. The latter got a first in classics at King's College, Cambridge, and on returning to India in 1893, worked as a professor of English and French at Baroda State College. My friend was not sure whether it was a translation from English but the assumption must be that Aurobindo was fluent in French.
Last week, I went to St George's Chapel, Windsor Castle, for a talk, "The Christmas Carol in Victorian England". It was accompanied by singers who demonstrated how we ended up with modern renderings of "O little town of Bethlehem" and "Hark! The herald angels sing". Windsor is beautifully lit for Christmas, with the focus on the replica of a royal crown, complete with the Koh-i-Noor diamond that was "gifted" to Queen Victoria by Maharaja Duleep Singh.