V- day for true companions
AMERICAN DIARIES: In Chicago, an animal shelter will send a pup for a fee for folks to spend time with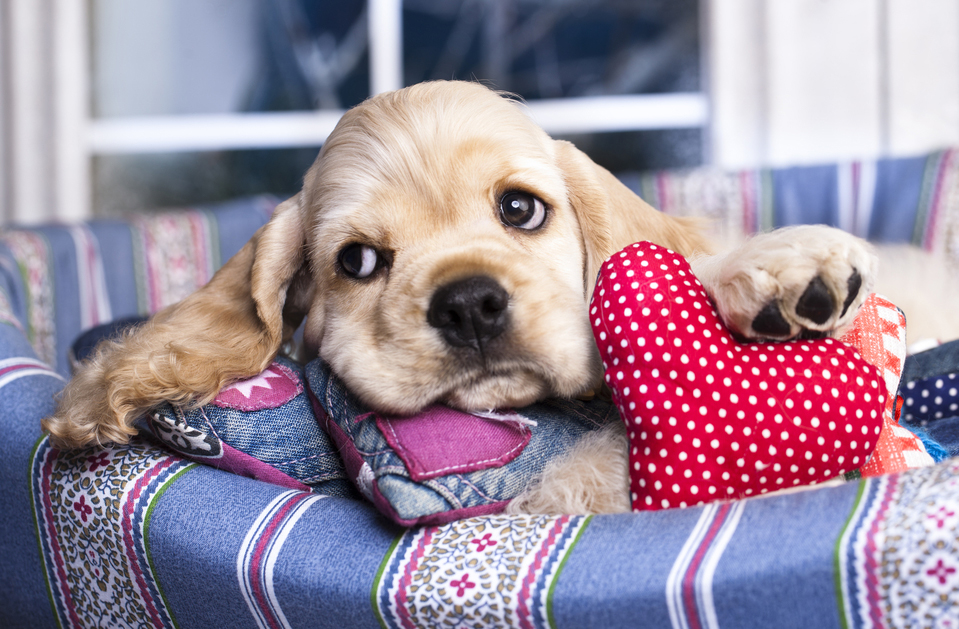 The beer brand, Coors Light, as part of their "The Official Beer of Skipping Cuffing Season" campaign, is encouraging consumers to skip the overrated Valentine's Day traditions, and adopt a dog instead.
(Shutterstock)
---
Published 14.02.20, 08:34 PM
|
---
Valentine's Day is a day of hearts, love and chocolates, sponsored by corporate America. While it may be a commercialization of love, this is also a time when people can do good — for adorable dogs. In Chicago, for a one-time donation, the local animal rescue organization, One Tail at a Time, will send your loved one a 'puppy-gram' on February 14. For $250, you can secure 15 minutes with one puppy from the shelter; $500 for two puppies for 30 minutes; and $1,000 for five puppies for 30 minutes. The package is called 'Puppy Love'.
These pups are a litter of bloodhounds that will soon be up for adoption. This is the organization's fourth year offering puppy-grams, growing from just the development director, Cara Schwalbach, and a single puppy in the first year to an entire litter of puppies, senior dogs and over 20 volunteers this year. They've already raised over $15,000 to support their dog and cat rescue efforts.
The beer brand, Coors Light, as part of their "The Official Beer of Skipping Cuffing Season" campaign, is encouraging consumers to skip the overrated Valentine's Day traditions, and adopt a dog instead. From February 4-21, Coors Light will help cover the adoption fees of 1,000 shelter dogs."Cuffing Season is a major cultural trend and poses tension for our younger drinkers, as they navigate the stress of finding someone to spend the cold months with," said the marketing manager, Chelsea Parker. "With almost half of millennials planning to stay in on Valentine's Day, we wanted to help empower people to savor the day with Coors Light and a dog by their side."
Mend the cracks
And if you do not have a date on Valentine's Day, there is no need to fret or be morose. Some people celebrate different 'holidays' on February 14 — Singles Awareness Day, Self Love Day, Galentine's Day and Anti-Valentine's Day. There are
several fun events for people who want to avoid the usual gush of sweetness. Those who have a specific aversion to the holiday will enjoy themselves at the Elizabeth Hotel in Fort Collins, Colorado, which is holding a contest for the best/worst breakup stories. People who want to participate should share their story of heartbreak and breakup, good or bad, with the staff at the hotel, either in person or through social media direct messaging. Then the hotel will host an Anti-Valentine's Day Wine & Whine event to read out all the tragic tales submitted and serve complimentary wine to guests. At the end of the night, a winner, selected at random, will get dinner and an overnight stay at the hotel.
In California, the Oakland Public Library is asking for contributions for a 'Shrine of Broken Hearts' exhibit featuring items from members of the community from their past relationships. The shrine will be displayed at the main library for all of February. The library also plans to host a 'Broken Hearts Party' on February 13. Guests can see the exhibit and also enjoy broken heart-themed snacks, games and other attractions.
Bluebird Distilling at The Bourse, a bar in Philadelphia, is celebrating Anti-Valentine's Day with its 'Shred-Her (or Him) at The Bourse' event, where you can shred a photo of an ex-partner and get a complimentary cocktail in return.
About time
The Academy Museum of Motion Pictures, originally scheduled to be inaugurated in 2017, has announced that it will finally open its doors this year on December 14. The president of the Academy of Motion Picture Arts and Sciences, David Rubin, took the stage at the Oscars this week to discuss the 10-year journey to build a museum devoted to moviemaking, after which Tom Hanks revealed the opening date. The creation of the museum was an ordeal worth at least $388 million. It received its own headlines about fundraising difficulties, employee turnover, construction issues and delays.
The date has been announced, but some structural work is yet to be finished. Mechanical, electrical and plumbing details must be nailed down. Gallery walls are being configured. The exhibition will include 5,000-plus pieces of equipment, costume, production design paintings, puppets and other objects. The museum recently acquired Bela Lugosi's cape from Dracula (1931).
The inaugural exhibition will be a retrospective of the film-maker, Hayao Miyazaki. It will include character designs, storyboards, film clips and concept sketches from the director of Spirited Away, as well as immersive shows with 3D build-outs and wall projections. This will be followed by a special exhibition, Regeneration: Black Cinema 1900-1970, about the history and representation of African-American film-makers from the birth of moviemaking through the civil rights era of the late 1960s.
Good cause
After the 'No-Pants' subway event, the famous 'Cupid's Undie Run' took place across 20 cities. It is just what it sounds like. Hosted by the non-profit organization, Cupid's Charity, it is an 'underwear-only' run for participants. Some cities had fairer temperatures; it was freezing in most others.
The event raises awareness for neurofibromatosis, a genetic disorder affecting one in 3,000 people and causes tumours to grow on nerves. Started in 2010 by two brothers from Washington DC, Cupid's Undie Run has expanded to 27 cities and has raised more than $18 million for the Children's Tumor Foundation and neurofibromatosis research. The charity donates 100 per cent of the proceeds to the Children's Tumor Foundation. This year's goal was $45,553; $57,739.92 was raised. The run is just for a mile. Runners can raise their own funds in a group or by themselves. "We run in our undies because those affected by NF can't cover up their tumors... to feel more comfortable, so why should we?" the website says.
Suhashini Sarkar
Footnote

The Kansas City Chiefs won big at the Super Bowl this year. The Super Bowl garners nearly 100 million viewers. Television advertisements cost companies up to $5.6 million for each 30-second commercial. This year, politicians took to the big screen. Michael Bloomberg added to the quarter billion dollars he spent pursuing the Democratic presidential nomination with an $11-million ad; Donald Trump used his 30 seconds to highlight his first years in office.