Use two wheels instead of four
Kerala's roads can change if parents reform for the sake of their children and use private vehicles less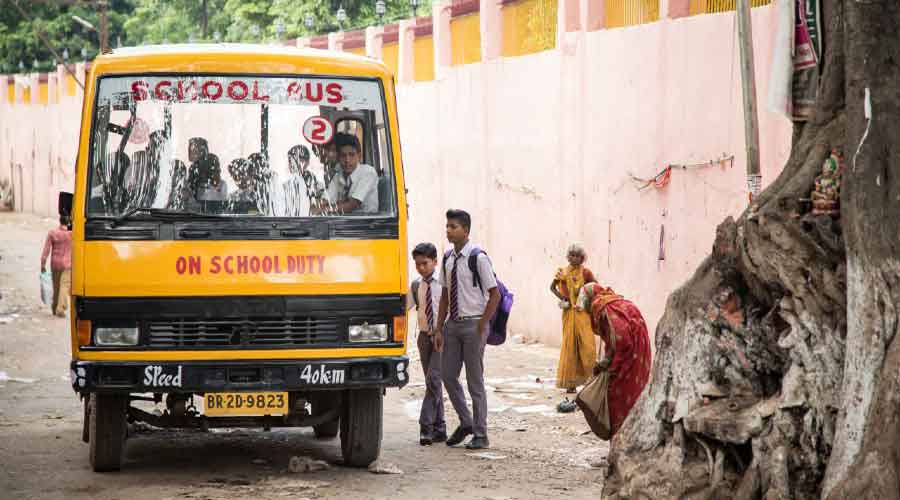 Representational image.
Shutterstock
---
Published 20.12.21, 12:26 AM
|
---
In October, as the countdown to schools reopening commenced, a local news channel in Kerala did an engaging story. School buses were not in the pink of health. Many had suffered neglect during the nearly two years when schools had stayed shut due to Covid-19. It would cost a small fortune to restore the buses to operational efficiency. Students may have to seek other means of transport, the news report indicated.
 A week later in Thrissur, three people were chatting about cycling, when one person, a keen cyclist, suggested petitioning the authorities to ensure cycling lanes for students. While the idea was topical (given the emergent problem with school buses) and utterly relevant (physical exercise is good for mind and body), Thrissur seemed hardly safe for cycling. A visible rise in the number of private vehicles has gifted Kerala a traffic that is heavy and often inconsiderate to those not on motorized wheels.
As elsewhere in India, in Kerala too, the automobile industry's triumph has been the creation of a self-perpetuating pattern of safety wherein the safest method to be out is on a set of motorized wheels with a steel cage on top.
 There are other reasons fuelling private-vehicle ownership in Kerala. Although the state has a good public transport system, the local paradigm of success is quite partial to asset ownership and requires a car, a motorcycle or a small collection of the same as badge of having arrived. In Kerala's remittance economy, it became infra dig to own a cycle past school. By college, it had to be a motorcycle or scooter and, after marriage, there had to be a car. The sum total of everyone's investment in motorized wheels has been irritating traffic and generally unsafe roads.
 Kerala's predicament is slightly different from that of a metro like Delhi where, following severe smog by mid-November, the government was contemplating restrictions on life and encouragement of work from home to keep vehicles off the road. Kerala does not yet leave you choking for breath; what gets to you is the sight of numerous vehicles jammed into a state that is by nature narrow and hilly.
 Kerala reminds us of a larger version of Bangalore in the making. The composition of traffic and the congestion are similar. What is different is that Bangalore is a congested island in Karnataka, which is a big state. There is space available to divert growth and decongest. Kerala has no such luxury. It is a necklace of furiously growing towns and cities.
 Among the best places to sample the future is the stretch of highway linking Thiruvananthapuram and Kollam. Earlier, these were two palpably distinct districts; now it's almost a continuity featuring busy traffic and multitudes of vehicles.
Nevertheless, Kerala's post-lockdown reopening of schools is an opportunity to imagine differently. The 'modern' Indian mind has 'traditionally' responded well to two baits — making more money and the promise of a better life for children. Of these, the first won't work in any demotion of automobiles. This leaves us with the second bait. India (and Kerala therein) must understand that countries with large automobile factories and motoring cultures have not kept them alive at the expense of children's safety or quality of life.
 Japan, home to some of the biggest automobile companies, offers safe passage for children thanks to speed limits on city roads, compliance with traffic rules and a generally responsible society.
 Kerala's roads can change if parents reform for the sake of their children and use private vehicles less. That's how we build God's Own Country.
(Shyam G. Menon is a freelance journalist)