Circus animals endure torture in the name of training
Nothing will improve their lot unless humans learn to be more compassionate towards them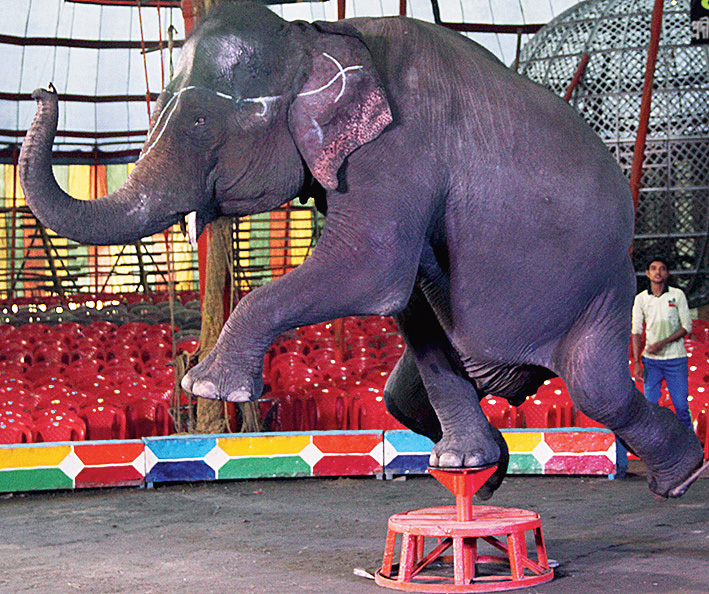 The Centre's proposal to ban all animal performances in circuses facilities is laudable, as the animals are forced to perform tricks that go against their natural instincts
The Telegraph file picture
---
Published 07.12.18, 12:22 PM
|
---
Sir — The Centre's proposal to ban all animal performances in circuses and mobile entertainment facilities is laudable. Animals are forced to perform tricks that go against their natural instincts. During their training, the animals are subjected to cruelties like whipping, denial of food and even electric shocks. They are also chained in confined spaces. A similarly heartening step to check animal abuse was taken few years back when animal testing of cosmetics was prohibited. But nothing will improve the lot of animals unless humans learn to be more compassionate towards them.

Shipra Chakraborty,
Calcutta
Message of peace
Sir — The article, "Carry on, Sidhu" (Dec 3), by Manini Chatterjee was disappointing. Chatterjee chose to highlight only positive aspects of Navjot Singh Sidhu's career, ignoring, perhaps intentionally, several other facets. She writes that Sidhu is an "unabashed champion of peace and brotherhood". Yet, like most other politicians in India, Sidhu has been known to make communal speeches while campaigning for elections. How, then, is he a champion of peace? Moreover, the way Sidhu ridiculed the then prime minister, Manmohan Singh, before joining the Congress shows that he does not have the generosity of spirit that Chatterjee attributes to him.
She completely overlooks the fact that Sidhu is a shrewd politician, who switched sides from the Bharatiya Janata Party to the Congress to further his political career. Sidhu is being hailed as a hero, whereas in reality he seems to be just another opportunist. There is no reason to glorify him as India's ambassador for peace.
Tejesh Vyas,
Howrah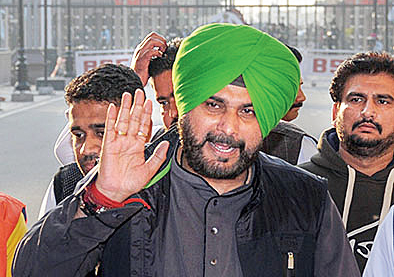 Sir — Navjot Singh Sidhu's visit to Pakistan has invited criticism from various quarters. Manini Chatterjee is justified in saying that the two former cricketers, Sidhu and Imran Khan, are trying to restore peace between the neighbouring countries.
There is no doubt that peace is essential and, thus, India should not turn down the offer of friendship extended by the Pakistani prime minister. It is here that mediators like Sidhu, who took a brave stand by going to Pakistan, come in handy.
Benu Kumar Bose,
Calcutta
Sir — The hostility between India and Pakistan has been used by political parties in both countries as a tool of appeasement whenever they have failed to resolve internal problems. This is one of the main reasons for the continued strain in the bilateral relationships. Under the circumstances, the effort made by Navjot Singh Sidhu to normalize the relation between the two countries will obviously face stiff resistance. But Sidhu's conviction to the cause seems to be strong enough to circumvent his detractors. He proved this by attending the groundbreaking ceremony of the Kartarpur corridor in spite of facing severe flak for doing so.
It is now the responsibility of the citizens on both sides of the border to realize that lasting peace between the nations is the need of the hour.
Sukhamay Biswas,
Calcutta
Sir — The article by Manini Chatterjee is lopsided. It was unbecoming of Navjot Singh Sidhu to comment on internal matters, like the Rafale controversy, on foreign soil. He has no right to make statements that might strain India's image before the world. While abroad, he should have been more diplomatic with his speech.
Kingsukh Som,
Kolhapur
Sir — Manini Chatterjee's article was enjoyable. Yet, I do not subscribe to much of what she said. Chatterjee praised Navjot Singh Sidhu profusely for his ability to shine in the many roles he has played in his life. Yet, whether it is as an entertainer or a politician, it is Sidhu's over-the-top personality that grabs eyeballs rather than actual talent. Moreover, can one forget that a man died as a result of a brawl with him? He did not even pay for his mistake and was let off with a fine.
Sidhu was undoubtedly a gutsy batsman, but his dealings with his teammates, both on and off the field, was anything but sportsmanlike. As a commentator also, he was melodramatic. In politics, Sidhu epitomizes the legion of 'aaya Ram, gaya Ram' politicians who make up the ranks of most parties.
His decision to go to Pakistan in response to an invitation from the Pakistani prime minister, Imran Khan, was diplomatically correct. Yet, once there, he need not have hugged the army chief of Pakistan, Qamar Javed Bajwa, who is known to spout anti-India rhetoric. Any evaluation of a high-profile person ought to be balanced rather than effusive.
P.B. Saha,
Calcutta
Standing tall
Sir — M.C. Mary Kom's feat of winning her sixth gold in the Women's World Boxing Championship is praiseworthy. She has proved that neither age nor a lack of infrastructure stands in the way of victory. It is heartening that in spite of being a parliamentarian, she managed to carry on with her boxing. It is encouraging that she has decided to participate in 2020 Tokyo Olympics. But she should remember that she failed to qualify for the 2016 Rio Olympics in the 51 kilogrammes category. There is thus no place for complacency.
Further, as a member of parliament she should work towards setting up the infrastructure necessary to popularize sport in schools and colleges in her constituency.
Jayanta Datta,
Hooghly
Sir — M.C. Mary Kom should be congratulated for latest achievement. She is now the foremost female boxer as far as the Women's World Boxing Championship is concerned and is on a par with the legendary male boxer, Félix Savón. She is an inspiration for those who are struggling to make their career in sports.
F.T. Mulla,
Secunderabad
Parting shot
Sir — In the article, "Still in the wings" (Nov 24), Ramachandra Guha laments the poor representation of women in Parliament. It is unfortunate that independent India could not hold on to the values of the likes of M.K. Gandhi, who put women at the forefront of politics. Induction of more women legislators can be a real game changer for India.
Purnendu Samajdar,
Calcutta