The task before the new government
The NDA will have to ensure the economy takes off without imposing a major cost on any section of the population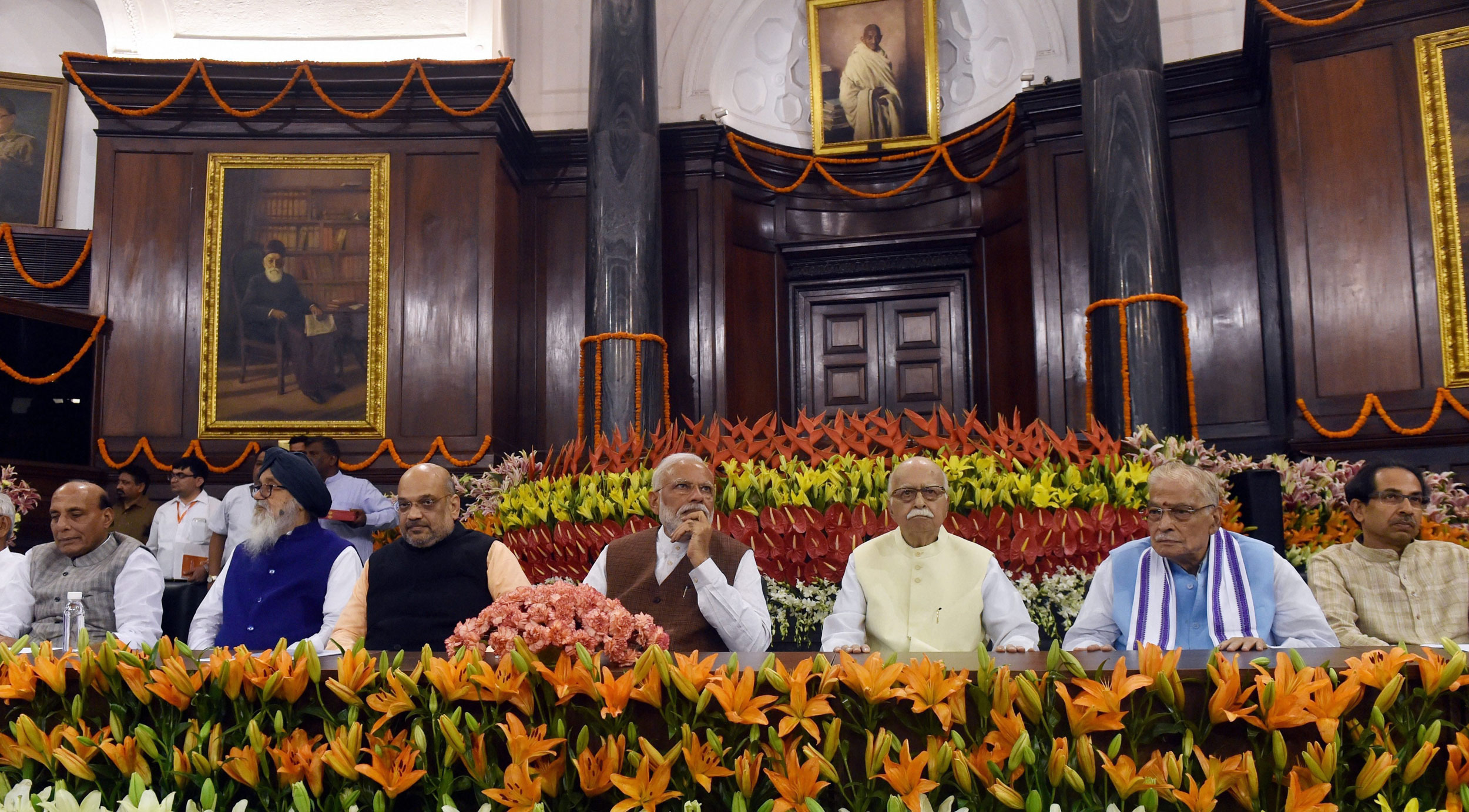 Narendra Modi with BJP chief Amit Shah, senior leaders Rajnath Singh, L.K. Advani and others, during the NDA parliamentary board meeting at Parliament House, in New Delhi, on May 25, 2019.
(PTI)
---
Published 28.05.19, 03:30 AM
|
---
The National Democratic Alliance has received a fresh mandate from the people of India. There are many daunting tasks confronting the new government. On the economic front, there are a number of pending reforms that India needs. These are, to cite a few examples, improving the ease of doing business, structural changes in agriculture, controlling the damage created by carbon emissions and pollutions, privatization of the large public sector and streamlining the tax system. Reforms are also needed in the labour market to prepare India for the enormous technological changes that are expected in the near future. The banking and financial sector, too, is in dire need of systemic change. The insolvency and bankruptcy code has to be made easier to implement. Making India truly digital and smart will require policies that are different from those that are prevailing at the moment. All these changes will take time and cannot be carried out in haste.
However, there are matters that require the new government's immediate attention. There is evidence that the economy is not in the best of health. High unemployment, farmers' distress, low demand for consumer goods and services and low growth in the manufacturing sector are all symptoms of economic weakness. The international situation is of concern too. The Donald Trump administration is hell-bent on imposing embargoes and tariff walls. India's exports are stagnating for some time now. There is apprehension of India falling into a middle income trap. Above all, some events in the recent past have dented India's international credibility regarding official economic statistics. In such a situation, even if the rate of growth of gross domestic product is made to look attractive, the actual ground reality can quickly alter the faith in the government. Managing the immediate problems will not be an easy task. Yet, tackling them has to be the top priority, much before long-term economic reforms can be introduced.
Stimulating demand will require tax cuts coupled with expenditure increases, both of which would increase the fiscal deficit. Hence expenditure will have to be curtailed on other items that will need courage and wisdom to identify and implement. Monetary policy can be used to lower interest rates further. However, inflation, although currently low and within the target range, has begun to reverse momentum, turning upwards. Thus, overall, there is only limited policy space in both fiscal and monetary policy interventions to stimulate the economy. Finally, the new government has a massive popular mandate cutting across class, caste and social backgrounds. Expectations from diverse sections are bound to be widely different. The NDA will have to be judicious in ensuring that the economy takes off without imposing a major cost on any section of the population. That challenge may be more difficult than winning 353 parliamentary seats.