Editorial: The predators
What the Reporters Without Borders's 'gallery of grim portraits' reveals is a civilizational crisis the outcome of which remains unknown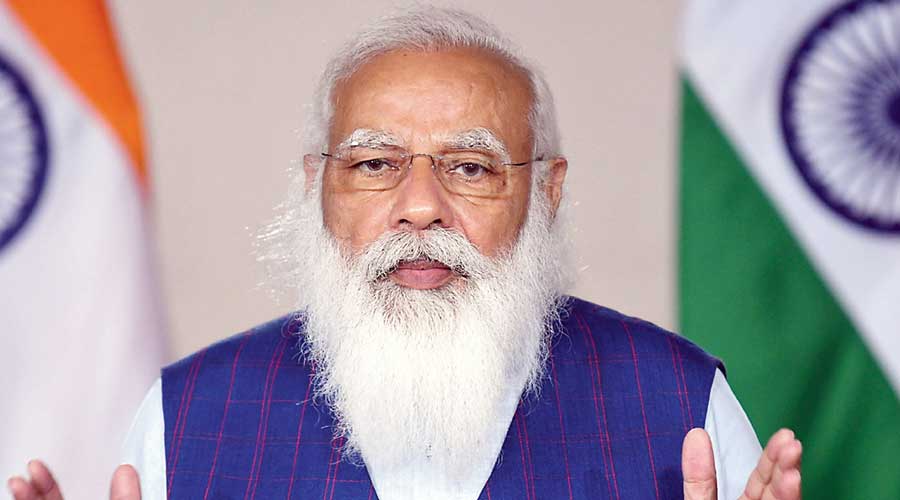 Narendra Modi.
File picture
---
Published 08.07.21, 12:45 AM
|
---
Predation does not obey frontiers. Perhaps that is the principal inference that needs to be drawn from the list compiled by Reporters Sans Frontieres that has brought together, according to the international media watchdog, the "Predators of Press Freedom". In what is another dubious achievement, the Indian prime minister has found himself among heads of state and governments that are arguably nibbling away — with relish — at the edifice of an independent media. Keeping Narendra Modi company are North Korea's Kim Jong-un, Iran's Ali Khamenei, Syria's Bashar al-Assad, Myanmar's army general, Min Aung Hlaing, Brazil's Jair Bolsonaro, Hungary's Viktor Orbán, among others. None of these statesmen can claim to have an envious record when it comes to upholding the cause of a free and fierce media. Significantly, the RSF has unveiled the modus operandi of this transgression in the Indian context. Flooding the media ecosystem with false narratives, unleashing a targeted witch-hunt against journalists and activists courageous enough to speak truth to power, the creation of patronizing — complicit — relationships to force owners of media outlets to toe the government's line, introducing problematic legislations that seek to clip the media's wings in the name of reform, sustained attacks on the credibility of the media as an institution — Mr Modi, the RSF argues, has a formidable and diverse arsenal at his disposal that has been employed to throttle the fourth estate.
The Centre's response to adverse views is well-known. It is likely to dismiss the allegations, project the criticism as yet another international attempt to tarnish New India, and sing paeans about its commitment to the free press — the Union home minister had vouched for the government's fidelity to press freedom on National Press Day last year. But data exist that make it difficult to deflect attention from these charges. India's decline on registers of the autonomy of the media — the 2021 World Press Freedom Index is one example — has been precipitous under Mr Modi's watch. Worryingly, India is not bucking the international trend in this context. The dawn of the Age of Post-Truth, which has corresponded with the emergence of electoral autocracies, is synonymous with orchestrated attempts to stifle sentinels of truth; the media, ideally, should rank among these. The calamity, then, is not institutional; neither is it limited to specific nation states. What the RSF's "gallery of grim portraits" reveals is a civilizational crisis the outcome of which remains unknown.