Once upon a time
NY library's list of most issued books for 125 years shows it's impossible to leave childhood behind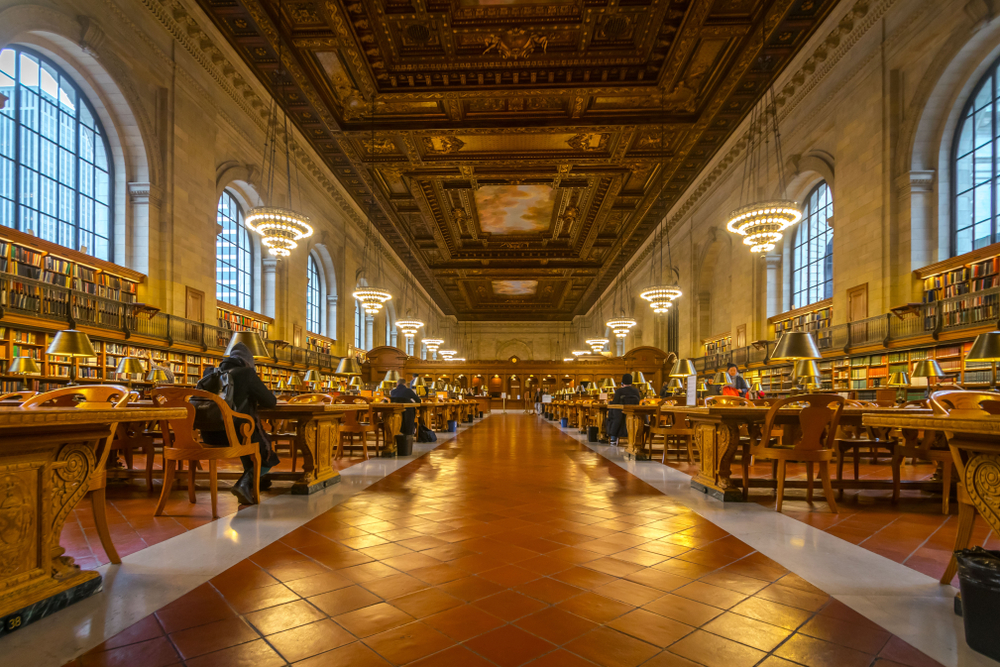 The main reading room of the New York Public Library.
Shutterstock
---
Published 17.01.20, 07:22 PM
|
---
Childhood is a funny place; it is never quite left behind. That might be the lesson that the New York Public Library was delighted to learn when, to celebrate the 125th year of its opening, it listed 10 books that had been issued most frequently over these years. The list — with one honorary mention — was overwhelmingly in favour of children's books, especially those with outstanding pictures and collages, rhyming tales and, often, animal characters. The only incurably adult read in the list was Dale Carnegie's How To Win Friends And Influence People, which does not say a lot about grown-up preferences, however much fun Carnegie is. The sly neediness of the title has a sinister touch that can conjure up images ranging from the rapacious smiles of certain presidents and prime ministers to brain-washing machines, in, say, films such as Hirak Rajar Deshe. But it is not really the odd one out, since two of the books that are for both adults and older children are pure dystopia, George Orwell's 1984 and Ray Bradbury's Fahrenheit 451.
Of course these are fantasies, but in a different direction from the Harry Potter and the Sorcerer's Stone, the first of J.K. Rowling's incredibly successful series. Harry Potter's world is certainly not free from evil or the machinations of power, but its mythic quality seems more appealing to pre- and early teens than the two dystopic classics. Since those have been issued with such frequency during 125 years, it would not be quite right to say that they bring to life the frightening possibilities of the world as it is at present. Rather, they are always prophetic in the widest sense of the term: uncovering in human progress the possibility of destruction through the annihilating logic of power. The same prophetic, or perhaps universal, quality informs To Kill A Mockingbird, as though racial prejudice and a heroic fight for justice persist everywhere and all the time as it once did in Harper Lee's small-town American south.
But most of the top-of-the-list books are children's, telling a tale in words and pictures sometimes of a very hungry caterpillar that, like magic, changes into a butterfly, or of a cat in a hat, or of the adventures of a little African-American boy on a snowy day, or even of a spider who saves a pig from the knife and a bunny who wishes the moon goodnight. The brilliance of nature, its creatures — real or imagined — and a seamless communication with them, friendship, compassion, courage, fear, fun and silliness, the awareness of change and death, all inform the most favourite books, creating children's memories of brightness, of the first steps into a wonderful world, of the pleasure of looking at pictures and of reading. For a lucky child who has known even a couple of such books, for not every child in the world does, childhood is that magic place that never really goes away.