The joy of holding a book
It is heartening to see that the popularity of online shops has not diminished the excitement of the book fair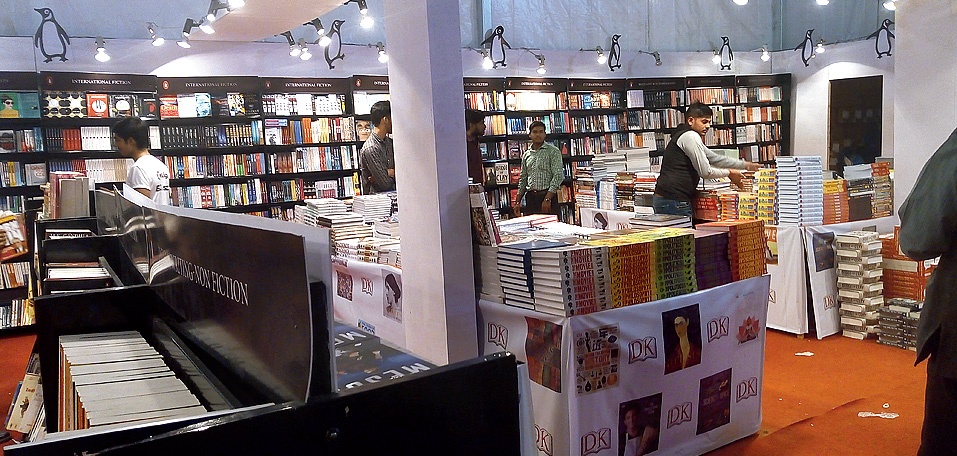 Barriers melt away at the book fair and readers get an opportunity to meet their favourite authors and get their copies of the book signed.
The Telegraph picture
---
Published 02.02.19, 04:39 AM
|
---
Sir — There is a popular Bengali adage that claims that for Bengalis there are baro mashey, tero parbon (thirteen festivals in twelve months). In fact, there is a fourteenth festival that should be added to this list: the book fair. Lakhs of book lovers attend the fair each year. Readers, authors and publishers alike wait eagerly throughout the year for the book fair. Is this not akin to the feeling that Durga Puja evokes? Barriers melt away at the book fair and readers get an opportunity to meet their favourite authors and get their copies of the book signed. Books are not the only attraction either. Almost all major magazines publish a special boi mela sankha around this time. Simply put, it is paradise for lovers of the written word.
Sourish Misra,
Calcutta
Sir — It is heartening to see that the popularity of online shops has not diminished the excitement surrounding the book fair. The experience of feeling a book in one's hands, leafing through its pages cannot be replaced by the sterile practice of scrolling though lists of so-called 'bestsellers' to find a text that one likes. Not all virtual interactions can bring gratification.
Meera Dutta,
Calcutta
Health first
Sir — Patriarchy has ensured that young girls are more conscious about their physique than boys. It is saddening to see girls starve themselves, at times, literally, to achieve the skinny look that popular media endorses. Surely, the dark shadows under their eyes and the unhealthy pallor that accompany such constraints cannot be considered normal? Healthy, nutritious food and plenty of exercise is what young people need. The vigour of youth cannot balance the negative impact of the wrong food and lifestyle. Youngsters need to understand that no matter what their figure, it is the glow of good health and an alert mind that make a lasting impression.
Purnima L. Toolsidass,
Calcutta
Nearing the end
Sir — The demise of stalwarts like Kuldeep Nayyar and George Fernandes does not bode well for our times. They were fearless in their stance against dictatorship. Fernandes in handcuffs, his hand raised in defiance, is one of the most enduring photographs of the Emergency era. Such was his rapport with common people that he brought the bustling city of Mumbai to a halt with his call for hartal in the 1960s. Fernandes also contested elections from prison in 1977, and went on to win the Muzaffarpur seat. It is saddening that Fernandes had to fight a lonely battle against Alzheimer's disorder for years.
Rinkumani Pathak,
Bongaigaon, Assam
Sir — An era is nearing its end with the death of George Fernandes. The age of socialist politics, under great leaders like Placid D'Mello and Ram Manohar Lohia, was defined by concern for the working class citizens. When Fernandes became the industry minister in 1977, he famously asked multinationals — IBM and Coca-Cola — to fold up their operations in India. This led to the creation and growth of many indigenous industries.
Unfortunately, his staunch opposition to the Congress brought him close to the Bharatiya Janata Party, even though he disagreed with the right-wing party on several issues.
Bold defiance of the State had made leaders like Fernandes heroes in the eyes of the people. Similar disobedience now earns people the tag of being anti-national. Thus, Fernandes' era is perhaps long over. It is maybe well that Alzheimer's disorder prevented him from knowing this truth in the end.
Shovanlal Chakraborty,
Calcutta
Sir — India has lost a sincere politician who dedicated his life to the cause of the nation in George Fernandes. His proactive brand of politics — as the defence minister he is known to have frequented remote areas like Siachen and mingled with soldiers — is what set him apart. He was frank and forthright in his interactions with common people and led a simple life. His honesty unnerved the likes of Indira Gandhi.
K.V. Seetharamaiah,
Hassan, Karnataka