The game is afoot: Elections in Myanmar
Suu Kyi has shifted from vague-eyed idealism to hard-nosed political realism, abandoning her Western-style democracy model and US-style federalism that she was committed to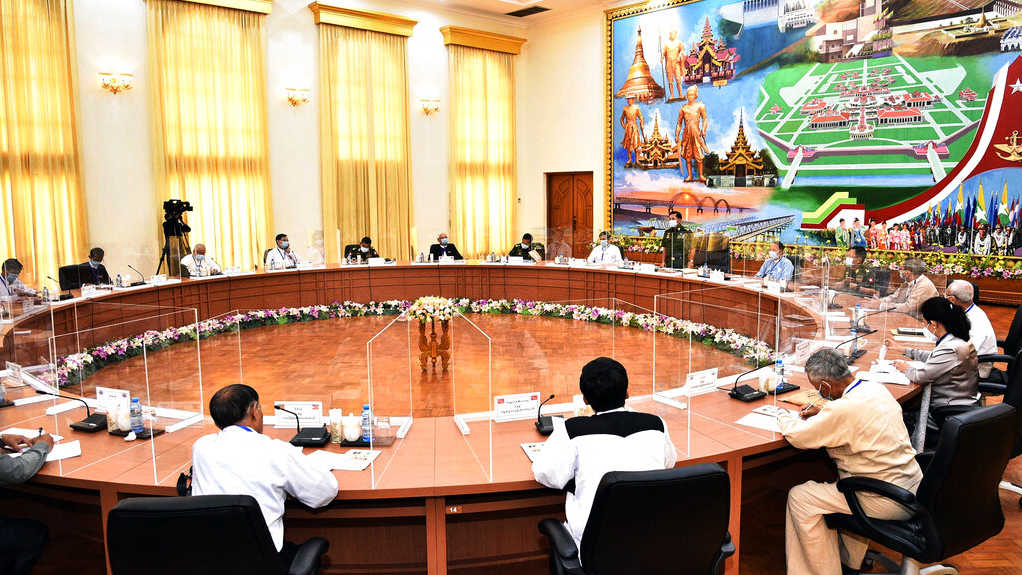 In this photo released by the Myanmar Military Information Team, Myanmar military chief Senior General Min Aung Hlaing addresses a meeting with representatives of political parties Friday, Aug. 14, 2020, in Naypyitaw, Myanmar.
Myanmar Military Information Team via AP
---
Published 17.08.20, 02:41 AM
|
---
Myanmar's pro-democracy icon, Aung San Suu Kyi, seems all set to lead her National League for Democracy back to power in the November 8 elections after avoiding a major confrontation with the country's all-powerful military. Suu Kyi, realizing that discretion is the better part of valour, abandoned the NLD's efforts to change the Constitution that bars her from contesting for presidentship, gives the army 25 per cent of seats in Parliament and control over three crucial security-related ministries — home, defence and border affairs. An amendment to the Constitution can only get passed if it garners 75 per cent of the vote. If the army were to oppose the NLD-sponsored amendments and get one or two per cent of civilian lawmakers to support it, no amendment would go through.
Three years ago, Suu Kyi had told me on the sidelines of a democracy convention that she was no longer "an icon sitting on the wall but a flesh-and-blood Burmese politician determined to survive". She is indeed living up to this role. She has pleased the army by refusing international demands to investigate atrocities on Rohingyas in the Rakhine province and has challenged an ICJ trial of army officers held responsible for the same. "This army is one created by my father, Marshal Aung Sang, for Burma's liberation," she said two years ago, betraying no bitterness for her years in prison and house arrest and the denial of power to her by her 'father's army'.
Suu Kyi has shifted from vague-eyed idealism to hard-nosed political realism. She has also abandoned her Western-style democracy model and US-style federalism that she was committed to. Both these moves have kept the army in good humour.  
But there would be many casualties if Suu Kyi continues with this policy. Myanmar's evolution as a democracy would suffer with no end to draconian censorship laws and no space for legitimate political dissent, as would Suu Kyi's 'Second Panglong', a comprehensive peace dialogue with ethnic rebel armies. The ethnic rebellions will continue because the rebels would see that there is no scope for dialogue to end the stalemate. The continuation of conflict suits the military as it would justify the raison d'être for its existence and expansion. However, as the conflict continues and intensifies in areas like Kachin and Rakhine, the Burmese military is pushing for a change in foreign policy direction to suit its strategic interests. 
The army — and now Suu Kyi — has warmed up to India because the Tatmadaw is desperately seeking Indian military support to crush the increasingly-powerful Arakan Army, which has announced a 'final fight' to liberate the Arakans in a close tactical, if not political, alliance with the Arakan Rohingya Salvation Army. India is upset with the Arakan Army because it is obstructing its ambitious multi-million dollar Kaladan multi-modal connectivity project to link the Indian mainland to the Northeast by a sea-river-road route (Sittwe port-Paletwa by Kaladan river-Zorinpui on the Mizoram border by road). Arakan Army sources told me they have information about Indian preparations for surgical and drone strikes — something that the Indian army denies.  
Myanmar is also upset with China and has, for the first time since 1980s, lashed out at Beijing's double standards, even cancelling some critical BRI projects. It released 22 northeastern Indian rebels who were in its custody and flew them back recently. The India-Myanmar military bonhomie augurs well for the mutual management of trans-border insurgencies. It would also deny Northeast rebels the opportunity to receive help from China. That may lead to Bangladesh sulking because it wants India to create more pressure on Myanmar for Rohingya refugee repatriation.
The United States of America has also backed India in its plans to crush the China-funded and armed rebels like the Arakan Army. The attack on China by the Yangon-based senior diplomat, George Sibley, for supporting insurgencies and undermining Burmese sovereignty, clearly pointed to the emerging equations in the region. As the Asia-watcher, Bertil Lintner, says, this will become the most complex theatre of what he describes as the "Great Game East".