Little guy stands tall
The friendly neighbourhood kirana is not going anywhere; it is just getting a makeover for 21st-century retail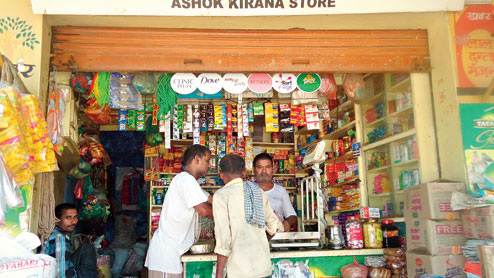 Representational image.
File photo
---
Published 28.12.21, 12:33 AM
|
---
A fleeting glance at the shelves of any local kirana store will give you an inkling of the consumption habits and the socio-economic conditions of the consumers. These nondescript establishments, often bearing family names, have devotedly served their localities for years. A typical kirana is characterized by its relatively small size — usually less than 500 square feet. It carries close to a thousand items, representative of the taste and the consumption habits of its customers. For consumers, kiranas represent a convenient way of shopping for their daily needs, offering reliable quality and service with a friendly, familiar face behind the counter. These stores often extend credit to their customers along with a host of other services, especially in rural areas. The familiarity with and understanding of customers have been key to the survival of kirana stores. Some of them have even found a place in literary works. Today, however, with bike-borne personnel zooming through neighbourhoods and retail giants offering one-day delivery at the lowest prices, kiranas enjoy a strategic position in the ongoing retail revolution.
While consumers now enjoy access to seemingly endless aisles and a barrage of deals on their mobile phones, things look grim for organized retail players. Most of them are surviving on razor-thin margins or taking heavy losses. But the 883-billion-dollar, ever-growing Indian retail sector is too lucrative for anyone to forego willingly. With organized retail accounting for only 12 per cent of this massive market, unorganized retailers like the kiranas still hold sway. And the giants seem to have realized that they need the proverbial little guy.
The telltale signs of an emerging partnership are gradually taking shape. A number of start-ups have emerged to cater to the needs of the kiranas, from those offering to revamp the stores themselves to those offering digitization and payments services. You may have noticed the plaques with QR codes encouraging cashless payments. For e-commerce and logistics providers, these stores can be a boon in lowering their last-mile costs by serving as pick-up/drop-off points, especially in rural and sub-urban areas where addresses can often be notoriously difficult to locate. Enlisting kiranas to serve as delivery partners has, however, met with limited success. Hyperlocal and online grocery players are also finding a partner in kiranas to fulfil instant demands while also meeting quick delivery times. For the kiranas, it is an added income.
Kiranas usually have large offerings spread across a vast variety of products and they run their stores efficiently, often with inventory turnovers matching those of large retail chains. Procurement requires them to deal with numerous distributors, a process that can be inefficient. Realizing an opportunity in this space, traditional consumer-facing retailers are now supplying directly to businesses such as kiranas as well, with some of them pushing their own private labels. This is advantageous to both, given the significantly higher margins on them. The friendly, trustworthy kiranas come in handy while pushing such private labels to consumers who are often high on brand loyalty.
Some may argue that the very existence of kiranas is at stake; the reality is quite different. Kiranas are set to gradually transition from pure retailers to retailers and service providers. While some are justifiably apprehensive of the changes they see around them, it is imperative that they start to think of themselves in this new light to adapt to the changing consumption trends. Given the advent of the gig economy coupled with the ongoing retail upheaval, kiranas may eventually start to resemble independent contractors or agents for companies who enlist their services. These can be as simple as serving as pick-up/drop-off locations to as complex as fulfilment points for hyperlocal services to as diverse as battery-swapping or charging- stations for electric vehicles. With unique knowledge of their locality and years of social capital, kiranas stand to benefit from the symbiotic relationship that is emerging. Luckily for the kiranas, they seem to be reimagining themselves.
The friendly neighbourhood kirana is not going anywhere; it is just getting a makeover for 21st-century retail.
Soumyadeep Kundu is a PhD candidate at the Indian Institute of Management Kozhikode