Cutting campaign time in Bengal may add fuel to the fire
The seeming erosion of public faith in India's apex electoral body is a matter of serious concern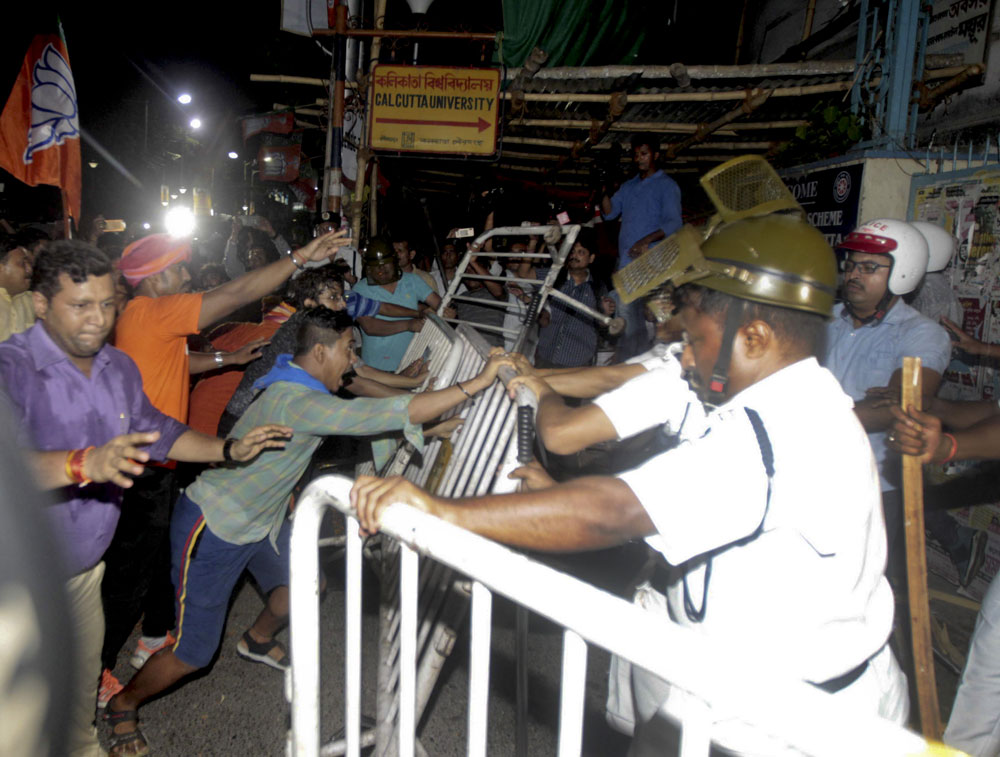 BJP supporters break police barricades during clashes outside Calcutta University on Tuesday, May 14, 2019.
(AP)
---
Published 17.05.19, 03:44 AM
|
---
This electoral season has been unprecedented in terms of political acrimony in Bengal. The Election Commission's decision — an equally unprecedented step — to snip the campaign time by 19 hours for nine constituencies in the state that go to polls on Sunday, citing an atmosphere of 'fear and hatred', is likely to add fuel to the simmering political flames. The violence that took place during a road show of the president of the Bharatiya Janata Party during which supporters of the party indulged in arson, breaking the bust of a revered Bengali icon in the process, may have forced the EC's hand. Unfortunately, the EC's intervention — it invoked Article 324 of the Constitution to issue the directive — has not escaped scrutiny. Critics have pointed out that if the law and order situation had deteriorated to such an extent that the EC was compelled to undertake such drastic steps as transferring a key official in the police and relieving a senior bureaucrat of his responsibilities, among other measures, what stopped the august institution from implementing the curfew on campaigning with immediate effect? Incidentally, the prime minister's meetings were not affected by the curtailment. The Union home ministry is also believed to have written to the poll panel, voicing its concern about violence and other electoral irregularities even though repolls have been ordered in only six booths during the six phases of polling that have taken place in the state so far. The home ministry's anxiety is rather unusual: Opposition parties, rather than the home ministry, are known to level such charges under ordinary — fairer? — circumstances.
Integrity is critical for institutions that are considered to be the vanguard of democracy. In spite of the EC's assurances, a view has been gaining ground in the course of a long-drawn election that the poll body has not conducted itself in the manner in which it is expected to. There is a perception that it has been rather lenient with the prime minister and his chief lieutenant in spite of numerous complaints of violations of the model code of conduct against them. The grievances have even led to demands of reforming the EC. The seeming erosion of public faith in India's apex electoral body is a matter of serious concern. The political ramifications of these developments are already discernible, with the chief minister accusing the EC of being partisan. The projection of victimhood could give the ruling party a stick with which to beat its principal rival.