The coal conundrum
New Delhi is facing accusations of having trampled over the future needs of poor nations through its defence of coal-use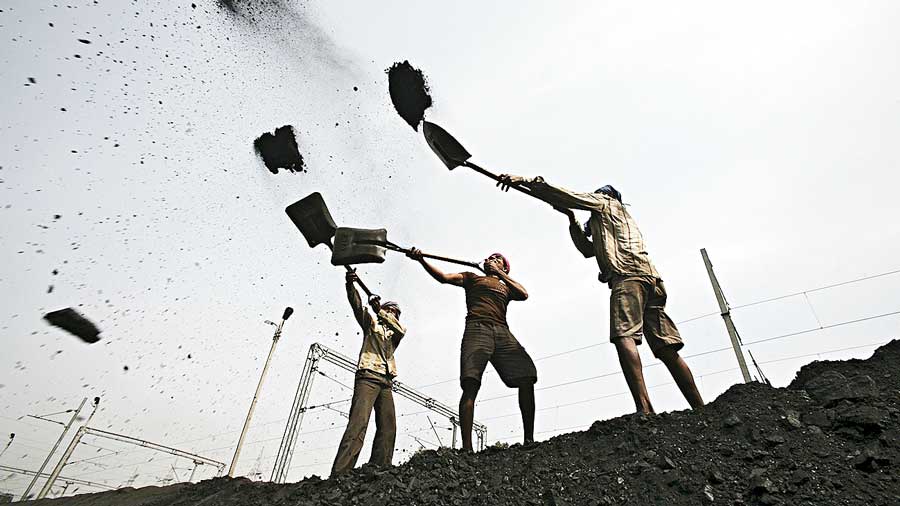 Representational image.
File photo
---
Published 24.11.21, 01:09 AM
|
---
The Indian government has a peculiar problem. It wants to project India as a global leader but appears to lack a key ingredient for that role: the conviction and the clarity to own up to its actions on some of world diplomacy's biggest stages, even when they are justified.
As negotiations at the recent CoP26 climate summit in Glasgow spilled into extra time on November 13 after two weeks of heated debates, one vital issue remained unresolved. Most countries had agreed to a text that called for coal-use to be phased out. India, China, other major developing nations and Australia were opposed to that language. Finally, officials arrived at something akin to a consensus. At the final session of the summit, the Indian environment minister, Bhupender Yadav, stepped forward and suggested a consensus statement where the words, "phase out", would be replaced with "phase down".
Yadav's intervention was greeted with a hushed silence, but once the proposal was accepted and the text finalized, representatives from multiple nations intervened to criticize the final document for failing to commit nations to ending coal-use in a time-bound manner. Island nations, especially in the Caribbean and the Pacific, among the most vulnerable to climate change, are leading demands for dramatic policy shifts and were understandably the angriest with the text. In the days since the summit's end, India has been portrayed in the West as the principal villain responsible for weakening an agreement aimed at saving the planet. Headlines have suggested that India betrayed other developing nations that face the risk of devastation — even extinction — because of extreme weather events.
After maintaining silence for some days, the government of Prime Minister Narendra Modi did what it often does: respond through unnamed 'sources' instead of boldly and officially defending India. The 'sources' told reporters that it was wrong to blame India and that Yadav had merely voiced what had been agreed with Alok Sharma, the British minister and CoP26 president. Then they went further, also pulling back from Modi's commitments at the start of the climate conclave, including that India would reach a net-zero emissions target by 2070. Those are only India's internal targets, not promises to the international community, the 'sources' said.
Here's the problem: you don't announce internal targets at a global summit. You declare them in internal meetings. Every CEO knows that. The CEO of the world's largest democracy definitely should. The clarification issued by unnamed officials suggests a government that overcommitted publicly and is now trying to sneakily edge its way out of a public relations disaster.
And then there's the bigger challenge that should be a cause for concern. For more than seven decades, India has championed not just its interests but those of the developing world at international fora. At the moment, however, New Delhi is facing accusations of having trampled over the future needs of poor nations through its defence of coal-use.
India's — anonymous — response so far is a version of 'it wasn't just me. Others are responsible too'. That's not how leaders behave. They don't pass the buck. They explain their actions clearly and transparently.
Indeed, India and many other major developing economies have reasonable arguments why it's harder for them to commit in 2021 to a time-bound phase-out of coal. India depends on the fossil fuel for 70 per cent of its electricity needs and China for more than 50 per cent of its requirements. As Yadav correctly explained earlier at CoP26, developed nations have used coal for centuries before now shifting to slightly cleaner fossil fuels like gas. Asking developing nations to meet the same timeline for ending coal-use as wealthy ones is to condemn emerging economies to slow development.
Apart from a public defence of its actions at CoP26, the Indian government should also have reached out to small island nations and promised to work with them on climate adaptation. These countries have legitimate fears and India can share technological, educational and health knowhow in helping them combat increasingly frequent extreme weather phenomena.  
At the moment, New Delhi is allowing the wealthy West to divide the developing world on climate concerns. An India that's a leader wouldn't allow that.
Charu Sudan Kasturi is a senior journalist who writes on foreign policy and international relations