The BJP is unlikely to be able to put up a tough fight in Wayanad
The Congress in Kerala has got a new lease of life after the declaration of Rahul Gandhi's candidature from there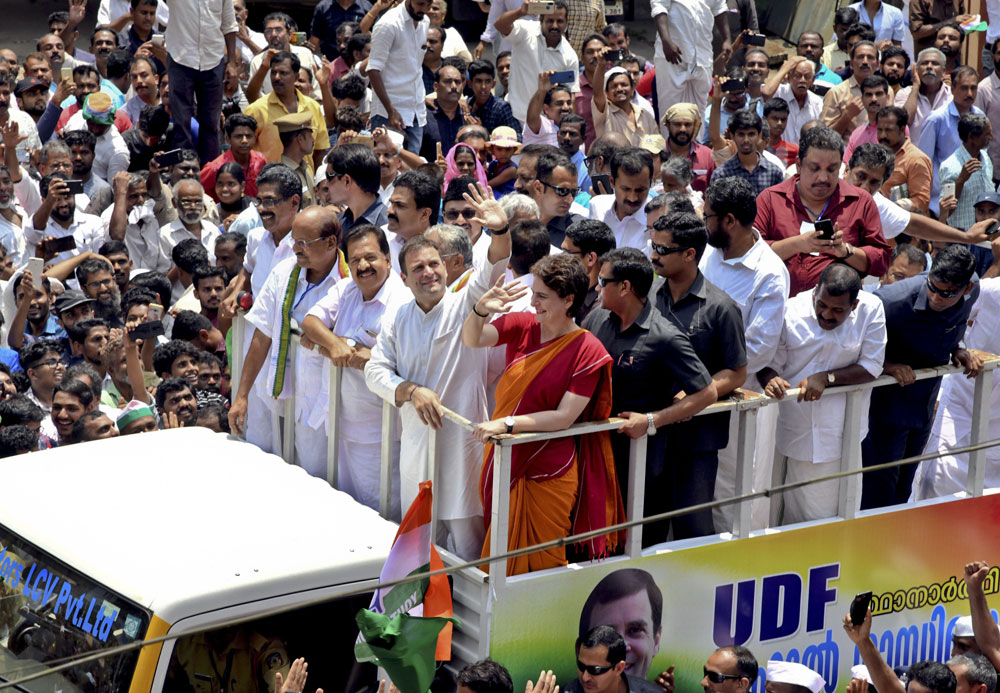 ---
---
Parting shot
Sir — As a teacher in a government-aided school, I would like to draw attention to problems that an educator faces while honestly performing his or her duties. Planning lessons for the effective dissemination of knowledge is time consuming. Besides teachers also need to take time out to give extra attention to weaker students. But teachers often do not get the time to do these owing to hurdles that are beyond their control. Take, for instance, the need to perform election duty and the days spent training for the same. There are other duties like going from door to door to fill up census forms or to raise awareness about issues, as and when instructed by the government authorities.
Apart from these problems, the lack of infrastructure and the acute shortage of teaching staff add to the troubles of teachers. Keeping in mind the importance of quality education for the progress and development of our country, authorities should seriously ponder relieving teachers of additional duties so that they can focus on teaching.
Iftekhar Ahmed,
Calcutta
Sir — In a strategic move, the Congress president, Rahul Gandhi, has decided to contest the Lok Sabha polls from both Amethi — a seat he has represented since he joined politics — and Wayanad in Kerala ("Plurality message in Kerala choice", April 1). This shows that Rahul Gandhi sees himself as a politician that all of India can trust and not just the leader of a leading party in the northern states. This is significant given the narrow regionalism of Indian politics.

However, this decision has upset the Left in Kerala. The leaders have reminded Rahul Gandhi that in pitting himself against the Left he would be making things easy for the Bharatiya Janata Party, which would benefit from the division of votes. The Left Front, though, is exaggerating. In 2009, the Congress-led United Democratic Front in Kerala had won 16 of the state's 20 seats. Chances of any of the Left parties doing well in any part of the country are slim given that they have not entered in any pre-poll alliances. As far as the BJP is concerned, it is unlikely to be able to give a tough fight in Wayanad. The Congress may succeed in the southern state given the party president's decision to contest from there.
Khokan Das,
Calcutta
Sir — The Congress in Kerala got a new lease of life after the declaration of Rahul Gandhi's candidature from Wayanad. If the Left parties are as keen about defeating the BJP in the upcoming elections, they should not contest from Wayanad and let Rahul Gandhi win by supporting him. This would be in the best interest of the country.
If the president of a leading party wins from a southern state, it will only benefit the region. More so, if Rahul Gandhi goes on to become the next prime minister. This is a golden opportunity that should not be allowed to pass.
T.K. Nandanan,
Kochi
Sir — Besides Kerala, there was a clamour for Rahul Gandhi to contest from Karnataka and Tamil Nadu as well. At this rate, each state would request the Congress president to contest from there. This shows nothing but Rahul Gandhi's fear of losing from Amethi, a seat he won by a thin margin the last time.
N. Hariharan,
Chennai
Sir — One of the reasons behind the decision of Rahul Gandhi to contest from Wayanad is, no doubt, to restore the Grand Old Party's lost foothold in the southern states. After a gradual waning of influence in Tamil Nadu, Andhra Pradesh and Telangana, the party has desperately tried to maintain a support base in Karnataka. But there is perennial bickering between the Congress and Janata Dal (Secular) in Karnataka. The Congress hopes that it can defeat the rising spectre of the BJP if the party president choose to fight from Kerala.
Out of the 20 seats in Kerala, Wayanad is considered the safest for the Congress. By contesting from there, Rahul Gandhi has almost confirmed a seat for himself in the Lok Sabha. He should have instead opted to wage the tough battle with his bitter enemy in Amethi. This would have proved that he is a true leader and not afraid of challenges.
Chanchal Nandy,
West Burdwan
Sir — Whatever explanation Rahul Gandhi may cite, his decision to contest from two constituencies is a sure sign of his doubt of winning from Amethi. Smriti Irani has been making serious inroads in Amethi and has been campaigning aggressively against Rahul Gandhi. The Election Commission should ban all politicians from contesting from more than one seat. This is the only way to ensure that a person rejected by the people does not find place in Parliament.
Vinay Asawa,
Howrah
Sir — It has become common practice for political leaders to contest from more than one constituency in the elections. They do this to secure a berth in the Lok Sabha. Those who win in both constituencies are compelled to give up one seat for which a bypoll has to be held. Last time, Narendra Modi contested from Vadodara and Varanasi and won both. He then opted to keep his Varanasi seat. The practice of allowing a candidate to contest from more than one constituency needs to be done away with. It is against the spirit of democracy. The Election Commission should take cognizance of the situation and do away with this law so as to save wasting the taxpayers' money.
Sravana Ramachandran,
Chennai
Democracy's child
Sir — Legend has it that Robert the Bruce, who fought to liberate Scotland from the English, lost six battles before winning the war. But K. Padmarajan, an independent candidate who has taken on Rahul Gandhi in Wayanad, has not been lucky so far even though he has been contesting elections since 1988. In fact, the 'Election King' — as Padmarajan is called — has entered the record books for being the most unsuccessful candidate to have fought the polls. Padmarajan, a king without a crown, is a bit of an enigma. But he certainly adds a dash of colour to elections in India.
K.G. Ganapathy,
Salem