Adultery, that small-time imp
Married or not, a couple's most valued asset is companionship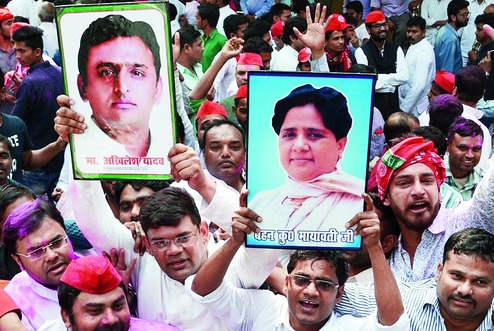 ---
---
What, in human evolution, came earlier - consensual intercourse or marriage? The answer is obvious. One could say that the institution of marriage is Time's embroidered garment placed over Nature's plain truth. To what was spontaneous, instinctive and un-guarded, it introduces three new harnesses. Exclusivity is introduced to intimacy, constancy is brought to immediacy and the free-falling dice of animal procreation is replaced by selective processes of legacy-creation. The institution of marriage reflects society's seeking of order, method and system in human relationships as against the anarchy of unruly 'jungle' contact.
It cannot but be thanked, with relief, for the reining-in of an instinct that may have had the merit of spontaneity but had, too, the demerit of potential anarchy.
But body, mind and heart all being co-extensively active, the 'ordering' has not been without slippages. Nothing that is made 'out of bounds' can be without trespasses! Even as the institution of marriage has sought to regulate instinct, instinct has found ways to bypass the regulator. And so, marriage and adultery have remained inextricably intertwined, as light and shade.
Being subconsciously aware of this reality, I read with admiration the highly sensitive and percipient observations of the Supreme Court's bench while hearing a petition on the section in the Indian Penal Code that criminalizes adultery - Section 497.
Whatever be the final judgment in the case, which has been reserved, these observations have occasioned in me a chain of thoughts which constitute this column. Imprisoning a person for five years for adultery does not make common sense, said the Chief Justice of India, Dipak Misra, heading the five-member Constitution bench. Adultery does not even qualify as a criminal offence, he said, and pointed to the civil remedy available - divorce. If a relationship has the consent of the woman, how, he asked, is it an offence?
The bench's observations went beyond the question of adultery to the quiddity or 'thingness' of marriage itself. The judge, D.Y. Chandrachud, asked why it was always the woman's burden to maintain the "sanctity" of marriage. "You exact fidelity from the wife, but not from the husband," he said. And interpreting the antecedents of the penal provision, the judge, R.H. Nariman, said: "In the 1860's married women were considered the chattel of their husbands."
The transactions reminded me of great marriages as well as great man-woman companionships outside of marriage which contain in them everything that marriage should have, and often does, but so often does not.
And where did those extramarital companionships come from? Basically, from the custom of marriage itself - I am talking of India, of course - and the character of those marriages.
Thoughtless haste characterizes most marriages in India which, in the greater part, are 'arranged'. Parental haste in the bringing together of the couple makes one or the other of the couple break protocol. Arranged marriages are an essentially non-consultative procedure that is given the status of a covenant which maybe broken only on pain of the couple's social reputation and the wife's security getting severely compromised. It is not as if in our arranged marriages there is zero consultation. The bride-to-be is spoken to, her opinion sought. But most often she is prevailed upon to go by 'family wisdom', the 'long-term foresight of elders' and, in the case of the vast majority of us, namely, the middle and lower classes, by financial and 'real-life' desiderata. These are clinching. The girl is made to feel that a prolongation of un-married-ness will be expensive for the family, apart from being a 'risk'. What kind of risk? In this world of wolf-men prowling around, how and for how long are ageing parents, busy brothers and younger siblings going to 'protect' the girl who is 'shooting up like a tree'? So, persuasion ending in acquiescence places a tick mark on the 'consultation box' and before one can say 'vivaha' the girl has become a bride, the bride a wife and the wife a mother-to-be. Horoscopes may have been 'matched' but nothing like serious thought has been given to the couple's compatibility, psychological or emotional. Entered non-consultatively, the marriage is endured non-consensually. Instead of marriage fulfilling the woman, the woman fulfils the marriage. Instead of marriage making her home, the home makes her marriage.
What follows? Non-companionship, non-mutuality and that 'gift' of failed marriages - inconstancy.
In the realities of India today, the married man who 'strays' is debunked in whispers even if silently envied. The woman who does so is taken to have crossed the pale even as she too gets to be secretly admired for 'guts'. Abandoned wives are an Indian reality. Some have been left, as Maithilisharan Gupt's great work, Yashodhara, tells us, in the dark of the night by one seeking a higher, timeless purpose. By others, in fact, by most, for lower aims.
In this situation, examples of companionship outside marriage can appear to be brave, audacious, modern. And less of a 'show'.
Companionship, wholly mutual and entirely equal, has marked well-known figures from India's political life - Left, Right and centre. We in India are yet not so frank as to discuss names for fear of offending 'those concerned'. These are not the companion-couples so much as their kin and their associates. So, I will mention only the really well-known 'cases' -the great Bharatnatyam diva, Balasaraswati, and India's first finance minister, R. K. Shanmukham Chetty, were a pair. As were Roma Mitra and the intrepid socialist, Ram Manohar Lohia. Accepted by political foe and friend alike, as also by the people of Tamil Nadu, is the more recent example of Rajathi Ammal and M. Karunanidhi. The Tamil Nadu statesman described his partner, when pushed in the assembly to do so, simply and straightforwardly, as 'my daughter's mother'. Matrimony rhymes automatically with harmony in acoustics, not in life.
Outside of the political screen, equally distinguished examples of twinned man-woman names come to us from worlds as varied as science, the arts, literature and of course, cinema. Here too mention may only be made, without the risk of causing offence, of the transparent cases - the academic, Kamla Chowdhry, and India's ace space scientist, Vikram Sarabhai; the writer, Amrita Pritam, and Imroz (picture). The Tamil writer, Krithika (wife of S. Bhoothalingam, ICS), and a marine engineer-turned scholar, Chitti, exchanged letters, published some seven years ago that showed a staggering range of intimacy and empathy.
There are, of course, examples of companionships outside marriage that can go the way of unhappy marriages, as in the celebrated case of Nargis and Raj Kapoor. But, broadly speaking, the examples of celebrity extramarital equations are happy examples. Non-celebrity equations outside marriage are not less successful for being less known. Gujarat, as the scholar, Tridip Suhrud, informs me, has innovated maitri karar (friendship pact) which can be practised by a Hindu man and a woman when one of them is married and the spouse is alive. Not legally enforceable (Wiki tells us), the 'pact' is executed on a Rs 10 stamp-paper before a sub-registrar. I do not know how widespread the maitri karar's use has been but the fact of it is important, sociologically and jurisprudentially.
So, am I valorizing extra-marital relations? Certainly not. Extra-marital companionships can and do cause hurt. Adulterous ragas rise on very sharp svaras. A bitter gourd lies at the end of the pretty vine. And there are few things on earth more beautiful than a married couple in love through Time's trials. And I must also clarify that out-of-marriage companionships are not to be confused with that absurdity called 'free-sex'. That is jungle-raj, plain and simple, without the innocence of the wild.
I want to say just this: companionship within or beyond marriage is elusive. If missing, it leads to pain. If found, it leads to happiness. And adultery is but a small-time imp, dragged to own up its street-corner guilt in the open court of human relationships.