Roger Federer could break Jimmy Connors' record
The Swiss tennis legend is now second only to Connors, who has 109 titles to his credit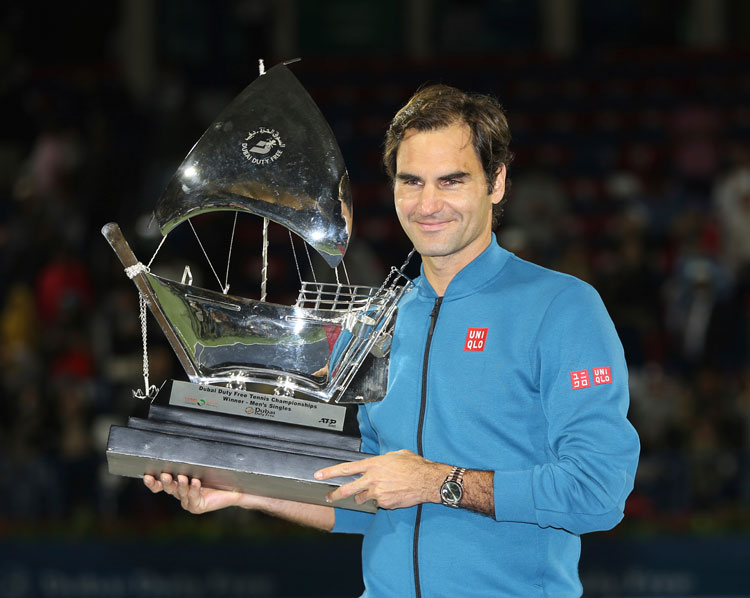 Legendary player
Picture by AP
---
Published 10.03.19, 03:07 PM
|
---
Sir — The tennis legend, Roger Federer, must be congratulated for winning his 100th title in international tennis at the Dubai Duty Free Tennis Championships ("Roger tames Tsitsipas, bags 'century' of titles", March 3). The victory was made even sweeter because he defeated Stefanos Tsitsipas, the Greek tennis player who had beaten Federer in the Australian Open in January. Federer is now second only to Jimmy Connors, who has 109 titles to his credit. If Federer can continue with his present form, he might break Connors's record.
Shovanlal Chakraborty
Calcutta
Sir — At the age of 37, the legendary Roger Federer joined the 100-title club in the era of the Open tournaments. He demolished the 22-year-old Croatian, Borna Coric, in the semi-final of the Dubai Open and defeated the 20-year-old Greek sensation, Stefanos Tsitsipas — the winner of this year's Australian Open — in the final. His feat has proved that age has got little to do with excellence.
S.S. Paul
Nadia 
Sir — There is no doubt that Roger Federer has come a long way since his first international tennis victory in 2001. He has now won his eighth Dubai Open tournament, thus achieving his 100th career title. This victory against Stefanos Tsitsipas must have been more meaningful after the outcome of the Australian Open. With the win in Dubai, Federer is now second only to Jimmy Connors in terms of titles. Watching Federer win is also enjoyable because he is a thorough gentleman. If he performs consistently, he will certainly be able to play for another couple of years and surpass Connors's record. He is the king of the sport, especially on the grass court.
N. Mahadevan
Chennai
Sir — It was a pleasure to watch Roger Federer win the Dubai Open. He has been my favourite tennis player of all time ever since his debut. It is also refreshing to have a man as dignified as him dominate the sport. He sets an important example for his peers and his juniors.
Shayan Guha
Calcutta
Poisoned air

Sir — It is a shame that 22 of the world's 30 most polluted cities in the world are in India, as has been revealed by a recent study. Gurgaon, located to the southwest of India's capital, New Delhi, topped all cities in pollution levels in 2018, even though its figured improved from the previous year. The data released by IQAir AirVisual and Greenpeace also showed that Faisalabad in Pakistan is in the top five. Pollution destroys human health, starting with the lungs. The Indian government should take meaningful steps towards combating it so that future generations can grow up healthy.
Muhammad Zaid
Ramanagara, Karnataka
Grab the chance

Sir — The leather industry in West Bengal received a boost after the shutdown of tanneries in Uttar Pradesh. This happened after the Yogi Adityanath government issued a directive to close the tanneries for three months from December 15 to prevent waste disposal in the Ganga during the Kumbh mela. The Bantala leather complex in Bengal should be rebuilt quickly in order to put together an organized infrastructure to house new units and cap pollution. The large fisheries in its neighbourhood should not be polluted. As such, strict laws need to be in place in advance. The state government must ensure the setting up of large effluent treatment plants in the complex. This must be done to house small, medium and large units in a planned manner within a quick time frame, since the final products are exportable items. Once this is done, other ancillary units can come up in the composite complex. This may grow to be an organized world-class industrial complex which foreign buyers can visit. In order to study the export business, leather experts from Bengal should visit the tanneries and industrial units in Tamil Nadu, which have been exporting footwear to Europe and the United States of America for a long time.
B.K. Nundee
Calcutta