Teachers open our minds to otherness
Historian Romila Thapar is being intimidated for engaging with India's plurality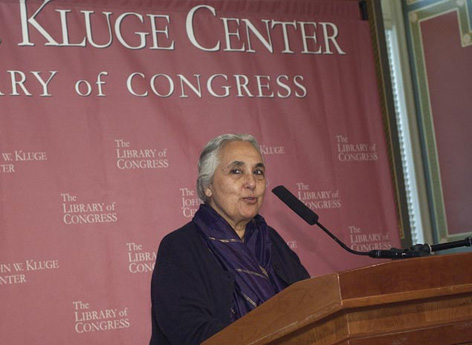 A committee appointed by the Jawaharlal Nehru University has asked Romila Thapar, the renowned historian and emeritus professor, to submit her CV so that it can "evaluate" her work
Image: Wikimedia Commons
---
Published 04.09.19, 07:38 PM
|
---
Sir — A committee appointed by the Jawaharlal Nehru University has asked Romila Thapar, the renowned historian and emeritus professor, to submit her CV so that it can "evaluate" her work. The effort to improve educational standards would have been encouraging had the malicious intent of the State not been obvious. Even the anthropologist, Nandini Sundar, was attacked for writing about the trials of tribal people in Chhattisgarh. Thapar is being intimidated for engaging with India's plurality. This Teachers' Day, we should try to go back to appreciating teachers for opening our minds to otherness.
D.P. Somani,
Calcutta
Poisonous seeds
Sir — Caste discrimination in schools, especially in the execution of mid-day meal schemes, is not new. It is a matter of concern, though, that children in primary schools have already been taught about such divisions. The fact that upper-caste students of a school in the Ballia district of Uttar Pradesh were reluctant to eat meals with their classmates from the lower caste shows that teachers and parents have instilled caste-based prejudices in these young minds ("UP midday meal bias probe", Aug 30). Earlier, in some schools, students had refused to eat meals prepared by cooks belonging to the scheduled castes. Parents are to blame for the bigotry inculcated in children as learning begins at home.
It is difficult to fight our age-old caste system. B.R. Ambedkar is worth mentioning here. He suffered humiliation at the hands of the upper castes and dedicated his life to condemning this discrimination and establishing a casteless society. Not many scholars have studied the problems of caste as he had: with the intent of destroying it. But Ambedkar could not succeed in his mission, as even back then several leaders and citizens who supported casteism vehemently opposed him.
Rabindranath Sarkar,
Calcutta
Booked wrongly
Sir — According to the Indian Constitution, the judiciary is an independent pillar of democracy. That does not always seem to be the case though. Let us take the proceedings of the case against the Bhima Koregaon violence against the activist, Vernon Gonsalves, in the Bombay High Court as an example. The court read out a list of the so-called "incriminating evidence" found at Gonsalves's home by the police that included a mention of War and Peace. The judge questioned Gonsalves as to why he possessed a copy of this "objectionable" book.
The judge later clarified that he was not hinting that Leo Tolstoy's book is "objectionable" or banned material ("Knew of War & Peace: Judge", Aug 30). But given the current political atmosphere it will not be surprising if books such as George Orwell's 1984 are soon considered anti-national. The situation is utterly Orwellian.
Nirpinder Singh,
Bathinda, Punjab
Sir — It would have been hilarious had it not been so alarming. It seems that War and Peace was at first considered "objectionable" material and proof of anti-State activity by a judge in the Bombay High Court. Albeit, he later clarified that he knew Leo Tolstoy's book is a classic and not objectionable. In a similar vein, the Jammu and Kashmir governor, Satya Pal Malik, stated that mobile phones and internet connection are used as 'weapons' by "terrorists" and are of little use to the ordinary citizens.
Coming after the arrest of people for sharing "anti-government" memes and social media posts, it tells us how deep and irreconcilable the divide is between the ruling elite and the enlightened middle-class Indians. It also warns one of the Fahrenheit 451-style dystopian ethos that we are steadily inching towards.
Rita Datta,
Calcutta
Sir — Although the judge in the Bhima Koregaon case, Sarang Kotwal, agreed with the defence that "mere possession" of books and CDs does not make one a terrorist, the Bombay High Court's demand that Vernon Gonsalves provide explanations about why he kept such material at home raised quite a few eyebrows. Gonsalves is an activist who has been charged under the Unlawful Activities (Prevention) Act for his alleged links with the banned Communist Party of India (Maoist).
One hopes that just like the judge clarified later that Leo Tolstoy's book is a "classic", the court will also recognize the injustice behind the continued incarceration of the activists booked in the Bhima Koregaon case and the flimsy grounds on which they have been arrested and held. It should order corrective steps based on hard evidence and not mere speculation.
S.S. Paul,
Nadia