Editorial: Spin masters
The prioritization of a fractious ideological template and political power over collective welfare has led to the BJP getting alienated from segments of the populace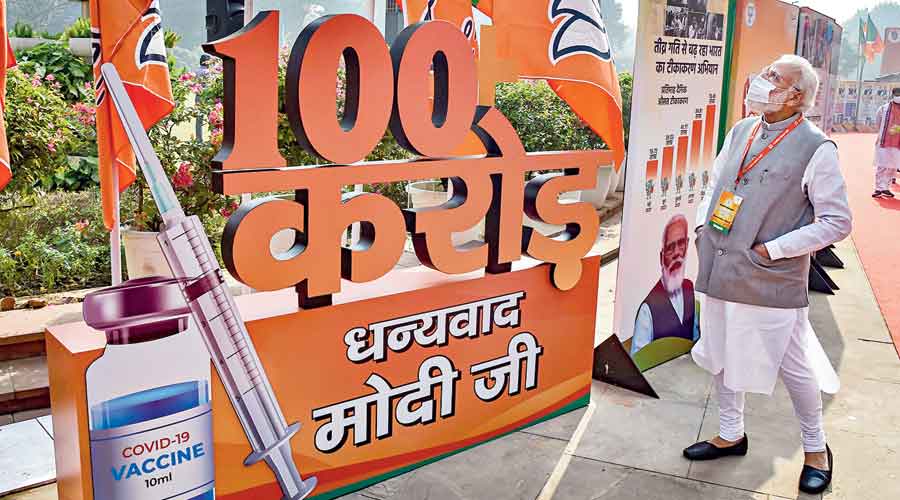 Prime Minister Narendra Modi soaks up the view as he arrives for the BJP's national executive committee meeting at a convention centre in New Delhi on Sunday.
PTI
---
Published 09.11.21, 02:31 AM
|
---
A pep talk is necessary when the chips are down. This principle perhaps explains the tenor of most of the speeches delivered at the Bharatiya Janata Party's national executive meeting. The onus, evidently, was on keeping the morale of the rank and file high after the setbacks suffered by the BJP in the recent by-elections as well as its resounding drubbing in Bengal. But most of the speakers chose to do so without any inclination to address the real reasons for the unfolding challenges on the ground. Consider the crux of the prime minister's message. Narendra Modi may have conveyed his anxiety about the need to re-establish the somewhat fraying bond between party and people: he insisted that party leaders and workers would have to come up with ways of becoming a 'bridge of faith'. The problem is that Mr Modi did not concede that the public faith in the BJP has been shaken as a result of the pursuit of some of its disastrous policies. Be it the Centre's inability to rein in rogue prices — from fuel to daily essentials — its failure to manage the crippling fall-outs of the pandemic on citizens' health and on India's economy or its unwarranted strategy to polarize society on the lines of faith — the goings on in Gurgaon and Tripura are just two testaments to this divisive policy — the prioritization of a fractious ideological template and political power over collective welfare has led to the BJP getting alienated from segments of the populace.
What was particularly discouraging was the BJP's evasiveness on the crises confronting India. The 'C' word — China — did not find a place in the resolution in spite of its encroachment on Indian territory; the sheepish resolution was also reportedly quiet on the contentious farm laws and the Citizenship (Amendment) Act. The petulant party also accused the Opposition of inertia during the Covid crisis even though it is the BJP, and not the Opposition, that is expected to intervene as the party in power. The deliberations are suggestive of a deeper problem. The BJP has wedded itself to the culture of denial and falsehoods instituted by the prime minister and seems happy to spin alternative — specious — narratives instead of taking corrective action. One of the reasons for the BJP's sombre performance in the polls is its failure to extricate itself from the trap of the myth it has spun. The electoral horizon may remain gloomy until the party manages to do so.